Kuiken Brothers has added four new full room interior elevations with inspirational images to our online Moulding Design Guide. These four rooms were designed by Rosario Maninno, RS Maninno, an architect led design build firm with offices in New Jersey and Manhattan. The four rooms have a modern, Arts & Crafts look and feel and the primary profiles used throughout the designs (crown, casing, base and panel) are all from Kuiken Brothers newest Modern Craftsman poplar moulding collection.
One of our favorite and most intricate designs is the Modern Arts & Crafts Living Room featuring wall paneling and a stunning beamed ceiling. The room features double hung windows with wall panels underneath, giving the illusion of floor to ceiling windows.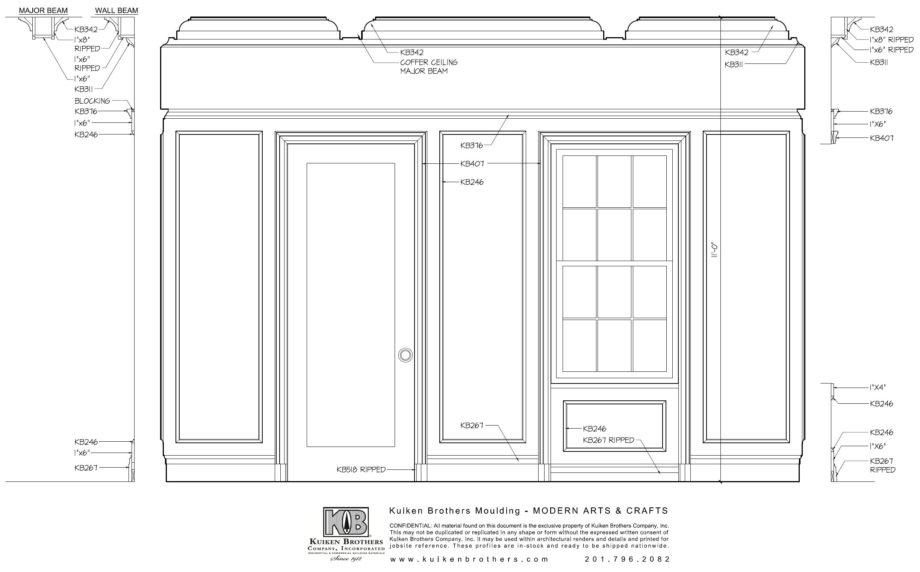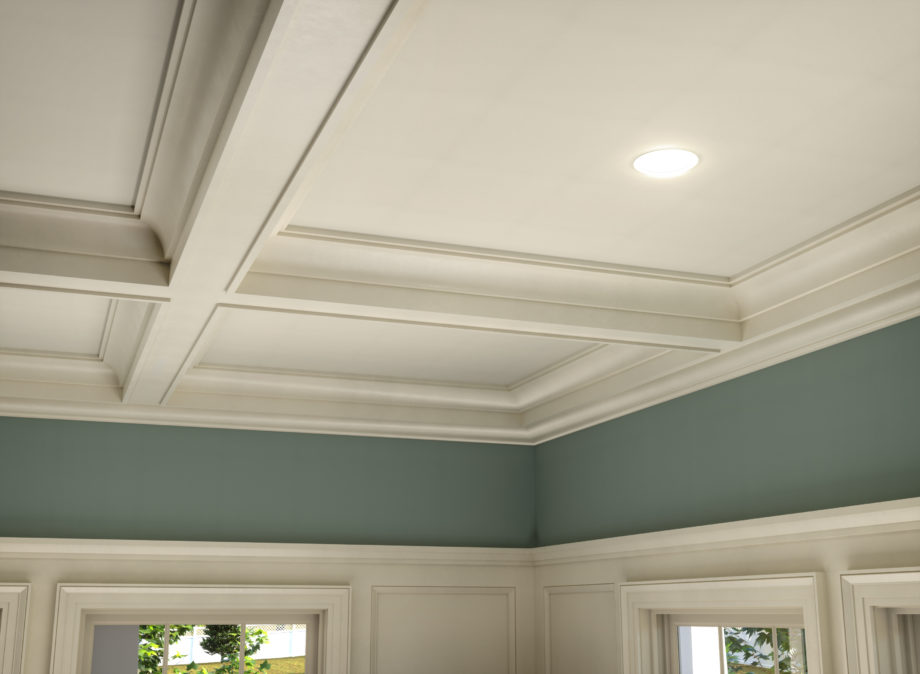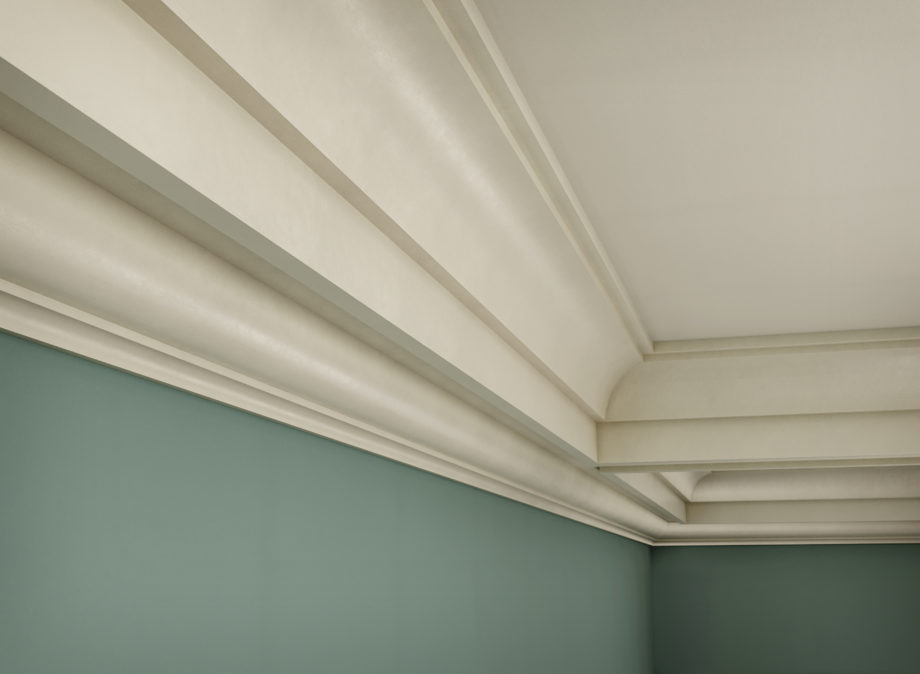 The wall beam of the Modern Arts & Crafts room features a unique convex bed mould, KB311. Traditionally used in crown moulding applications, the KB311 is a perfect compliment to the large stepped concave cove KB342. The additional step on the KB342 gives the illusion of a two profile build-up, with the installation ease of a single profile. The beams are built with traditional 1×8 and 1×6 board stock material.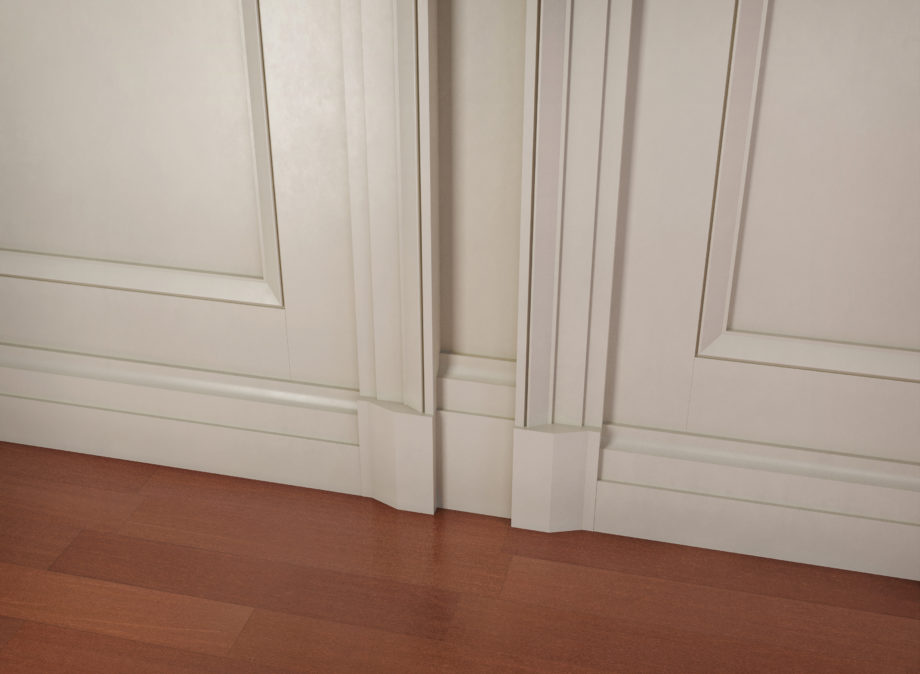 A few moulding profiles to note in the photo above is the KB266 and KB267 base profiles. You'll see that the main base in the room is the 7-1/2″ KB267 base. In order to maintain proper scale and proportion in the under window panel detail, the 5-1/2″ KB266 base was chosen. These ensures a consistent base cap detail, without overpowering the space.  The panels are framed with stock 1x material and the inset KB246 panel profile is used to create a matching shadow line to the backband of the KB407 casing. All profiles work cohesively here to create a well designed Arts & Crafts feel with a touch of modern detail.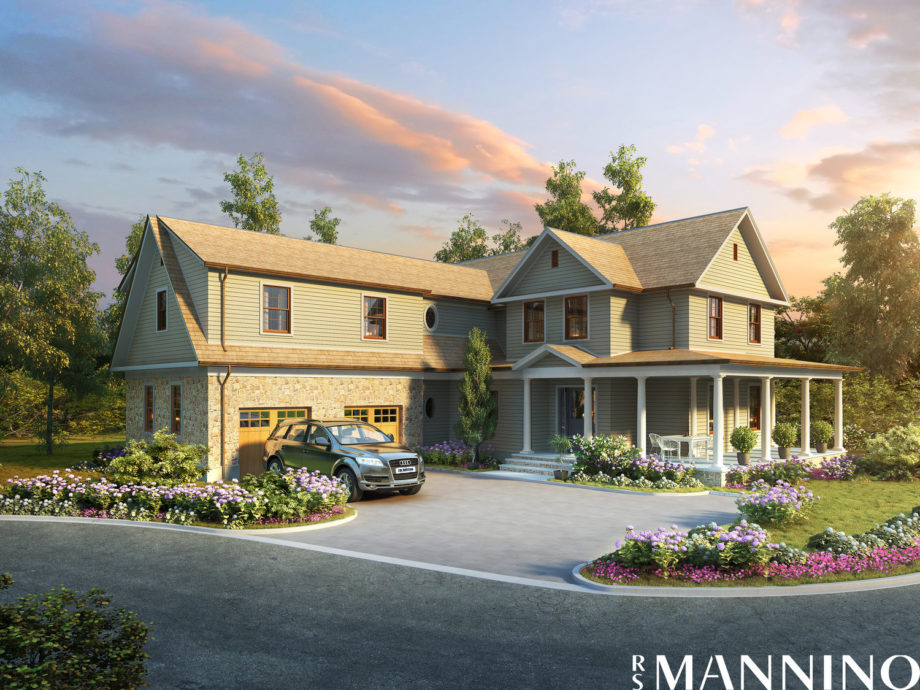 Prior to opening his own firm in 2015, Mannino fine tuned his craft at a number or prestigious architect and construction firms from Manhattan to Florida.  "Our clients have high expectations of the products that we specify and install, and that includes the moulding profile selection. Having these poplar moulding profiles available from Kuiken Brothers offers me design flexibility as well as a competitive advantage", noted Maninno. "They allow me to create these intricate and custom moulding details, and have them on our jobsites right-away. We don't have to have custom knives cut with extended lead times, but are still able to offer our clients a truly custom look and quality milled profile."
Other rooms added to Kuiken Brothers Moulding Design Guide are the Modern Eating Club Room,The Modern Hudson River study, and an intricate millwork package for a Modern Lake House kitchen.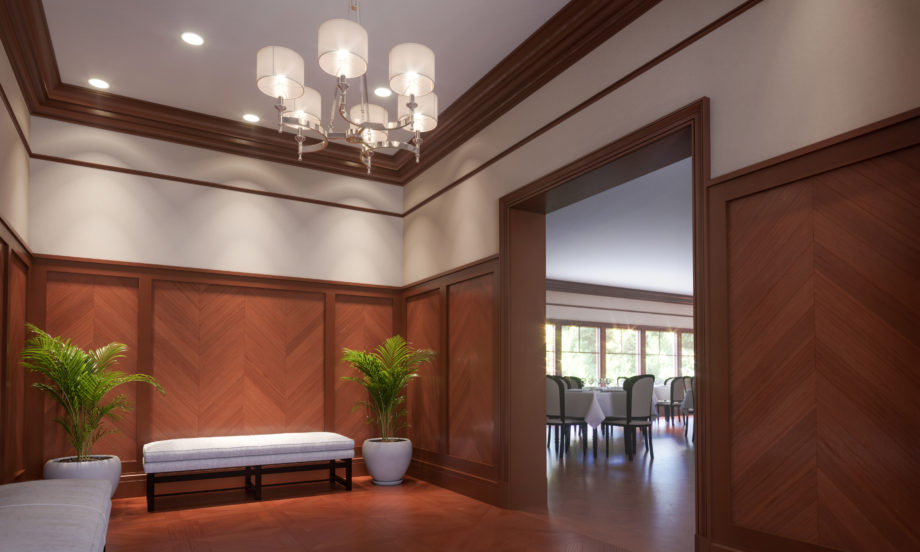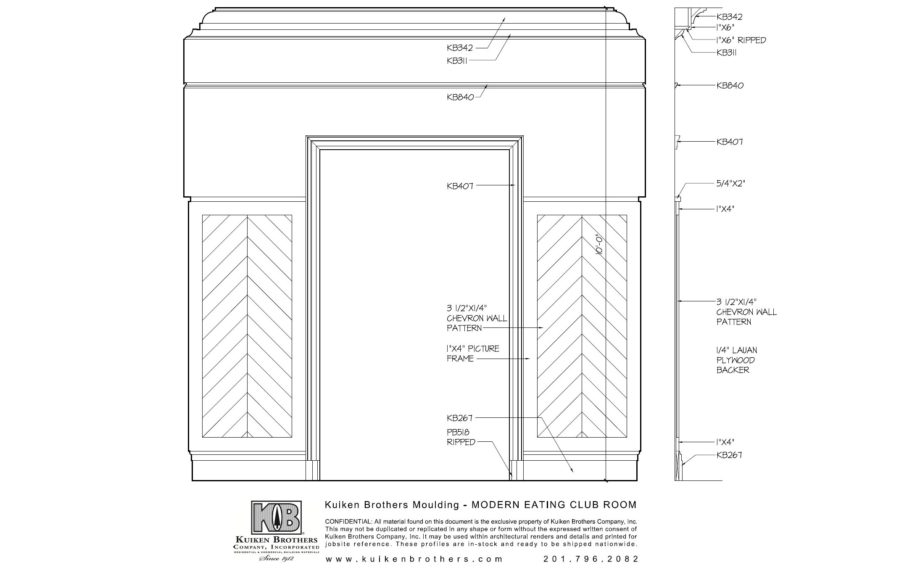 Picture above is the detail for the Modern Eating Club Room which features a boxed cornice crown combination and a stunning chevron wall pattern to give this commercial space a clean and timeless design.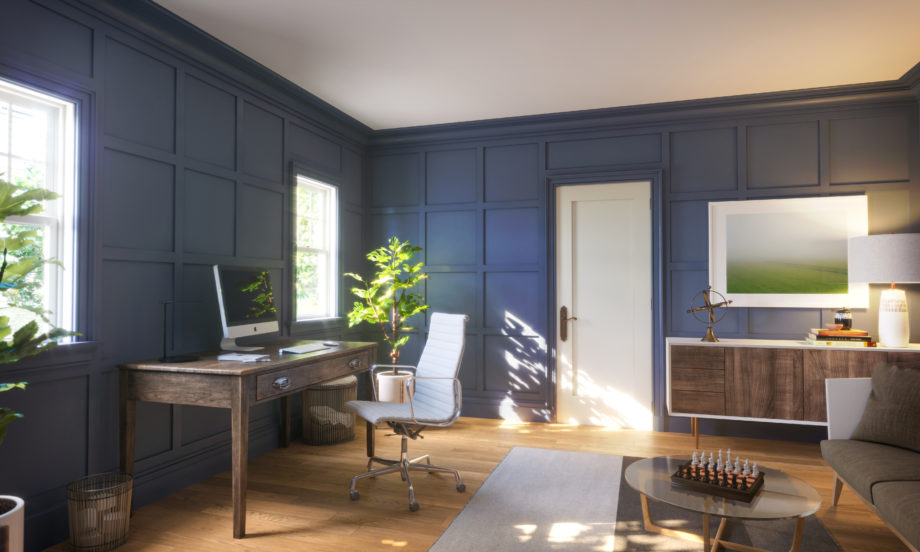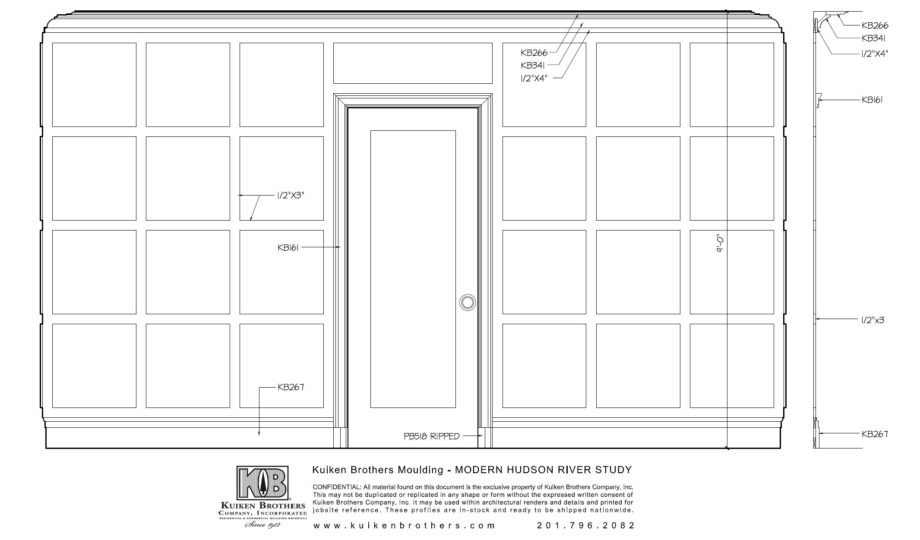 Pictured above is the Modern Hudson River Study which was inspired by a trip to a Hudson Street brownstone on the north side of Hoboken. A two profile crown offers a nice clean transition into the floor to ceiling wall paneling in this space.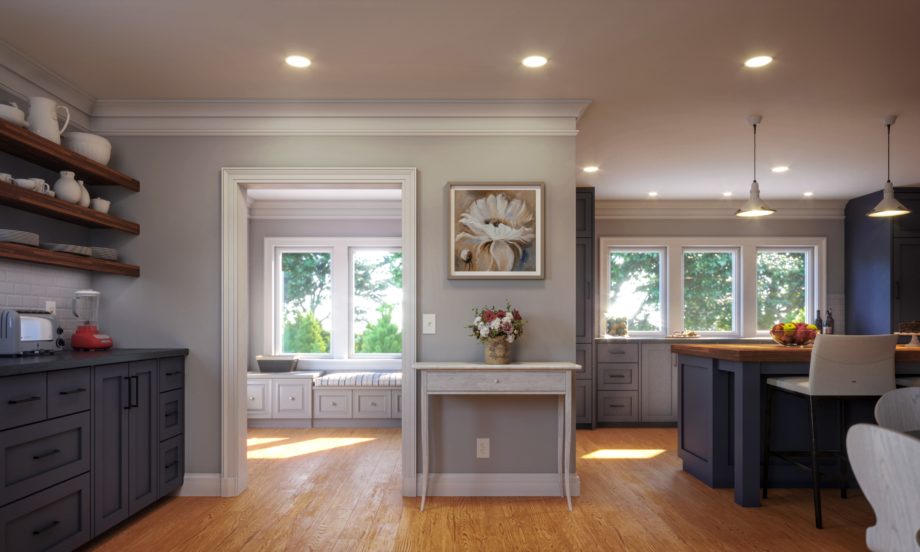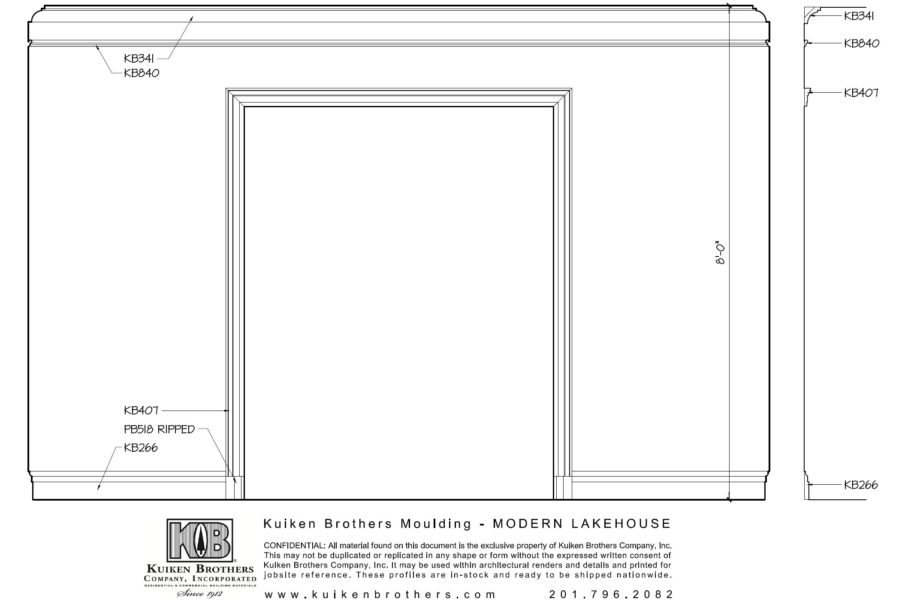 The Modern Lake House Kitchen offers a classic look and feel with the simple 3-1/2″ KB407 casing, 5-1/2″ KB266 base, and the two profile built up crown assembly featuring the stepped cove KB341 and the KB840 picture rail.
If you're looking to take your interior millwork packages, we highly suggest that you work with a building professional (like RS Mannino) who understands how to incorporate these moulding profiles into your unique space. They'll be able to see how the profiles work with the window and door selection, and take different interior elements (such as ceiling height, transition points, electrical outlets, etc) into consideration to ensure that you have a seamless integration.
Explore our Complete Moulding Design Guide
Kuiken Brothers' Moulding Design Guide is a digital resource featuring detailed interior elevation drawings of over seventy five unique moulding combinations, including full room packages, cornice combinations, coffered ceilings and mantles designs using profiles from our in-stock Moulding Collection. Detailed CAD drawings (DWG & DXF) and inspirational photos can be downloaded as you navigate through the various options.
Classically Inspired Moulding Packages
Modern Craftsman Moulding Packages
Typical Room Moulding Packages
10'+ Ceiling Moulding Packages
Whole House Interior Moulding Packages
Many of the moulding combinations found within this Moulding Design Guide are created with profiles from our Classical Moulding Collection. These profiles have historic precedent and are based off of classical and traditional designs discovered through our meticulous research of the Library of Congress's Historic American Building Survey and with the careful oversight of a nationally recognized historic moulding expert. Our goal is to help simplify the millwork selection process and hope you find this to be a useful resource.
Moulding and millwork can truly make the difference in the overall look and feel of a home. As an architect, designer and installer, you are in a unique position to ensure that the exterior aesthetics and architectural styles are carried to the interior design, so please feel free to take advantage of these services that are available to you from Kuiken Brothers.  These are just starting points for you to incorporate moulding designs into your plans. Once on the jobsite you will have a much better eye for the space so that you can swap out profiles as you see fit.
If you have any questions about how to download the CAD files for the KB Classical Moulding collection or the CAD files found within the Moulding Design Guide, please feel free to contact us at any time
Contact: Ryan Mulkeen, Kuiken Brothers Company E rmulkeen@kuikenbrothers.com P (201) 705-5375.