James Hardie Fiber Cement Siding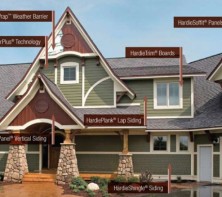 James Hardie is America's #1 brand of siding, installed on over 4 million US homes. Warm, beautiful siding products combine the character of wood with the unsurpassed durability and low-maintenance of fiber-cement. James Hardie products have proprietary ColorPlus® technology which combines paint optimally formulated for use with fiber-cement and a professionally developed color palette.
NuCedar PVC Siding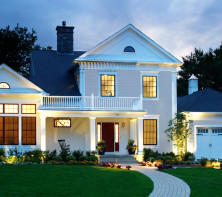 NuCedar Mills Inc. is the first company in the building materials industry to introduce factory prefinished, premium grade, architectural PVC siding, to the custom home and multi-family segments. Virtually indistinguishable from painted cedar siding, NuCedar's total package of exterior cladding products offer the homeowner the look, warmth and charm of cedar, with none of the maintenance issues. Siding choices include shingles, clapboard, vertical siding, beadboard, moulding & trim.
LP SmartSide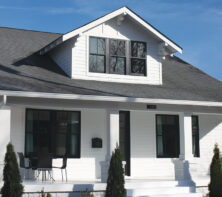 LP SmartSide Trim & Siding is built to last and designed to make any home's design vision come to life. Because of its engineered wood strand technology and variety of textures, styles and colors, LP SmartSide products elevate any structure, from traditional homes to modern masterpieces. LP SmartSide products are also available in ExpertFinish color to add another element of versatile design to your projects.
Pattern Stock (Knotty Pine, Knotty & Clear Cedar)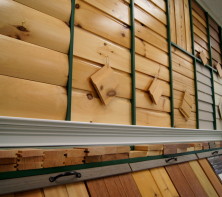 Kuiken Brothers stocks a wide range of siding profiles in knotty pine, knotty cedar, clear cedar, and finger-joint primed. Visit the moulding section of our website for a complete listing of profile dimensions and available species.
Cedar Siding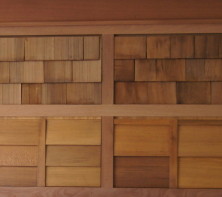 #1 Red Cedar Perfections (1/4 Square at 5-1/2″ Exposure)
Lengths
18″
#1 Red Cedar Royals (1/4 Square at 7-1/2″ Exposure)
Lengths
24″
#1 Red Cedar Barn Shakes (1/4 Square at 14″ Exposure)
Lengths
18″
#1 Primed Grooved Red Cedar Shingles (1/2 Square at 14″ Exposure)
Lengths
18″
#1 Primed Sanded Red Cedar Shingles (1/2 Square at 14 Exposure)
Lengths
18″
#1 Nat Grooved Red Cedar Shingles (1/2 Square at 14 Exposure)
Lengths
18″
#1 Nat Sanded Red Cedar Shingles (1/2 Square at 14 Exposure)
Lengths
18″
Red Cedar Round Fancy Butt Shingles
Lengths
18″
White Cedar Undercourse
Lengths
16″