Homeowners, Architects, Builders and Remodelers Now Have Dozens of Traditional 18th and 19th Century Period Design Choices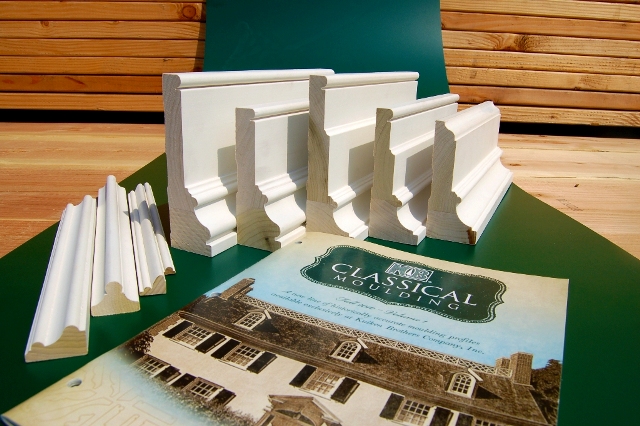 Kuiken Brothers Company, Inc., a leading supplier of quality lumber, millwork and building materials, today formally launched its KB Classical Moulding Collection and catalog — one of the largest launches of classic American moulding products ever in the United States. The KB Classical Moulding Collection includes sixty-six, in-stock, historically-inspired moulding profiles, and represents classic American moulding profiles designed nearly 200 years ago. The collection includes a range of crown, casing, base, chair-rail and panel mouldings.
"We are extremely proud of our exclusive collection of historically-accurate mouldings that feature classical design and tradition," said Douglas Kuiken, Kuiken Brothers president. "We went to great extremes to capture the beauty and authenticity of these architectural add-ons. We believe our mouldings will give residential and commercial builders, remodelers, architects, interior designers and homeowners a look that is desired, but not always achievablein today's housing market."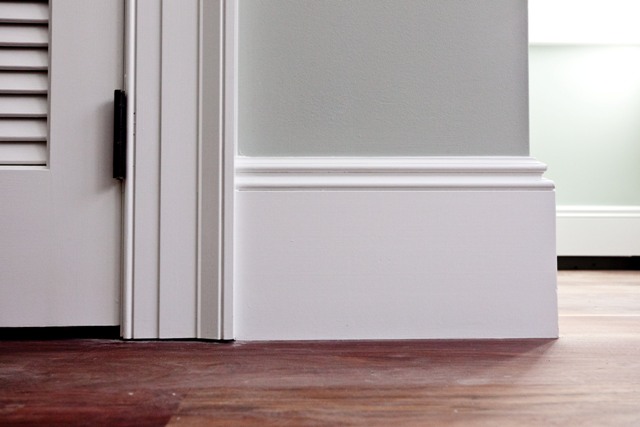 Up until now, many of these profiles were available only through custom production runs. Today, Kuiken Brothers makes them widely available to builders, remodelers, architects and interior designers. The mouldings are also well suited for commercial and institutional projects.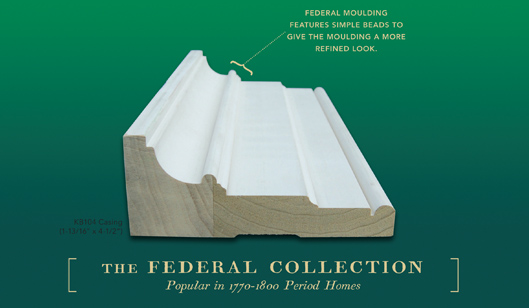 The products are categorized by architectural style (Early American, Georgian, Federal, Greek Revival, Colonial Revival, and Traditional Revival) to show which crown, casing and base mouldings go together.  In the past, coordinating design elements was difficult and time-consuming. CAD files are offered on-line for architects and designers to incorporate detail to their blueprints.Free moulding samples are available so potential buyers can match them to existing mouldings or see how they will actually look before installation.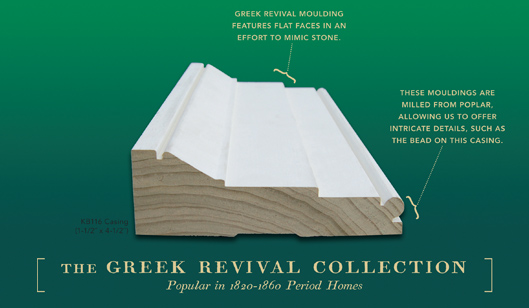 The mouldings are milled from poplar, double primed and buffed.  Poplar is a favorite as it provides sharp lines and crisp edges, enhancing shadow lines to distinguish the profile. Many of the moulding profiles are available in a range of sizes in order to accommodate different room configurations and ceiling heights. The patterns are in a simple-to-use, streamlined index that makes ordering quick and easy. Kuiken Brothers' on-line moulding design guide features six different classical millwork plans.All mouldings are in stock.
For quick reference and easy selection, Kuiken Brothers offers the KB Classical Moulding Catalog, which categorizes each of the mouldings by its different Classic American architectural style. By combining the different crowns, casing and base mouldings, Kuiken Brothers promotes a consistent look throughout the home, which helps save time in the selection process. Buyers have confidence that they are choosing the moulding profiles with a similar look and feel.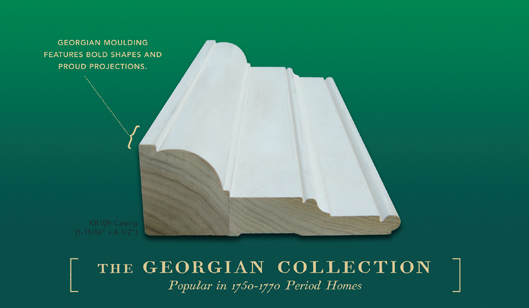 "These are mouldings that would have been used and found in many period homes of the 18th and 19th centuries," Kuiken said. "Whether you are renovating a small Cape Cod-style home or constructing a 10,000 square foot Georgian, KB Classical Mouldings are ideally suited and provide that extra look of distinction. We know our customers will be pleased with the results."
About Kuiken Brothers
Established in 1912, Kuiken Brothers Company has grown to become a leading supplier of quality lumber, millwork and building materials with a focus on serving the needs of professional residential and commercialcontractors in the region. With a staff of more than 230 employees, the company now has a total of nine locations—eight in New Jersey in Fair Lawn, Emerson, Midland Park, Ogdensburg, Wantage, Garfield, Succasunna and Roseland, and one in Warwick, New York. For more information, call (201) 705-5375 or visit www.kuikenbrothers.com/classical.