If you've ever met Kuiken Brothers forest products buyer Jim Wagner, you know he is very serious about negotiating the best wood for the best price. He has purchased thousands of railcars and truckloads of lumber, engineered lumber and other forest products. After 35+ years in the business, 23 of which have been with Kuiken Brothers, he demands premium-quality lumber for Kuiken Brothers' customers.
"I enjoy the industry," said Wagner. "It's challenging, though. Lumber is a true commodity that trades on the Chicago Mercantile Exchange. Price goes up and down. Sometimes it can be very volatile. We not only have to purchase lumber intelligently but also provide competitive pricing for our customers. Even though we are buying premium lumber, we are still able to keep our pricing to our customers competitive because of the overall volume.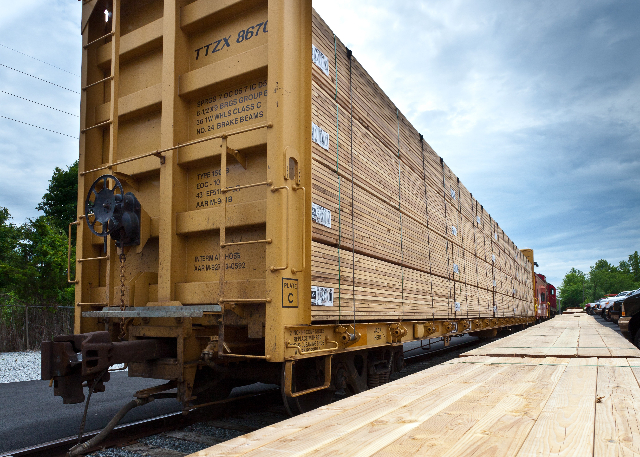 Kuiken Brothers is a member of Lumbermens Merchandising Corporation (LMC), a co-op of independently owned lumber and building material dealers from across the country.  With annual purchases of nearly $3 Billion in the Lumber and Building Materials industry, membership in LMC gives Kuiken Brothers an edge when it comes to buying power.  Through LMC, Wagner has established long-term relationships with key vendors, such as Weyerhaeuser. While Kuiken Brothers has its own 100-year history of good business practices, Wagner said, "Being a member of LMC gives us even more clout."
Another part of Wagner's job is to ensure Kuiken Brothers has inventory available when customers need it.
"There is great value in having locations which are serviced by rail. Our vendors produce, bundle and ship the lumber to us in about three weeks. Our customers get clean, fresh wood that isn't weathered and hasn't been sitting on the ground for months. Because we're consistently buying large volumes of lumber at a time and the cost of rail freight is less than truck freight, our average landed cost tends to be lower, and our quality superior.
Wagner says he's enjoyed his tenure with Kuiken Brothers. "I knew the owners even before I started working here. The company is on solid footing and makes good business decisions each and every day. Upper management routinely puts money back into the company through renovating, repairing and upgrading equipment and implementing new technology. As an employee, you can't ask for anything more than that, and that's why I enjoy working here."
If you would like more information on the lumber available from Kuiken Brothers, please feel free to give us a call or send us a note through the Contact Us form. We look forward to hearing from you and will follow up with you right away.