Our Emerson, NJ Location Will Remain Open & Operational During Construction
Kuiken Brothers is pleased to announce that the Emerson Town Planning Board has unanimously approved our proposal to begin Phase II of our Emerson, NJ expansion. Benefits to our customers include significant increase of inventory (residential & commercial materials) improved traffic flow, increased parking and an overall increase in efficiency for both pick-up and delivery requests.
Phase II will begin with the demolition of a number of structures that vary in age from 20 to 90 years old including the existing warehouse, "chicken coop" storage racks and the existing loading dock to make room for state-of-the-art warehouse and material storage. In total, we are re-configuring 20,000 square feet of the existing site with the main feature  12,000 square foot drive-through warehouse which will enable us to inventory a significant amount of sheet goods, primarily plywood and drywall, including all commercial drywall SKU's).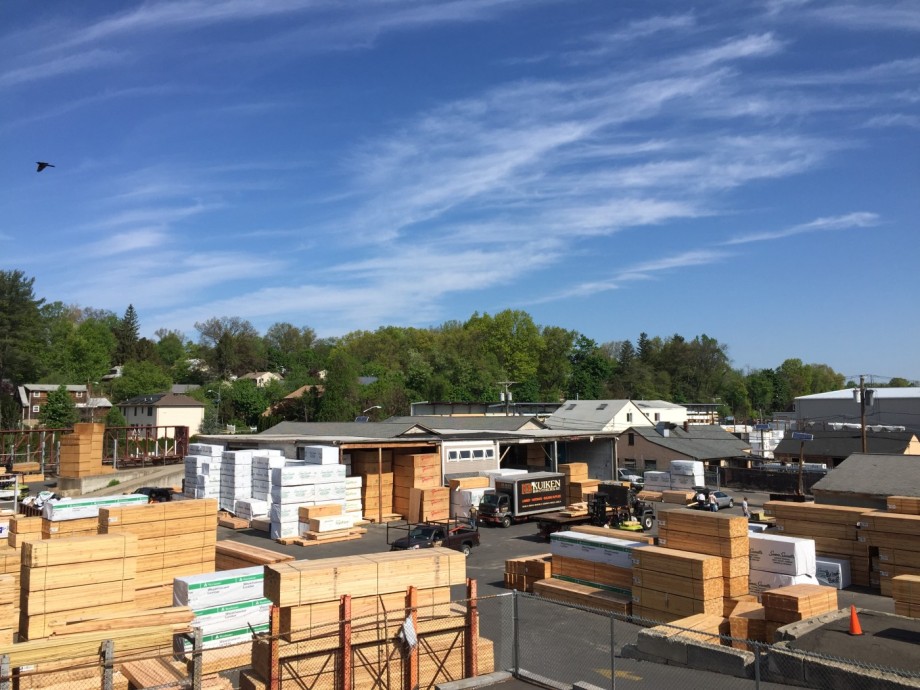 Demolition will be less impactful to our customers for both pickup and delivery requests since we will have completed Phase I (read more here) which doubled the size of the current facility and included a 25,000 sq ft drive-thru warehouse with loading docks and racking to store over 100,000 lineal feet of engineered lumber at any given time. All materials will be moved to the new warehouse (buildings 4 & 5) as this new warehouse is built.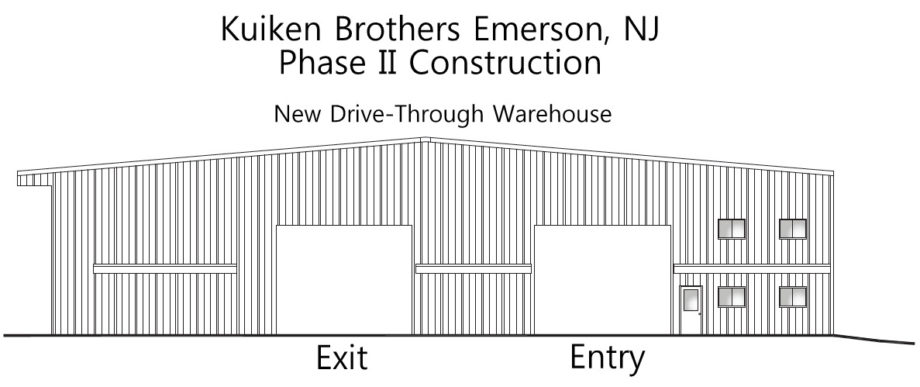 "We are excited not only for our core Emerson customers in the eastern Bergen County markets, but also our Fair Lawn, Garfield and Midland Park, NJ locations," said Matthew Kuiken, Vice President of Operations. "This new facility will increase our inventory and delivery capabilities in the core of our market, allowing for faster and more efficient product distribution for customer pick-up or jobsite direct delivery requests for all locations."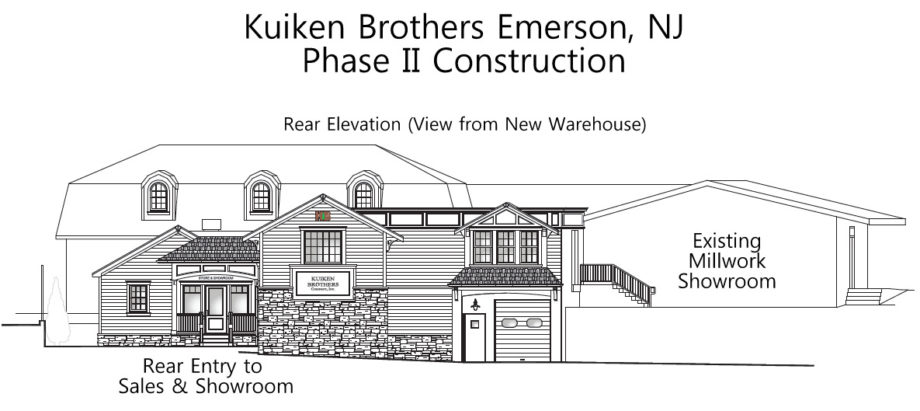 In addition to the new warehouse, the rear elevation of the existing sales office and Millwork Showroom will receive a makeover as a number of the existing loading dock structures will be removed entirely and a new entry will be added to access our sales counter.  The existing loading docks were replaced with 4 loading docks in the new warehouse constructed during Phase 1.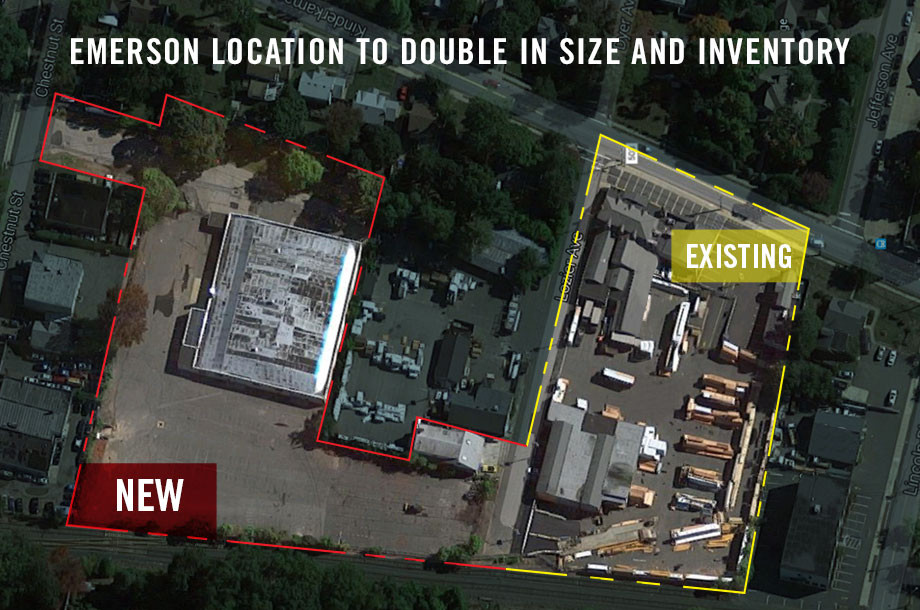 Features & Benefits To Our Customers:
Drive-Thru Warehouse

25,000 square feet of covered space
4 Loading Docks
Auto-Racking

Located in the Heart of Bergen County

Support Emerson, Fair Lawn, Midland Park & Garfield Customers
Fast & Efficient PickUp
Central location for our delivery fleet (moffetts and boom) for efficient deliveries
Double the Inventory On-Site (Residential & Commercial Building Materials)

Windows & Doors
Specialty Millwork
Moulding
Decking
Engineered Wood
Drywall & Steel Studs

Rail Siding

Lumber, Plywood & Drywall Direct from the Mill

Improved Traffic Flow for Faster PickUp & Delivery
Phase I at the Emerson, NJ is nearly completion. View complete details of this project here.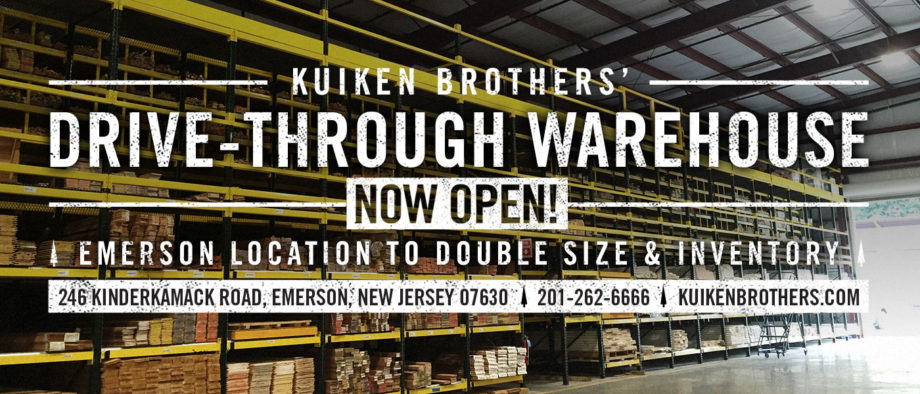 If you would like more information on Kuiken Brothers and the expansion plans at our Emerson, NJ facility, please feel free to give us a call (201) 262-6666, or complete our on-line Contact Us Form and a Kuiken Brothers will follow up with you right away. We look forward to working with you on your next project!
Save