Kuiken Brothers sells many types of doors for every application. Our showrooms display lots of examples of the latest styles and options available from our manufacturer vendors and we will work with you to find a door that meets your budget.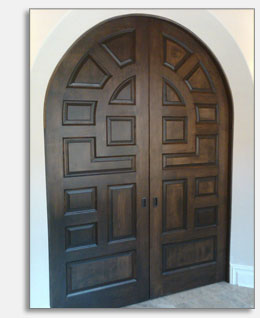 There are times however when you or your clients just want what you want. The driving force behind the door selection is the design and not the budget. The customer asks "Can you make it" before they discuss the price.
For door design requests like this, Kuiken Brothers has always found that TruStile is a quality manufacturer with the ability to turn your design ideas into your next door. Let me take you through how a typical custom door order might occur……
The Evolution of a Custom Door
While you might best know TruStile for having over 400 door styles, 66 profile choices, 40 glass and resin options and 14 standard wood species, you may not be aware that over a quarter of all doors they manufacture are custom designs. At TruStile they love custom. Their advanced manufacturing process is set up to produce any custom door in any quantity. This pictorial example delves into their custom door process — from cocktail napkin sketch to final installation. So let's get started…
Door Sketch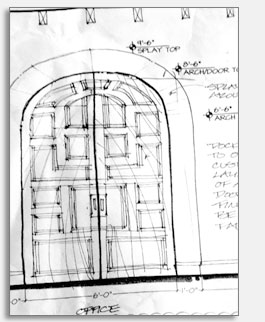 The inception of a custom door often starts with a skeptical phone call or e-mail accompanied by a rough sketch asking "Can you make this door?" More often than not, the answer is "YES!" To better illustrate the process of creating a custom door, we will use a real life example of a door that TruStile made this past year.
CAD Drawing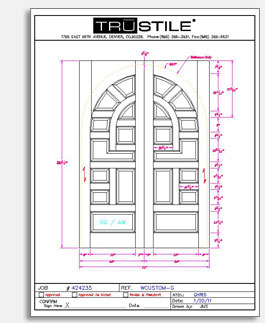 After reassuring a client that TruStile can make the custom door from just a sketch, their product engineers embark on transferring the drawing into CAD software. This involves both science and a little art. Some sketches go into great detail as to the overall door style and exactly what the sticking and panel profile should look like. Others are just a rough outline which allows their engineers to tap into their inner Frank Lloyd Wright to bring the drawing to life. Once a CAD drawing is produced (this typically takes a day or two), it is sent along with a quote to the customer for approval.
Manufacturing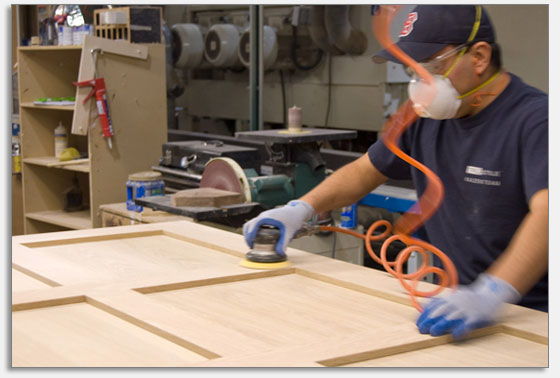 With approval, an order is produced for either their MDF or Wood Door plant. In this particular case, the order entered their Wood Door Plant and was made from Select Alder. In order to create the highest quality precision built architectural wood door, TruStile follows the Architectural Woodwork Institute (AWI) standards when selecting wood and handcrafting each door.
Installation and Finish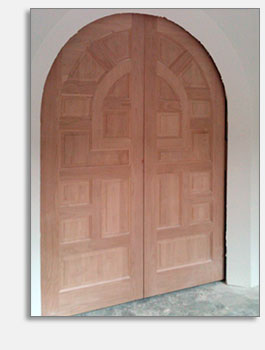 After your custom TruStile door has passed their final Quality Inspection, it is packed for shipment to a Kuiken Brothers location. These doors arrived unfinished and were fitted into a prominent radius-top pocket door opening within the new home. They were then stained a rich chocolate brown and outfitted with hardware. This perfect architectural door makes a statement in the room it now calls home and will be admired for years to come.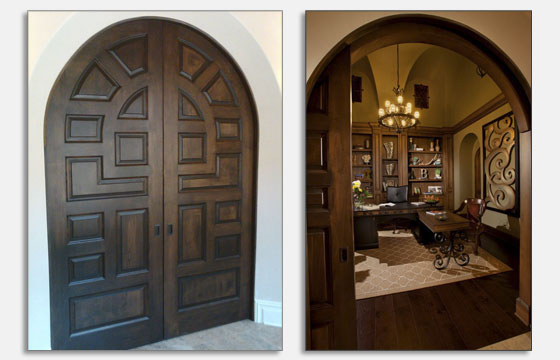 TruStile Doors and Kuiken Brothers can make almost any door idea into a door reality. If you are interested in TruStile or any of the other high-quality doors carried by Kuiken Brothers, please feel free to contact me at dhughes@kuikenbrothers.com or by phone at 201-705-5352.