Kuiken Brothers stocks and can special order a range of architectural columns, various styles of fiberglass round and square columns, softwood and hardwood columns, mantle columns, decorative capitals, and composite and wood porch posts.
HB&G Columns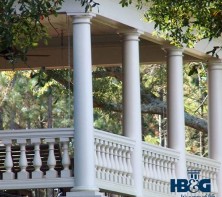 The traditional American front porch…it's where we welcome friends and family into our home. It's where we sit and enjoy their company. It's the place where we go to escape the stress of daily life and take the time to sit back, relax, and enjoy life. The last thing you want to worry about is the work required to keep your porch beautiful, and that's where HB&G can offer you the solution of a lifetime. HB&G offers a wide variety of porch products to help you create the design that best suits your way of life. Best of all, many of our products require little or no maintenance and come with a lifetime guarantee.
Kleer Column PostWraps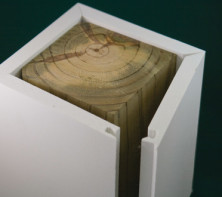 Manufactured from Kleer cellular PVC, KLEERWrap Post Wraps create the finished look of natural wood while being virtually impervious to moisture and insects. They are also backed by an industry-leading lifetime warranty against splintering, rotting, delaminating or swelling excessively due to moisture.
Each KLEERWrap Post Wrap comes complete with two Bed Moulding Sets included. Additional Bed, Crown, Base/Cap Moulding and Outer Wrap Sets are available by special order.