Kuiken Brothers Selected For Highest Award Given By Paterson Habitat For Humanity
(President Douglas Kuiken accepts the Millard Fuller Award on behalf of the company)
Fair Lawn, NJ – Kuiken Brothers Company, a landmark supplier of residential and commercial building materials in Northern New Jersey, has been selected by Paterson (NJ) Habitat For Humanity to receive the organization's highest award.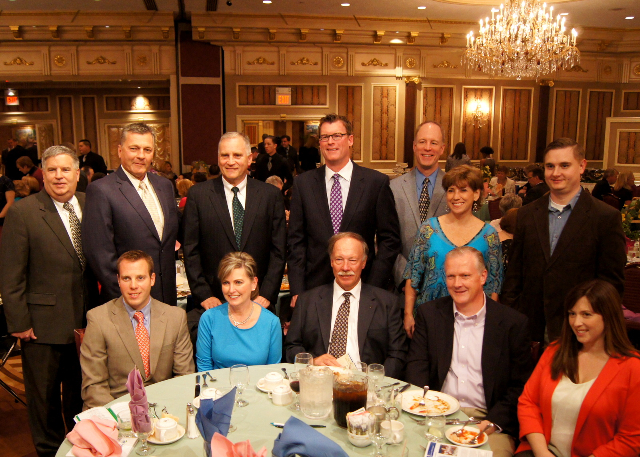 Paterson Habitat for Humanity honored Kuiken Brothers with the Millard Fuller Award in recognition of the company's support for Paterson Habitat as a supplier, donor and source of construction volunteers ever since Paterson Habitat began building homes for low income families since 1984. Named for Habitat For Humanity International founder Millard Fuller, the award is given to an individual or organization that reflects Fuller's life and values.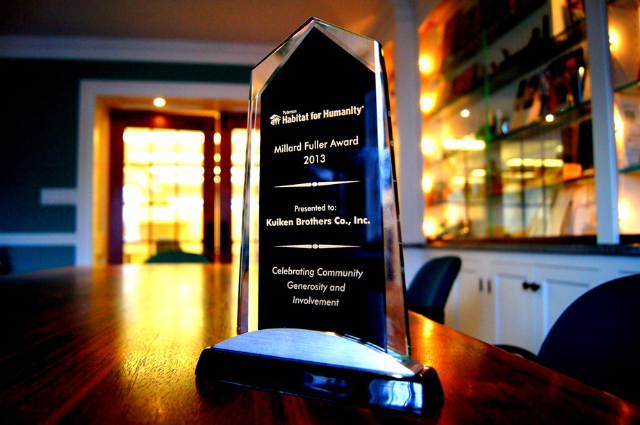 "Kuiken Brothers delivered the first load of lumber for the first house we built in Paterson," reflected Barbara Dunn, executive director of Paterson Habitat. "They've been a loyal friend and supporter since day one and a big part of our ability to create decent housing for 260 families."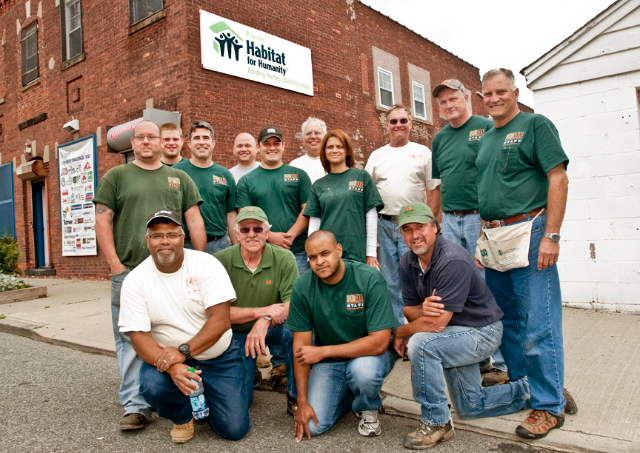 As part of its 100th anniversary celebration last year, Kuiken sent 45 volunteers to participate in Paterson Habitat's annual Corporate Challenge building and fundraising blitz. The company's roots go back to the 1880s when the first generation of Kuikens arrived in New Jersey from Holland and brought their home building skills with them.
In 1912 family members founded Kuiken Brothers as a small building supply company in Fair Lawn, N.J. Today Kuiken Brothers has nine locations in New Jersey and New York, with a tradition of putting customers first.
"We've always been part of the shelter industry," said President Doug Kuiken. "That is the basis of a very strong relationship and a natural fit with Paterson Habitat.
The Millard Fuller award, Paterson Habitat's highest tribute, was presented to Kuiken Brothers at Paterson Habitat's annual dinner March 21st at The Brownstone in Paterson, NJ.
About Paterson Habitat for Humanity
Paterson Habitat helps low-income families afford homes by offering them zero-interest mortgages and building new homes with volunteer construction teams and the volunteer labor of the homeowner families. The organization has served almost 250 families since it began in Paterson in 1984. For more information, visit www.patersonhabitat.org
About Kuiken Brothers
Established in 1912, Kuiken Brothers Company has grown to become a leading supplier of residential and commercial building materials with a focus on serving the needs of professional contractors and homeowners in the region. With a staff of more than 240 employees, the company now has a total of nine locations, eight in New Jersey—in Fair Lawn, Emerson, Midland Park, Ogdensburg, Wantage, Garfield, Succasunna and Roseland, and one in Warwick, New York.