Kuiken Brothers has been named PROSALES Magazine's Dealer of the Year for 2012, selected from 4,500 professional dealers nationwide.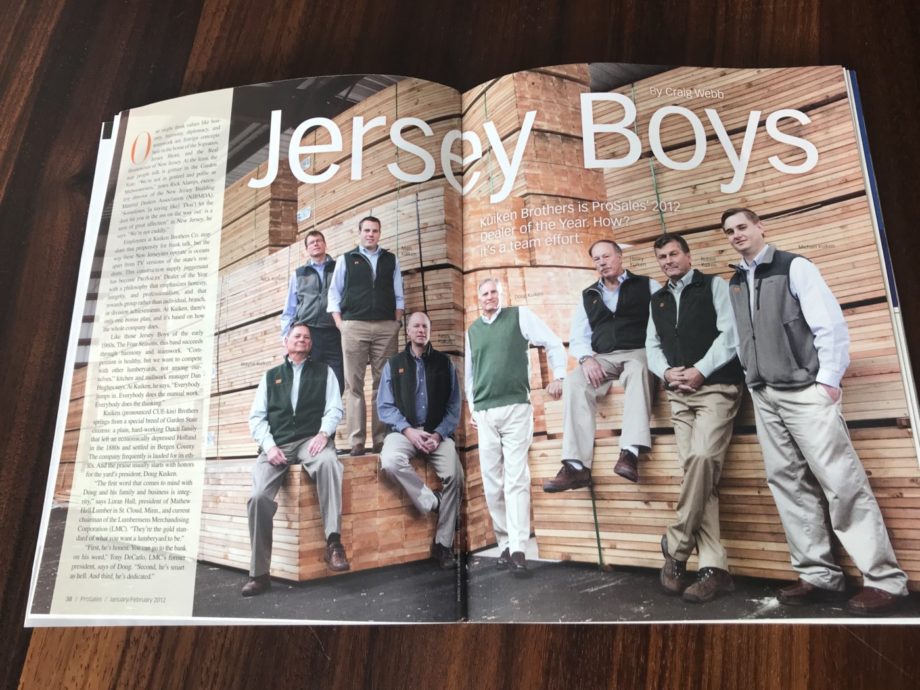 Download the Story Jersey Boys: Kuiken Brothers Receives ProSales Dealer of the Year 2012
"This is a tremendous industry honor and validates what we've been doing for the past century," said Douglas R. Kuiken, Kuiken Brothers' president. "I give credit for this award to our entire organization. It comes at a great time as we celebrate our 100th anniversary this year. I couldn't be prouder of the Kuiken Brothers team."
The PROSALES 2012 Dealer of the Year Award honors outstanding achievements in construction supply operations, management and innovations, as well as meritorious service to the dealer's community and to the lumber and building material industry. Only one construction supply dealer is chosen per year. As winner, Kuiken Brothers Company is featured in the cover story in PROSALES' January issue and on PROSALES' website.
"Kuiken Brothers enjoys respect across the nation not just for its tangible qualities—particularly its record of financial and operational excellence—but also for possessing such intangible qualities as integrity and trustworthiness," said Craig Webb, PROSALES editor. "The way Kuiken Brothers combines its studious approach to challenges with its willingness to act when the opportunity arises—such as with its creation of the KB Classical Moulding line—is a role model for everyone in construction supply."
Kuiken Brothers also offers educational workshops to help builders, remodelers, architects and designers keep abreast of the latest products and best practices. As a part of its year-long 100th anniversary celebration, the company will host its annual Product Expo in November.
About PROSALES Magazine
PROSALES Magazine is a part of the Hanley Wood family of publications. Published nine times a year, PROSALES delivers award-winning editorial to 34,000 building material dealers and distributors throughout the world. PROSALES' editorial focus provides actionable information to help building material dealers improve sales.