FOR IMMEDIATE RELEASE
June 11, 2008
Kuiken Brothers Company, Inc
Fair Lawn, NJ
Kuiken Brothers Acquires Lumber 1, Roseland, NJ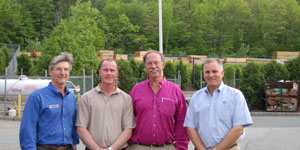 FAIR LAWN, NJ – June 11, 2008 – Kuiken Brothers Company, Inc., a leading building materials dealer with eight locations throughout northern New Jersey and southern New York, announced today that it has signed a definitive agreement to acquire Lumber 1, a lumberyard and hardware supplier in Roseland, New Jersey. The newly acquired business will assume the Kuiken Brothers name.
The acquisition will benefit customers of both organizations. Professional builders and contractors who purchase supplies from Kuiken Brothers will enjoy the convenience of the new northern New Jersey location. Lumber 1 customers, in turn, can expect to see an expanded range of quality products, backed by the technical and management expertise of Kuiken Brothers Company, a firm that has been servicing the building trade for 96-years.
"Lumber 1 shares with Kuiken Brothers the values of a family business fully dedicated to its community of customers," said Kuiken Brothers president Douglas Kuiken. "With its convenient location just minutes off Route 280 on the Eisenhower Parkway, this acquisition will enable us to better serve builders and remodelers in Essex, Morris and Hudson counties."
Lumber 1 president and co-owner John Misko stated: "Kuiken Brothers Company shares our commitment to providing customers with high quality products and friendly, outstanding service. Ultimately, this acquisition is about benefiting Lumber 1 customers as we will now be able to leverage the wider supply chain, product range and other resources of a larger company."
Established in 1912, Kuiken Brothers Company has grown to become a leading supplier of quality building materials and related services, with a focus on serving the needs of professional contractors in the region. With a staff of 270 employees, the company now has operations in eight New Jersey locations, including Fair Lawn, Emerson, Midland Park, Ogdensburg, Wantage, Garfield, Succasunna and Roseland – and one in Warwick, New York.
Photo: (Left to Right) John P. Misko, Jr and John Phelan (Lumber 1), and Henry Kuiken and Douglas R. Kuiken (Kuiken Brothers Company, Inc.)
———————————–
Contact:
Ryan Mulkeen, Director of Marketing
Kuiken Brothers Company, Inc.
145 Lake Ave
Midland Park, NJ 07432
Phone: 201.652.5707 ext. 375
Email: rmulkeen@kuikenbrothers.com
Website: www.kuikenbrothers.com
——————————————–