Natural wood doors can make a dramatic impact on the interior design of a home or commercial building. They can add character, warmth and texture. Different wood species can convey different feelings and themes. For example, Cherry or Mahogany wood can make a room feel more elegant or formal, while Pine or Alder can add a Southwest or High Country feel to a room.
But the beauty of a natural wood door can quickly be destroyed due to the use of cost-cutting tactics and shoddy workmanship that favor manufacturing yields over high quality doors.
Too often, decision-makers knowingly settle for cheaper wood doors without truly understanding how lower quality construction can negatively impact their project. In contrast, a high quality TruStile wood door can enhance the architectural feel of the room and make a lasting impression for years to come.
Take a look at these pictures. When you use cheap wood doors, don't be surprised when they look, well, cheap!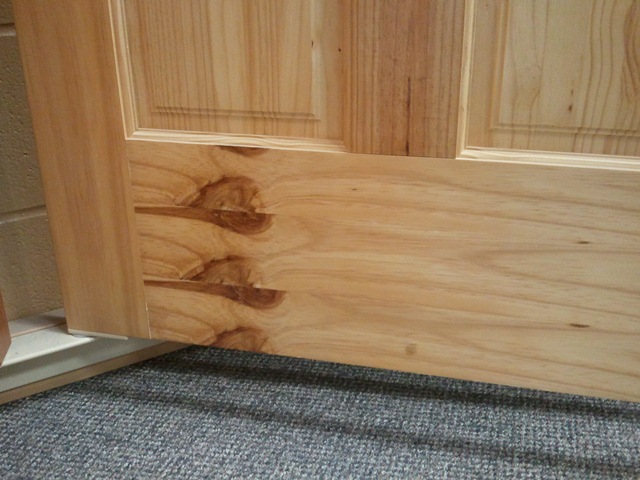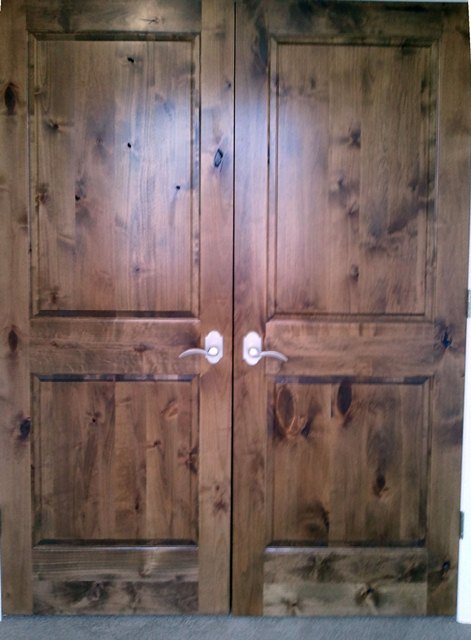 Numerous wood staves on a single panel can create a cluttered, blotchy look. These two pictures highlight the various and lower quality grade wood staves used on the bottom rail. It's as bad as combining stripes and plaids!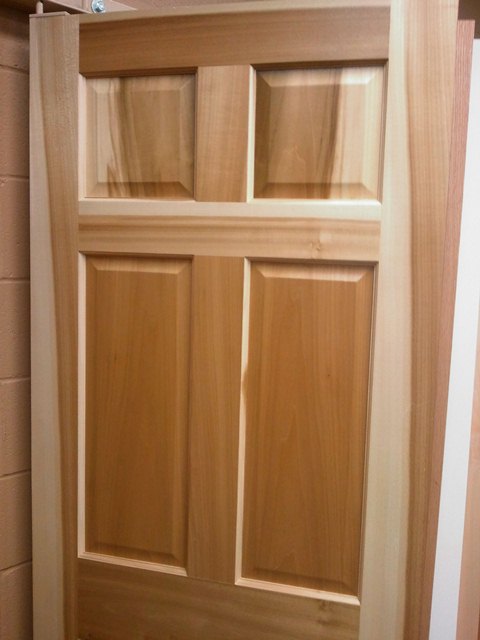 Poor color matching between the stiles, rails and panel create a contradictory or uneven look. One can easily see the huge color variations in these doors that result in a discounted, mass marketed look. We've all explained the "natural beauty of wood" to customers, but do you think this is what your customer really had in mind when they ordered from you?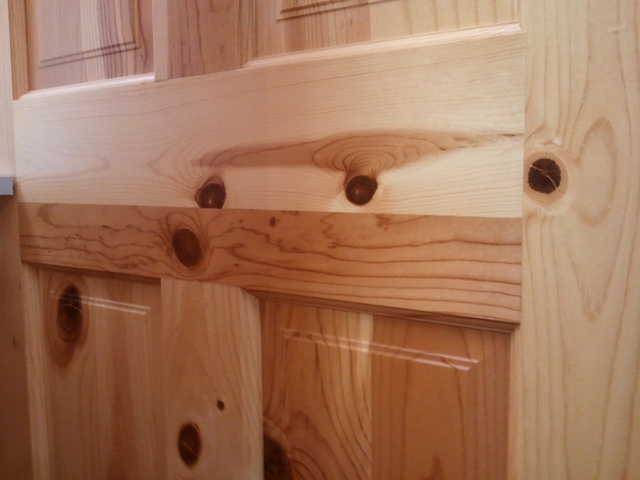 Excessive large knots or burls can dominate the appearance of a door instead of adding proportionate depth and texture. The proper use of burls and knots can add a unique look to a wood door without overpowering the entire appearance. This might be a great look for your cabin in the Adirondacks, but your customer in Alpine might have a problem with these doors!
The TruStile Difference for Wood Doors
There is a way to avoid these embarrassing door issues by choosing a precision built architectural wood door from TruStile. TruStile follows the Architectural Woodwork Institute (AWI) standards and exceeds the Premium grade for the most important characteristics that impact the visual appearance of the door. TruStile handcrafts the highest quality door without any of the "fashion faux-pas" listed above.
Don't be afraid to educate your customers on the TruStile quality difference. The upgrade to a better door is possible and is proven to result in improved customer satisfaction. Virtually every other product category is being upgraded within a custom home — why let your customers settle for cheap, commodity-built doors?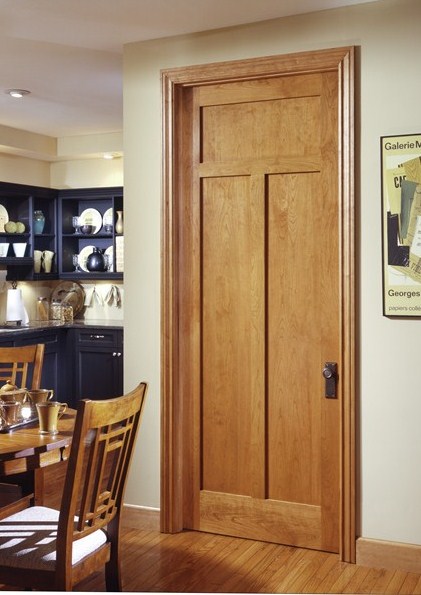 FAS Grade Lumber
The TruStile difference starts with selecting the highest grade wood (FAS grade lumber) with quality standards around specific species. For example, no sap wood is allowed in our Cherry or Walnut doors and only the highest grade lumber with minimal color variation is allowed in our stain-grade Poplar doors.
Hand-Selected Veneers
Next, TruStile hand-selects and color matches the wood veneers to the lumber used within the door. By purchasing only premium flitches of wood veneers from the same tree (not just the same forest, but the same tree), TruStile can guarantee the highest quality and color consistency across an entire home or commercial building. Just as in the fashion world, matching clothing by color seems elementary, but most people get it wrong! By understanding the numerous undertones and variations, coordinating colors can be challenging but the results are superior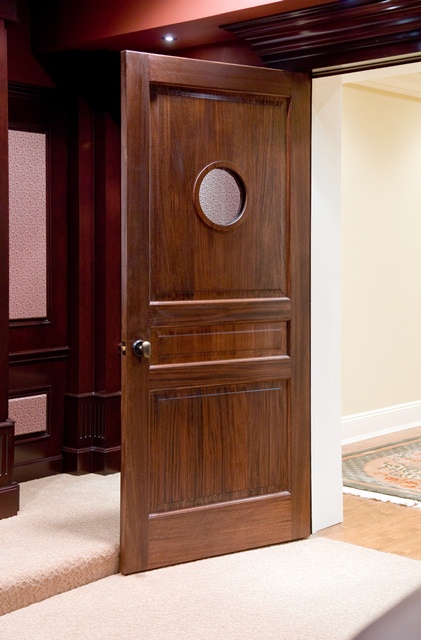 Superior Color Matching
TruStile's strong focus on color matching is illustrated by their approach with Mahogany, a wood species known for its extreme color variation from light to medium dark and reddish brown. TruStile developed a proprietary Mahogany color spectrum that is used with their suppliers to only purchase Mahogany in a tight color range. This ensures superior color matching between the panels, stiles and rails and a more beautiful door for your custom home.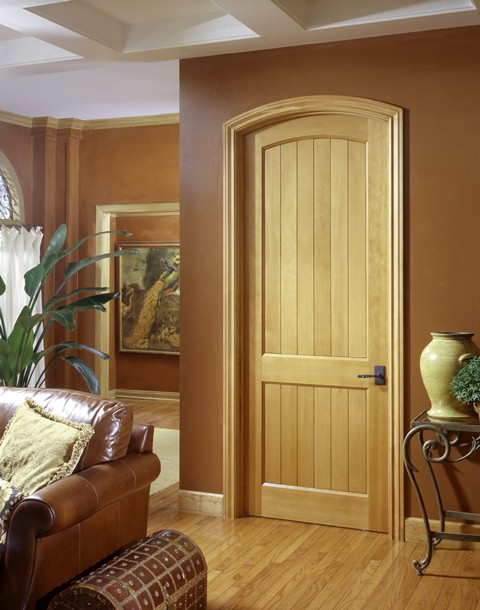 Selective Character Marks
In addition to color matching, TruStile inspects each piece of wood for quality defects in regard to what we allow in our doors. While other manufactures may insist that mineral streaks, pin knots, worm tracks or burls are natural characteristics or variations in the wood, TruStile carefully limits these characteristics in a manner that maintains natural beauty but also ensures a quality finish with no unsightly blemishes.
Finish Ready
The final step in TruStile's rigorous process is sanding the doors at least 3–4 times by hand and inspecting each with a black light to verify that no glue residue remains and the doors are smooth to the touch. All TruStile doors are "finish-ready" when they leave their facility. This allows for superior finishing and staining in the field; resulting in a more polished multi-dimensional look.
Your customers are this picky…..choose TruStile because they are picky too.
Kuiken Brothers is one of the largest TruStile dealers in the area and can help you add a quality TruStile door to your next project.  If you have any questions that I can assist with, please feel free to contact me, Dan Hughes at dhughes@kuikenbrothers.com or call me directly at (201) 705-5352. We look forward to working with you on your next project!