Kuiken Brothers is pleased to offer a free educational resource on our website where you can download detailed interior moulding elevations to create custom looking coffered ceilings with profiles from our in-stock collection of moulding profiles. One of the most popular sections of the Moulding Design Guide are the Coffered Ceilings.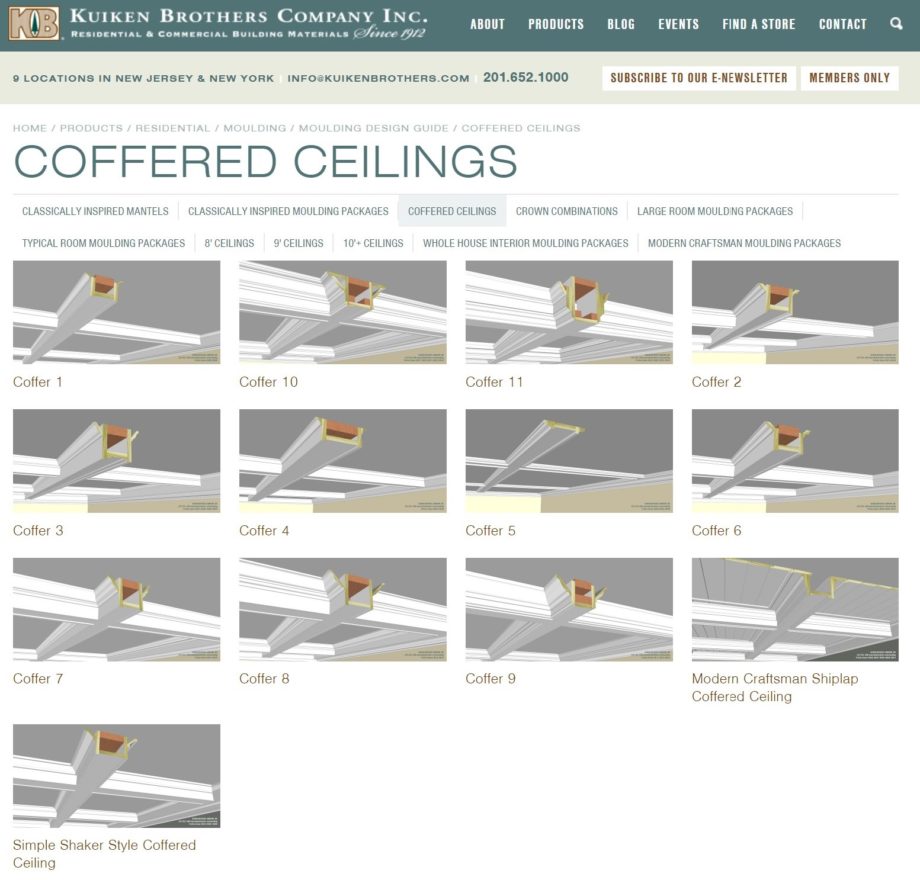 Coffered ceilings continue to grow in popularity for discerning homeowners who are looking to create a special space within their home. Coffered ceilings were most commonly installed in Arts & Craft style homes in the early 20th century where beam details where accentuated. The clean and open look was a very popular feature element in the home where the moulding details were generally clean and simple. Today, coffered and beam ceilings offer a visual break in rooms where open floor plan concepts require a visual break. We're also seeing a lot of coffered and beam ceiling details added to kitchen spaces. This detail adds an extra layer of detail in one of the most popular rooms in a home.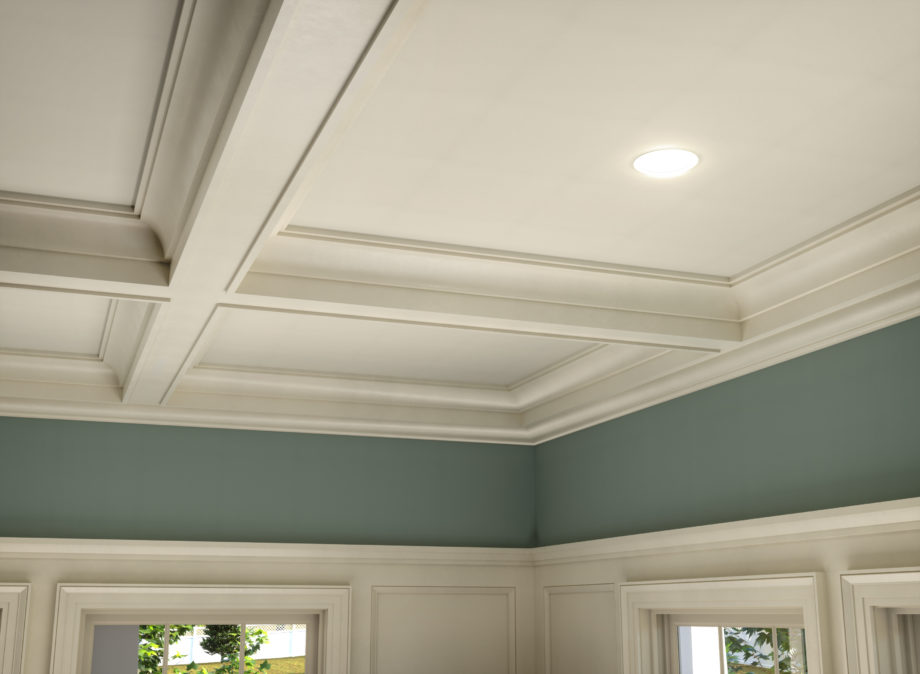 The coffered ceiling detail above is featured in our Modern Arts & Crafts Living Room in the Moulding Design Guide. While a number of shadow lines create the illusion of a built up crown moulding, the KB342 stepped cove profile is all that is needed to create the look.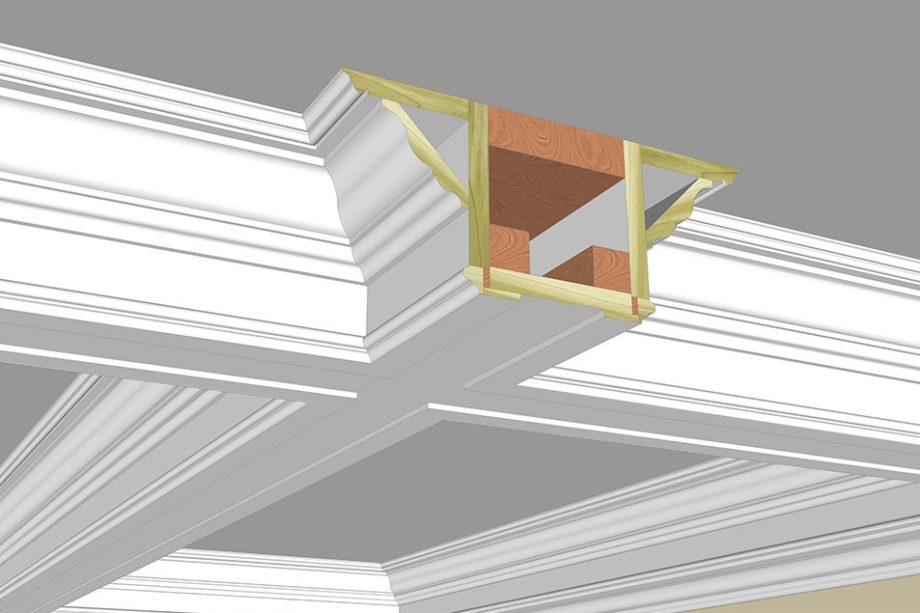 Pictured above is one of the more intricate coffered ceiling details that can be downloaded, Kuiken Brothers Coffer 10. You'll see a combination of base moulding (KB226) and the crown KB317 used in combination to create the intricate look. If you've ever installed wood moulding products you know that wood will expand and contract. Acclimating your moulding profiles to the homes interior temperature will help reduce some of those risks. Additionally, installation of smaller panel moulding profiles on longer runs, like the KB221 nose & cove and KB510 lattice that can be seen on the bottom portion of the beam will also help minimize any expansion and contraction that may occur during seasonal and temperature changes. Below is the wall beam detail, which utilizes the KB324 bed moulding which is a typical assembly in a crown moulding build-up.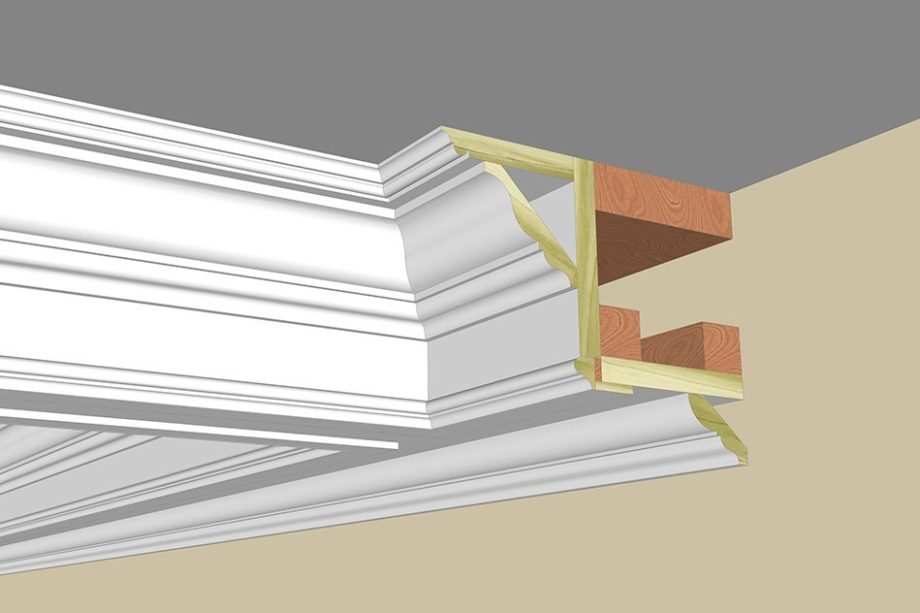 In addition to traditional and colonial style coffered ceilings, Kuiken Brothers Moulding Design Guide features a build-up utilizing profiles from our newest Modern Craftsman Moulding Collection. The profiles in this collection blend the simplicity of the profiles found in Craftsman style homes built in the early 20th Century while still maintaining proper scale and proportion, inspired by our Classical Moulding Collection. Milling from poplar allows us to ensure that each shadow line is purposeful and meaningful. You won't find any rounded edges here.
Kuiken Brothers' Simple Shaker Style Coffered Ceiling (below)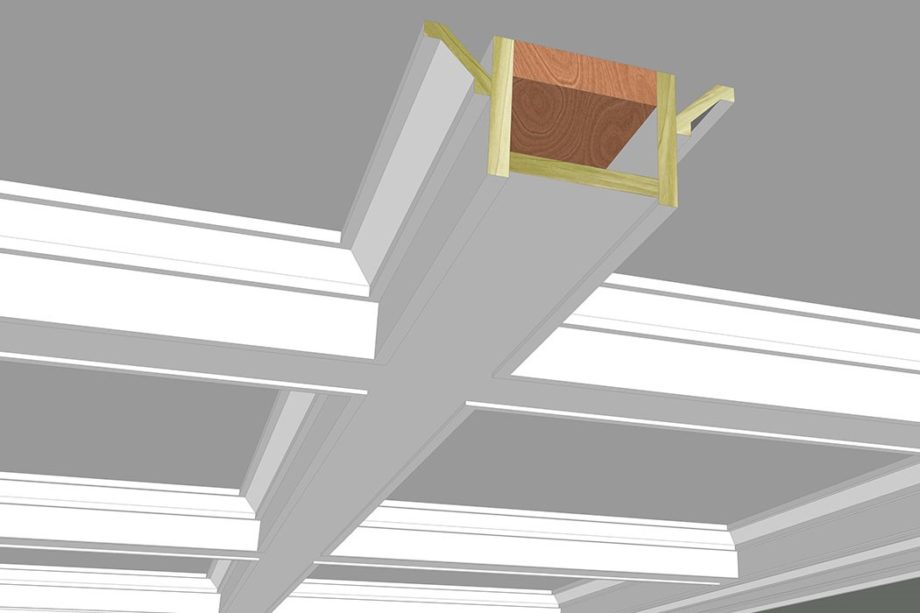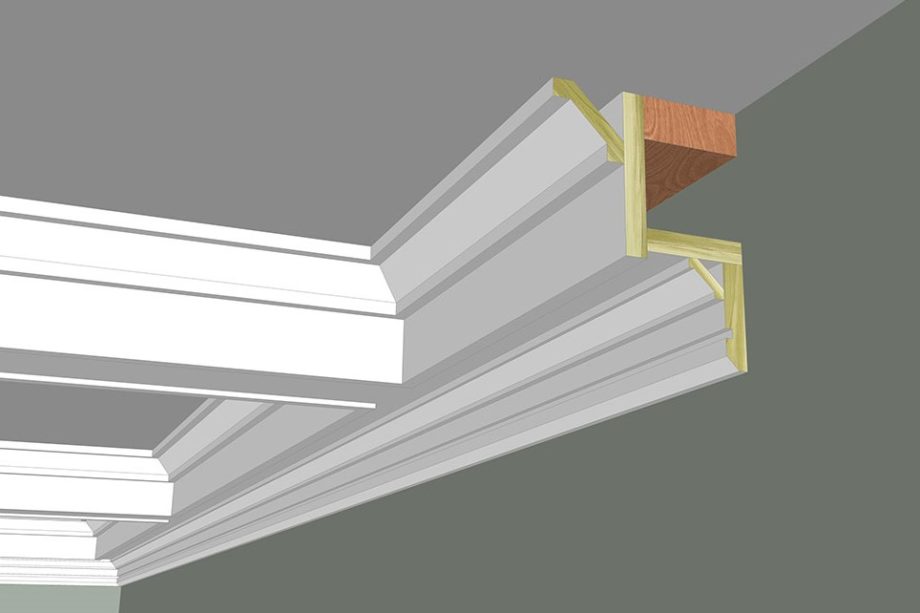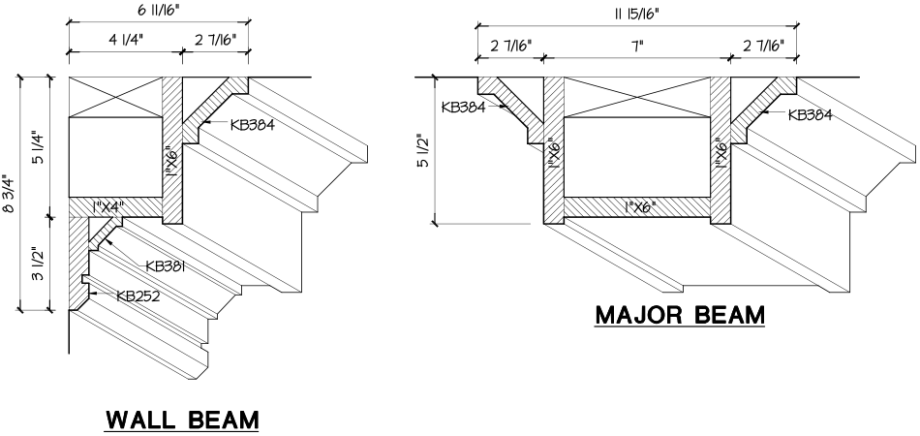 Customers that have ceiling heights of 8′ and even lower are still able to incorporate these details into their projects. We just recommend that the beams be shallower, and the profile selection less ornate. Below are a few build-ups that would be a great option for lower ceiling heights.
Kuiken Brothers Coffer 5 (below)
Kuiken Brothers Coffer 4 (below)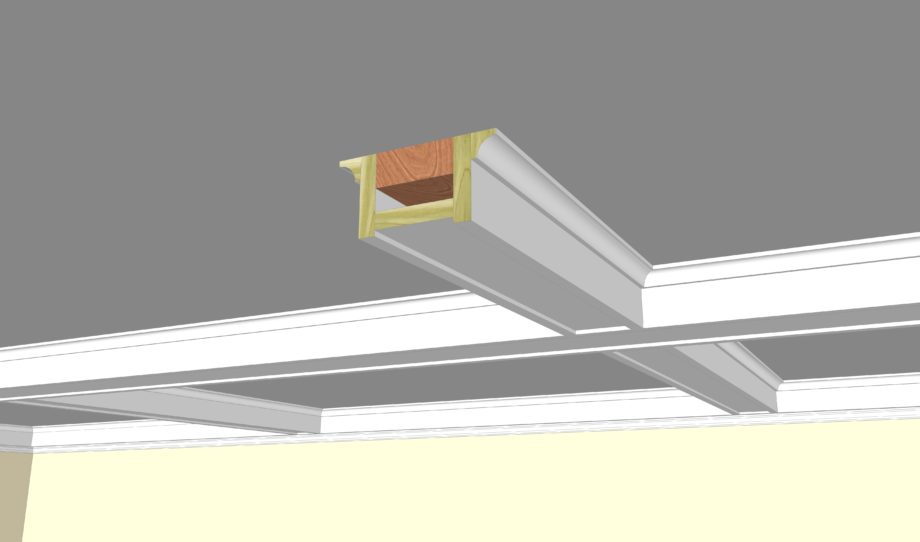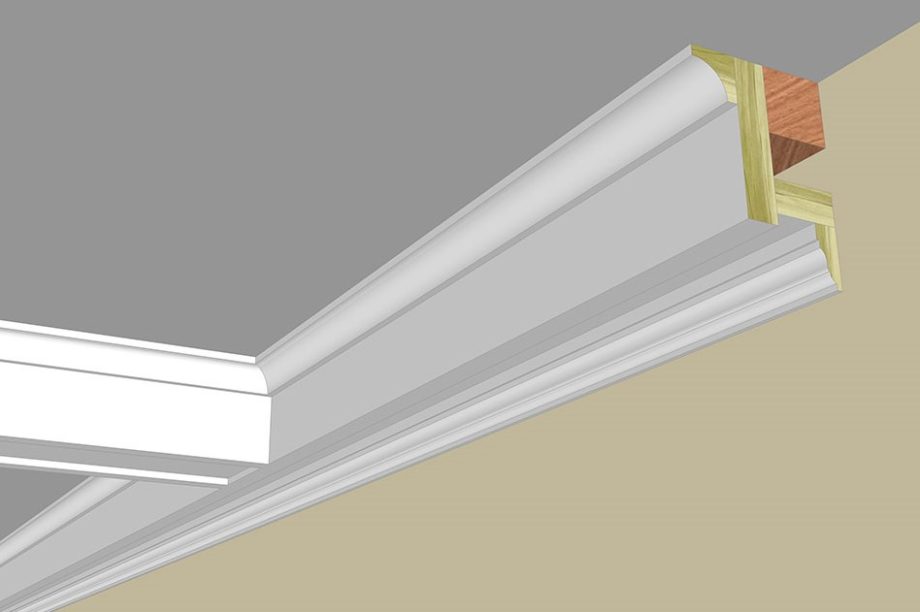 Explore Kuiken Brothers' Complete Moulding Design Guide
Kuiken Brothers' Moulding Design Guide (www.kuikenbrothers.com/mouldingdesignguide) is a digital resource featuring detailed interior elevation drawings of over seventy five unique moulding combinations, including full room packages, cornice combinations, coffered ceilings and mantles designs using profiles from our in-stock Moulding Collection. Detailed CAD drawings (DWG & DXF) and inspirational photos can be downloaded as you navigate through the various options.
Classically Inspired Moulding Packages
Modern Craftsman Moulding Packages
Typical Room Moulding Packages
10'+ Ceiling Moulding Packages
Whole House Interior Moulding Packages
Many of the moulding combinations found within this Moulding Design Guide are created with profiles from our Classical Moulding Collection. These profiles have historic precedent and are based off of classical and traditional designs discovered through our meticulous research of the Library of Congress's Historic American Building Survey and with the careful oversight of a nationally recognized historic moulding expert. Our goal is to help simplify the millwork selection process and hope you find this to be a useful resource.
Moulding and millwork can truly make the difference in the overall look and feel of a home. As an architect, designer and installer, you are in a unique position to ensure that the exterior aesthetics and architectural styles are carried to the interior design, so please feel free to take advantage of these services that are available to you from Kuiken Brothers.  These are just starting points for you to incorporate moulding designs into your plans. Once on the jobsite you will have a much better eye for the space so that you can swap out profiles as you see fit.
If you have any questions about an upcoming project, please feel free to give us a call (201) 652-1000 or complete the Contact Us Form where you can provide us with details about your project. We look forward to hearing more about your project and seeing how we can help you take your interior moulding game to the next level!