The Simpson Strong-Tie CCQM/CCTQM/ECCLQM embedded column caps are designed for use in raised pier foundations and applications where heavy timbers rest on concrete or concrete block columns. The heavy-gauge beam seats and unique SSTB-style anchor bolts provide the high uplift and lateral resistance needed to help resist high wind events. The new ECCLQMD is a variation that incorporates an additional seat to support a third member at the corner connection.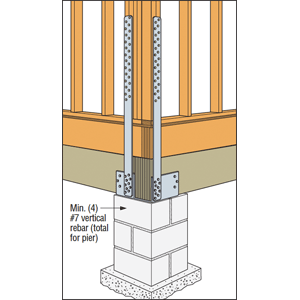 Framing is fastened with Simpson Strong-Tie Strong-Drive SDS wood screws (included) which install with no pre-drilling and feature a corrosion resistant double-barrier coating.
CCQM—Intended for use along a floor support beam and non-corner locations
CCTQM – Also for use along a floor support beam and non-corner locations with a side bucket that accommodates intermediate support beams coming at 90 degrees.
ECCLQM-KT – Intended for use at the corners with MSTQM straps to make the connection from the ECCLQM to the wall framing above.
ECCLL/RQMD-KT – Ideal for applications where a member is needed off the corner of the structure, such as a deck joist/beam.
For a complete list of products, technical details and drawings, CLICK HERE
For the past few decades Kuiken Brothers has been shipping material to projects along the Jersey Shore, and in all five boroughs of New York City. Now, with 9 locations and a fleet of over 80 vehicles, our ability to serve you in territories further than we may have previously considered has become even easier than before. If you are traveling further to work on projects impacted by Hurricane Sandy, please make sure to give us a call to see how we can continue to supply your needs.
If you would like more information on Simpson Strong-Ties Column Caps for CMU and Concrete Piers for an upcoming project, please feel free to give us a call or fill out our on-line Contact Us Form and a Kuiken Brothers representative will follow up with you right away.