Kuiken Brothers introduces a brand new, 68 page KB Classical Moulding catalog featuring 65 classic American moulding profiles. Contained within the pages of this unique catalog you will find several series of Classical and Historical moulding. We have been very meticulous in our research and have taken great care in depicting them as historically and architecturally accurate as possible.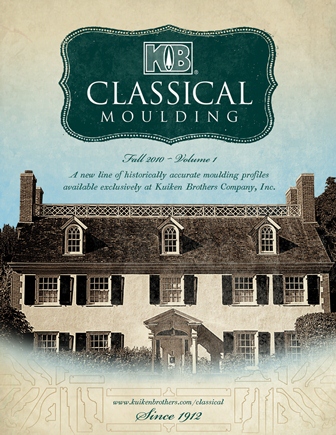 These are the mouldings which would have been utilized and found in many period homes of the 18th and 19th centuries. If the terms Early American, Georgian, Greek Revival, Federal, Colonial Revival or Traditional Revival pique your interest then you will surely find these profiles intriguing. Many of these profiles have historic precedent in our area, the Middle Atlantic and New England regions.
(pictured above, left to right: KB Classical Moulding Design Guide, Early American, Federal, Georgian interior millwork package)
As Kuiken Brothers celebrates our 100th anniversary, we reflect on the tradesman of yesterday and honor their commitment to craftsmanship, their deep knowledge, skill, and the purity of style evident in their era. Choosing the correct moulding profiles will transform an ordinary room into one with style, beauty, and ambiance. While these craftsmen understood that combining various mouldings produces beautiful results, they also understood that proper moulding selection can have a huge impact on the overall character and value of a home.
Today, Kuiken Brothers is pleased to re-introduce these historically accurate moulding profiles. Whether you choose to maintain purity of style or would rather mix styles to create something truly unique, we are certain you will find these profiles pleasing, yet adaptable, while maintaining their classical appeal.
(pictured above, left to right: KB Classical Moulding Design Guides for Greek Revival, Colonial Revival, Traditional Revival interior millwork packages)
Many of the profiles are available in a range of sizes in order to accommodate different room configurations and ceiling heights. Whether you are renovating a small Cape Cod, building your dream home, creating a warm office environment or anything in between, these profiles work well.
To view the entire collection of KB Classical Moulding profiles, click here for our in stock on-line moulding section. If you would like a copy of this 68 page moulding catalog to help inspire your millwork package for an upcoming project, fill out our Catalog Request form and we will mail you a copy right away.
If you would like to discuss the KB Classical Moulding collection for an upcoming project, please send an e-mail to info@kuikenbrothers.com and we will follow up with you right away.