FOR IMMEDIATE RELEASE
Wednesday, March 4, 2009
Kuiken Brothers Company, Inc
Kuiken Brothers Hosts Installation Clinic for Builders, Remodelers and Architects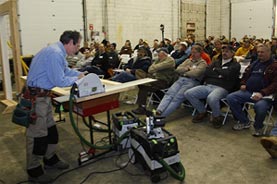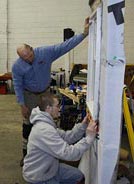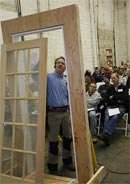 Wednesday March 4, 2009, Midland Park, NJ – Some 120 builders, remodelers and architects gathered on March 2nd for a "Frame to Finish Carpentry Clinic" at Kuiken Brothers Midland Park millwork warehouse. Despite the ordinary setting, the content was excellent and builders were able to walk away with valuable time saving techniques to help them hone their skills, increase their productivity and ultimately improve the bottom line. The "Frame to Finish Carpentry" clinic was hosted by nationally renowned building installation experts, Gary Katz and Mike Sloggatt from the Katz Roadshow. The topics included waterproofing windows and doors, hanging a new door in an old jamb, and designing elliptical porticos.
Many builders are finding the slow housing market as the perfect opportunity to learn about new products and installation techniques, something that they were not able to do during the recent housing boom. Not too long ago, there was an abundance of work and it was often difficult for many to work all day and stay on top of the latest products and trends in the market.
Kuiken Brothers has proven to be the "local lumberyard" for these builders to count on and come back to. "We can't thank Kuiken Brothers enough for hosting these educational events" said remodeler/ renovator Tim Scudieri of North Haledon based Scudieri Construction, Inc. "They have been a staple in the community for nearly 100 years. They are very loyal to their customers and are always looking for ways to add value to their customer's business. It helps create a reciprocated loyalty from the builders."
"We understand that business is not like it used to be, but are confident that it will rebound", said Douglas Kuiken, president of Kuiken Brothers Company. "This is a great time for all owners to reassess their businesses and find ways to become more efficient, and add more value for their customers. We try to provide educational events where our customers can get together, meet with their fellow builders, and share their thoughts and ideas about better installation techniques. We look forward to hosting many more of these events in the future."
Established in 1912, Kuiken Brothers Company has grown to become a leading supplier of quality lumber, millwork, building material and related services, with a focus on serving the needs of professional contractors and homeowners in the region. With a staff of over 250 employees, the company now has a total of nine locations, eight in New Jersey in Fair Lawn, Emerson, Midland Park, Ogdensburg, Wantage, Garfield, Succasunna and Roseland – and one in Warwick, New York.
———————————–
Contact:
Ryan Mulkeen, Director of Marketing
Kuiken Brothers Company, Inc.
145 Lake Ave
Midland Park, NJ 07432
Phone: (201)705-5375
Email: rmulkeen@kuikenbrothers.com
——————————————–