FAIR LAWN, New Jersey — October 27, 2011 — Kuiken Brothers is pleased to announce that its KB Classical Moulding Collection and catalog has been named one of the This Old House magazine's Top 100: Best New Home Products for 2011.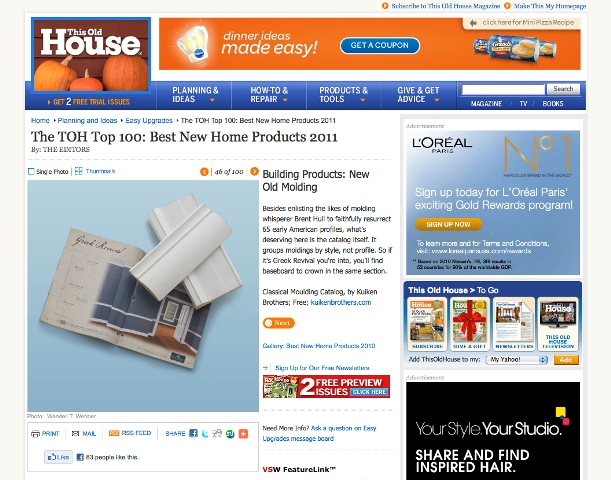 "This isn't just a list of new products–they're products with real value," says Scott Omelianuk, Editor of This Old House. "We worked hard to find things that were truly unique and would make a difference to our readers and their families, either through long term savings or ease of use or products that just plain surprised us–like the 50 or so that bear the Made in the USA icon. We think there's a huge value in that."
The 2011 list marks the first annual "TOH Top 100" and includes items for people who love old houses and appreciate new and interesting ways to fix them up. This Old House magazine currently has a subscription of 950,000 and reaches an audience of almost six million.
The KB Classical Moulding Collection includes sixty-five, in-stock, historically-inspired moulding profiles, and represents classic American moulding profiles designed nearly 200 years ago. The collection includes a range of crown, casing, base, chair-rail and panel mouldings.
"Besides enlisting the likes of Brent Hull to faithfully resurrect 65 early American profiles, what's deserving here is the catalog itself," said This Old House editors. "It groups moulding by style, not profile. So if it's Greek Revival you're into, you'll find baseboard to crown in the same selection."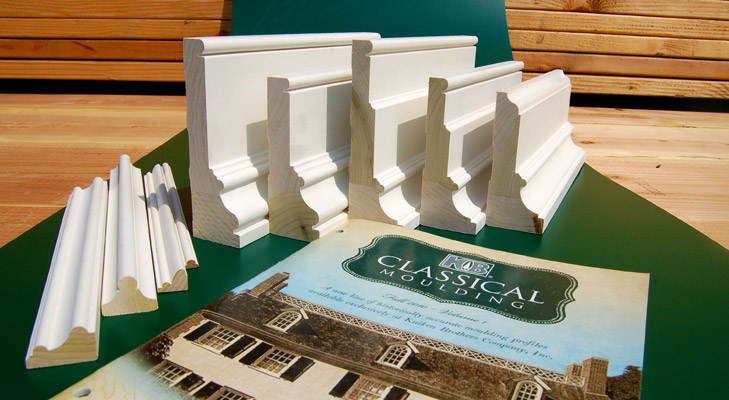 "Making the Top 100 list in a renowned national publication like This Old House validates our commitment to our customers," said Douglas Kuiken, Kuiken Brothers president. "We strive to make building, designing and home improvement easier for builders, remodelers, architects, designers and homeowners, and the simplicity of the catalog does just that. Plus, our Classical Moulding Collection products are exceptional. We are very proud of this accomplishment."
The products are categorized by architectural style (Early American, Georgian, Federal, Greek Revival, Colonial Revival, and Traditional Revival) to show which crown, casing and base mouldings go together.  In the past, coordinating design elements was difficult and time-consuming. CAD files are offered on-line for architects and designers to incorporate detail to their blueprints. Free moulding samples are available so potential buyers can match them to existing mouldings or see how they will actually look before installation.
To receive a free copy of the catalog, click here.
About Kuiken Brothers
Established in 1912, Kuiken Brothers Company has grown to become a leading supplier of quality lumber, millwork, building materials and related services with a focus on serving the needs of professional contractors and homeowners in the region. With a staff of more than 230 employees, the company now has a total of nine locations, eight in New Jersey in Fair Lawn, Emerson, Midland Park, Ogdensburg, Wantage, Garfield, Succasunna and Roseland, and one in Warwick, New York. For more information, call (201) 705-5375 or visit info@kuikenbrothers.com.