FOR IMMEDIATE RELEASE
Wednesday, August 20, 2008
Kuiken Brothers Company, Inc
Kuiken Brothers Breaks Ground on State-of-the-Art, 12-acre Lumber and Building Materials Facility in Succasunna, NJ – Roxbury Site was dormant for past decade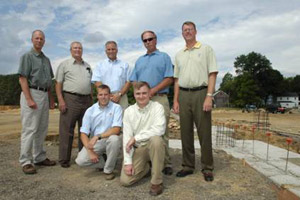 Succasunna, NJ- Kuiken Brothers Company, Inc., a leading building materials dealer with eight locations throughout northern New Jersey and one in southern New York, broke ground today on its newest location in Succasunna, NJ—a 12-acre, drive-through lumber and building materials facility that will serve builders, remodelers and home-owners while helping to create local jobs in the community and bolster business for surrounding merchants.
Dignitaries attending the groundbreaking ceremony at 33 Route 10 East in Succasunna included Roxbury Mayor Tim Smith, Assemblyman Alex DeCroce and NJBIA President Phillip Kirschner. The facility will be located on Route 10 adjacent to Kuiken Brothers' 6,000 square foot KB Concepts Window, Kitchen and Millwork showroom, and is easily accessible from major thoroughfares such as Route 10, Route 280, Route 80, Route 46 and Route 287.
The drive-through lumberyard will be convenient for builders in Morris, Essex, Sussex, Warren and Union counties as a one-stop location to pick-up materials and meet with customers to make product selections. Featured inventory will include a vast array of lumber and building materials from engineered lumber, windows and doors to drywall, mouldings, decking/railing, hand and power tools.
"When the Succasunna lumberyard is completed, the 12-acre complex will be a state-of-the-art facility…that will be built the way a modern lumberyard should be," said Doug Kuiken, president of Kuiken Brothers.
Kuiken added that the facility will include rail service—service that has been inactive for more than a decade. "One of the benefits of rail service is that it greatly reduces the number of trucks on the road," explained Kuiken. "Rail service also allows us to purchase lumber materials direct from the lumber mills, which ensures consistent quality and keeps our cost down, enabling us to pass the savings on to our customers."
Kuiken also stressed that this site had been previously developed and was operating as a lumberyard. "As a result of our redevelopment and engineering plan the facility will have a positive impact on the environment and water quality," said Kuiken.
In addition to the new structures, there will be extensive landscaping and permanent conservation areas which buffer Horseshoe Lake. " This project will bring more jobs to the community and local businesses will also enjoy increased activity as another positive by-product," noted Kuiken.
Established in 1912, Kuiken Brothers Company has grown to become a leading supplier of quality building materials and related services, with a focus on serving the needs of professional contractors in the region. With a staff of 276 employees, the company now has a total of nine locations, eight in New Jersey in Fair Lawn, Emerson, Midland Park, Ogdensburg, Wantage, Garfield, Succasunna and Roseland – and one in Warwick, New York.
———————————–
Contact:
Ryan Mulkeen, Director of Marketing
Kuiken Brothers Company, Inc.
145 Lake Ave
Midland Park, NJ 07432
Phone: (201)705-5375
Email: rmulkeen@kuikenbrothers.com
——————————————–