Kuiken Brothers is now stocking FrogTape!  What makes FrogTape different from other painter's tapes? FrogTape is the only painter's tape treated with PaintBlock Technology. PaintBlock is a super-absorbent polymer which reacts with latex paint and instantly gels to form a micro-barrier that seals the edges of the tape, preventing paint bleed.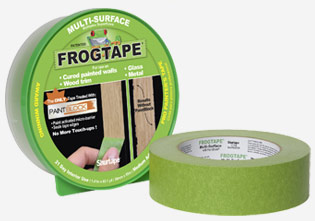 FrogTape Multi-Surface is a medium adhesion painter's tape designed for use on:
Cured painted walls
Wood trim
Glass
Metal
FrogTape Multi-surface will remove cleanly from most surfaces for up to 21 days and seven days in direct sunlight.
Still not convinced? Watch the video:
If you would like more information on Frogtape, visit one of our Kuiken Brothers locations today. Our Kuiken Brothers Wantage, NJ location is your source for Benjamin Moore paint, and our Kuiken Brothers Warwick, NY location is your source for Valspar paint.  Additional questions, please fill out our Contact Us form and be sure to type "FrogType" in the comments field.