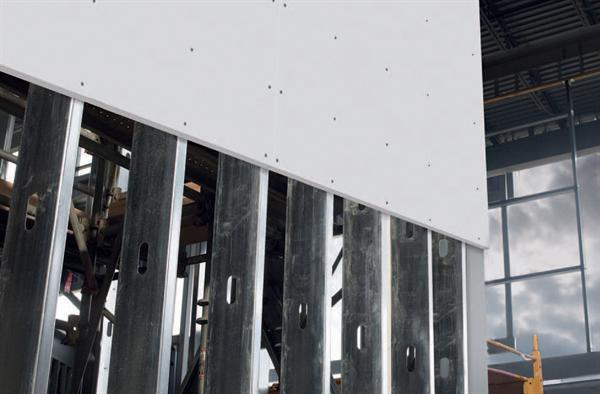 Gold Bond BRAND e2XP Interior Extreme Gypsum Panel is a moisture and mold resistant gypsum panel designed for interior applications requiring increased resistance to incidental moisture abrasion. e2XP Interior Extreme is manufactured with an enhanced moisture and mold resistant gypsum core and facer. The facer is composed of a coated fiberglass mat which provides superior moisture resistant capabilities. It is produced in 1/2″ Regular and 5/8″ Fire-Shield Type X, 4′ wide in standard lengths. e2XP Interior Extreme is lightweight, scores and cuts easily and is specially coated on the front, back and sides for easy handling. e2XP Interior Extreme is easily identified by the back facer in National Gypsum's original PURPLE color.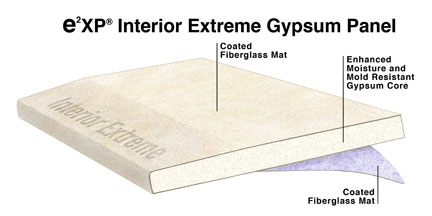 Tapered edges allow joints to be reinforced with ProForm BRAND Joint Tape and concealed with ProForm BRAND Ready Mix or ProForm BRAND Quick Set Setting Compounds.
Basic Uses
e2XP Interior Extreme can be used in both wood and metal framed construction for interior wall and ceiling finishing while providing increased moisture and mold resistance.
Designed for use on the interior side of exterior walls, where moisture exposure is more likely.
Can be used for pre-rock applications before the building envelope is completely enclosed which may shorten construction cycles.
On projects where the owner or specifier has designated fiberglass faced gypsum board exclusively for the interior, the ideal solution is e2XP Interior Extreme Panels.
Advantages
Manufactured to meet ASTM C 1658 and applicable sections of ASTM C 1396.
Will withstand up to 12 months of interior exposure to the elements, subject to the terms, conditions and exclusions of National Gypsum's Limited Warranties.
Resists the growth of mold per ASTM D 3273 with a score of 10, the best possible score.
GREENGUARD listed as microbial-resistant when tested per ASTM D 6329.
Coated fiberglass mat on face and back for easy handling.
5/8″ Fire-Shield e2XP Interior Extreme is an approved component in specific UL fire rated designs.
Single gypsum panel product can be used throughout entire project wherever gypsum board is specified.
Less than 5% water absorption per ASTM C 473.
GREENGUARD® Certified as a low-emitting material. Meets CHPS and CA Section 01350.
If you would like more information on National Gypsum's e2XP Interior Extreme Drywall for an upcoming project, please feel free to give us a call or fill out our on-line Contact Us Form and a Kuiken Brothers representative will follow up with you right away.