Under the sink storage has always been problematic. Homeowners keep a variety of liquid cleaning solutions, the trap for the sink is there, and often the connection for the dishwasher ties into the plumbing under the sink. All of this equals a damp and sometimes leaky environment that causes stains, and worse, a warped sink bottom due to the construction of most sink bases. The solution? Merillat's CoreGuard.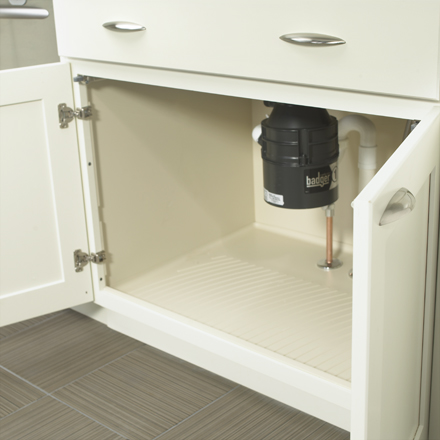 The Merillat CoreGaurd Sink Base is made of an engineered polymer specifically designed to resist damage from spills and leaks. The face, frame and door assembly are wood, but behind them, everything is a water-resistant, non-wood material that's easy to clean and is stain-resistant.
The floor has a slight forward tilt and a rib design to direct any spills forward. With CoreGuard, you can see a problem right away and clean it up. It's a low-maintenance solution in a cabinet that's built to last.

If you would like more information on Merillat's Coreguard for an upcoming project, contact Kuiken Brothers Kitchen & Bath department for an upcoming project. You can also fill out the Kuiken Brothers Quote Request form and make sure to mention "Merillat CoreGuard" in the comments field.