Project Location: Wyckoff, NJ
Cabinetry Manufacturer: Mouser Cabinetry
Moulding Manufacturer: Kuiken Brothers
Kuiken Brothers Designer: John Krehely
Builder: Dykhouse Construction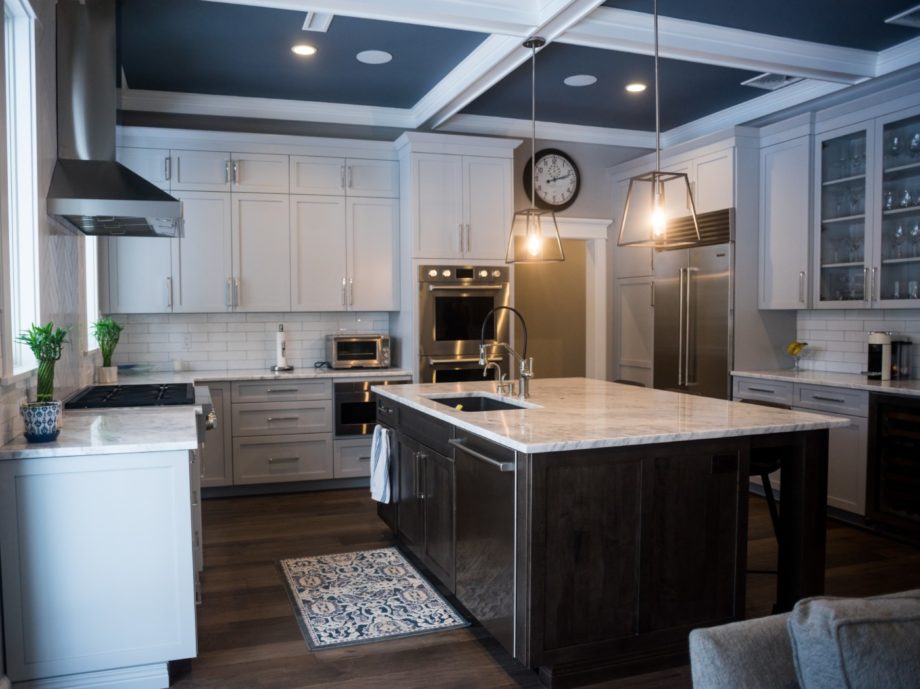 This admirable kitchen in Wyckoff, NJ was supplied by Kuiken Brothers Kitchen & Bath Cabinetry and designed by Kuiken Brothers Designer, John Krehely. In today's day and age, when planning for a new kitchen choosing your style is important for the look you want to achieve.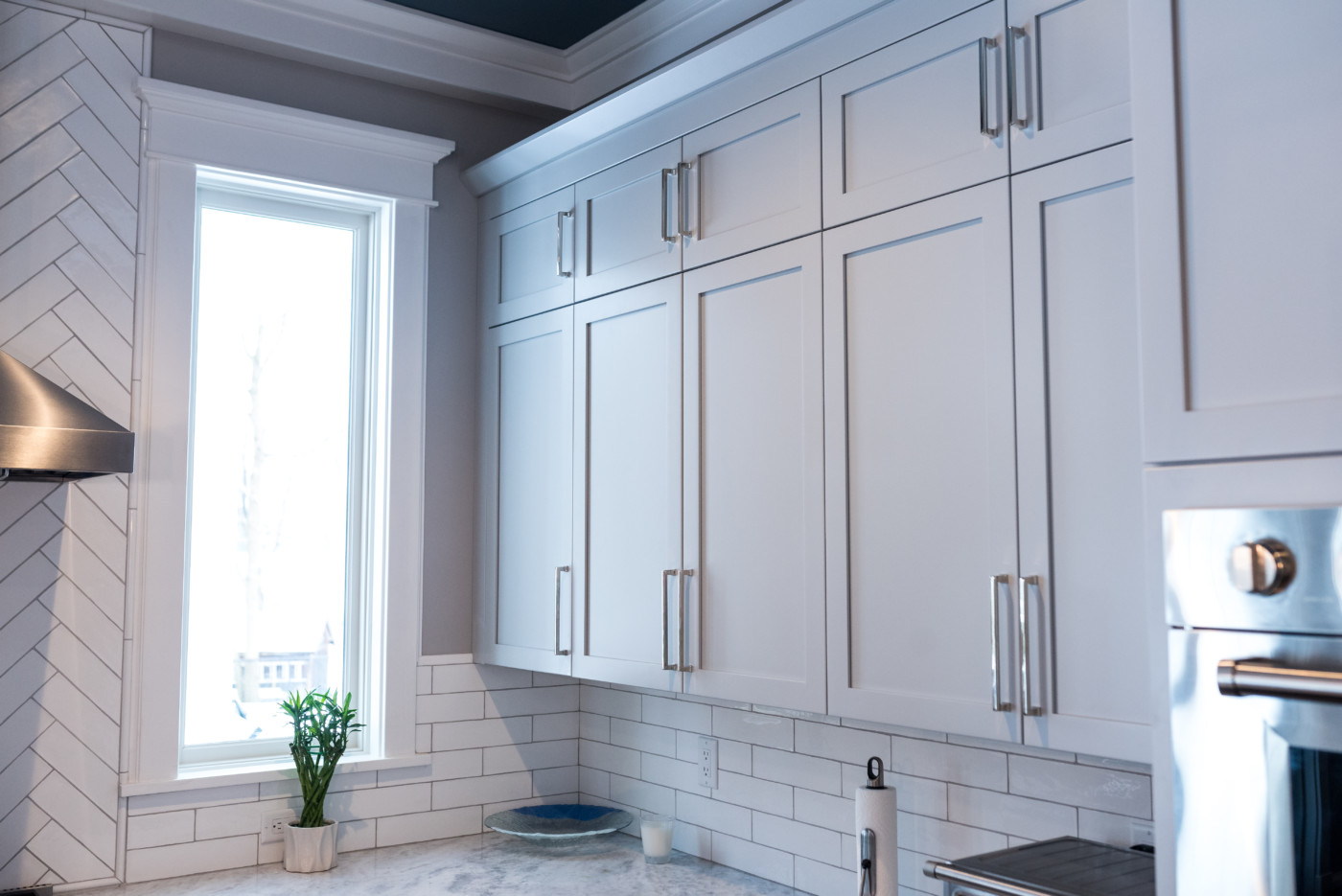 The clients discussed color, style, added features and ultimately decided they were interested in a Euro-Style design. For this design, they decided on frameless cabinets in a soft shade of gray which has clean crisp lines creating a smooth modernized look. Shown on Mouser Cabinetry, this soothing neutral shade looks especially luxurious when accentuated with some shiny door pulls.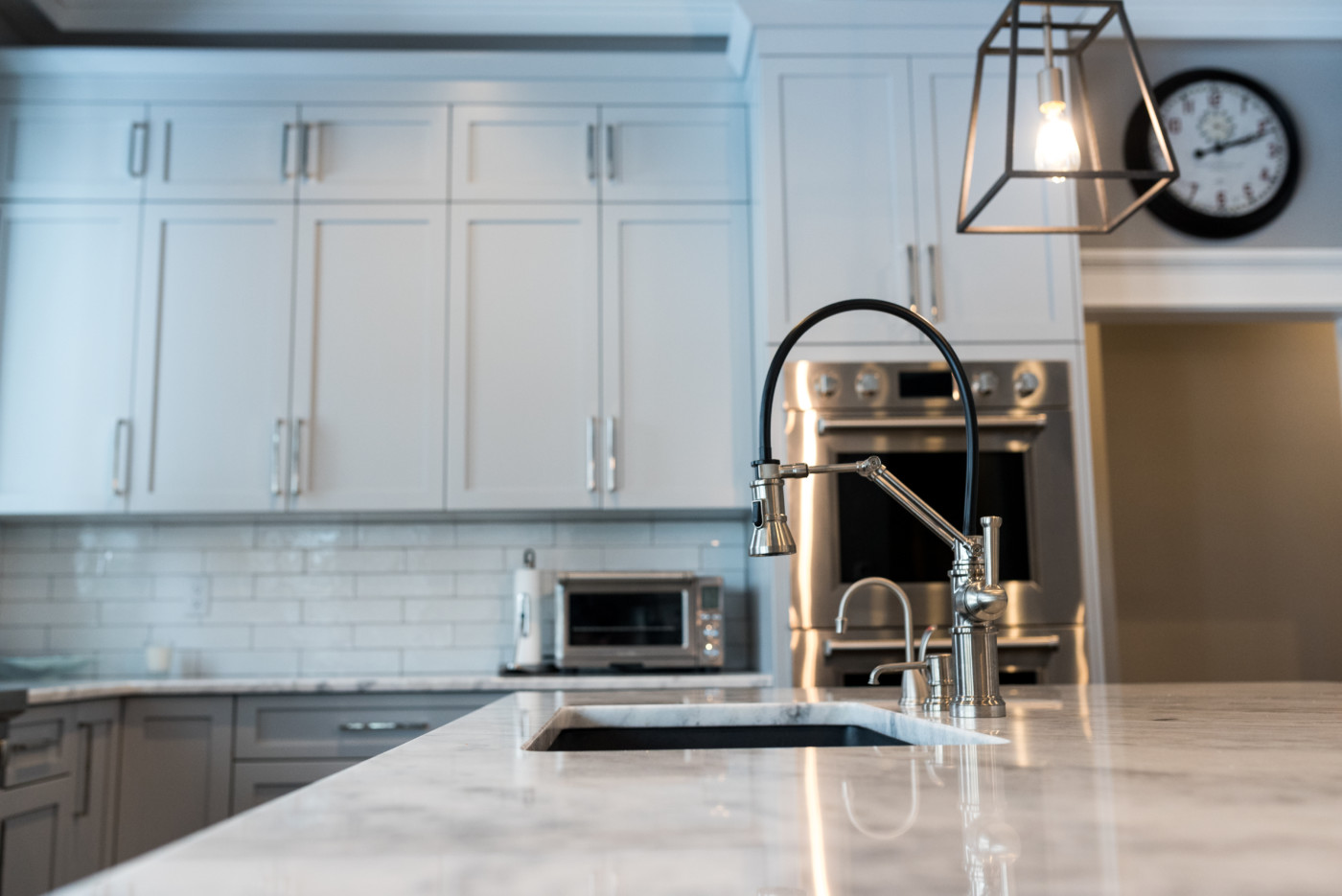 Originally, the clients wanted the cabinets to extend their way up to the ceilings, but they were convinced otherwise. The designer, John suggested using Mouser's stacked cabinets giving the tall ceilings a great impact, while their builder suggested using the coffered ceiling throughout the entire living room and kitchen to really highlight the entire area.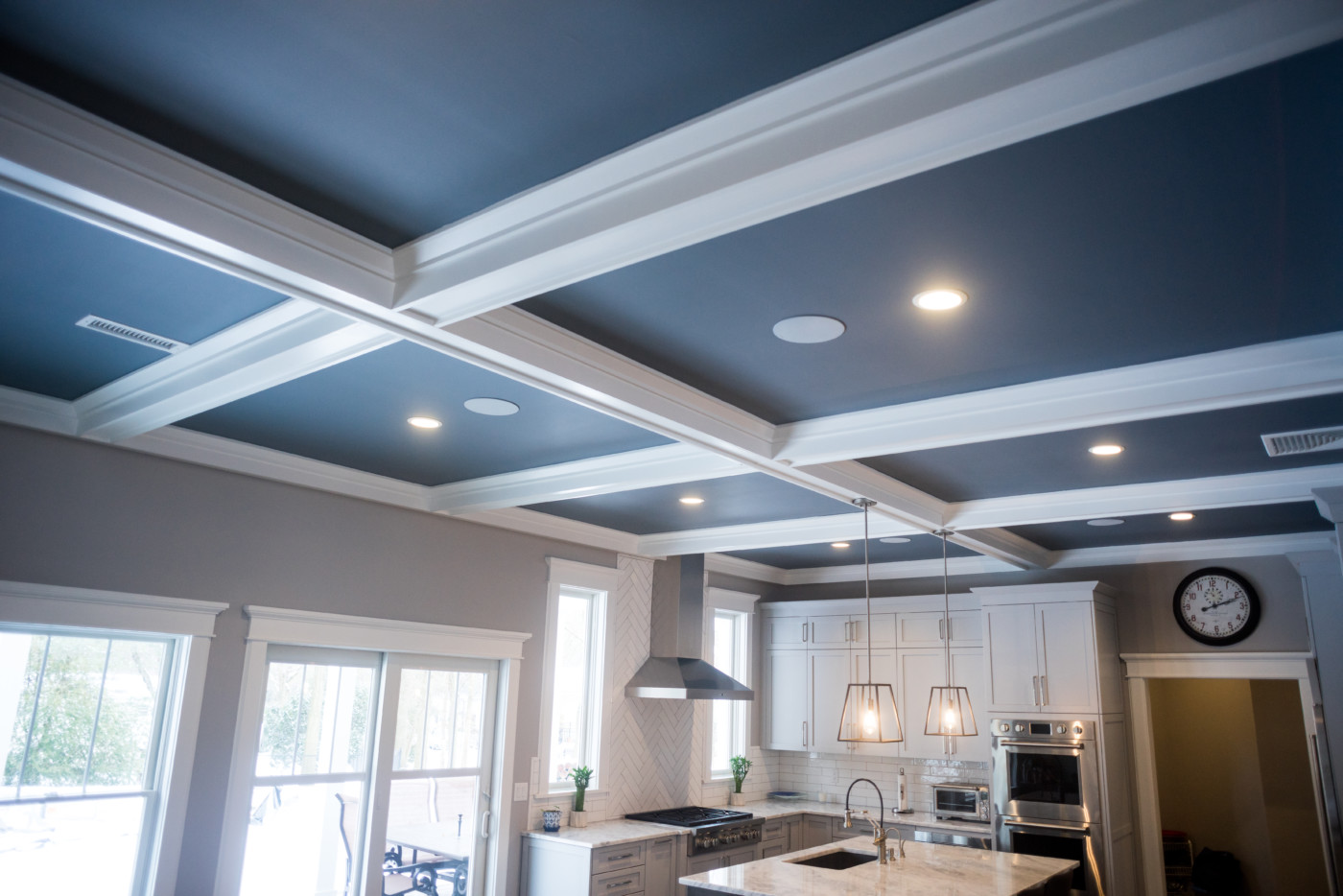 Whether they're in a living room, kitchen or dining room, coffered ceilings cleverly integrate dimension into a design scheme. Within this design, the clients decided on a darker toned ceiling. This draws focus to the architecture of the room and also acts as a versatile backdrop that ties together the room with the pops of colors in the furnishings.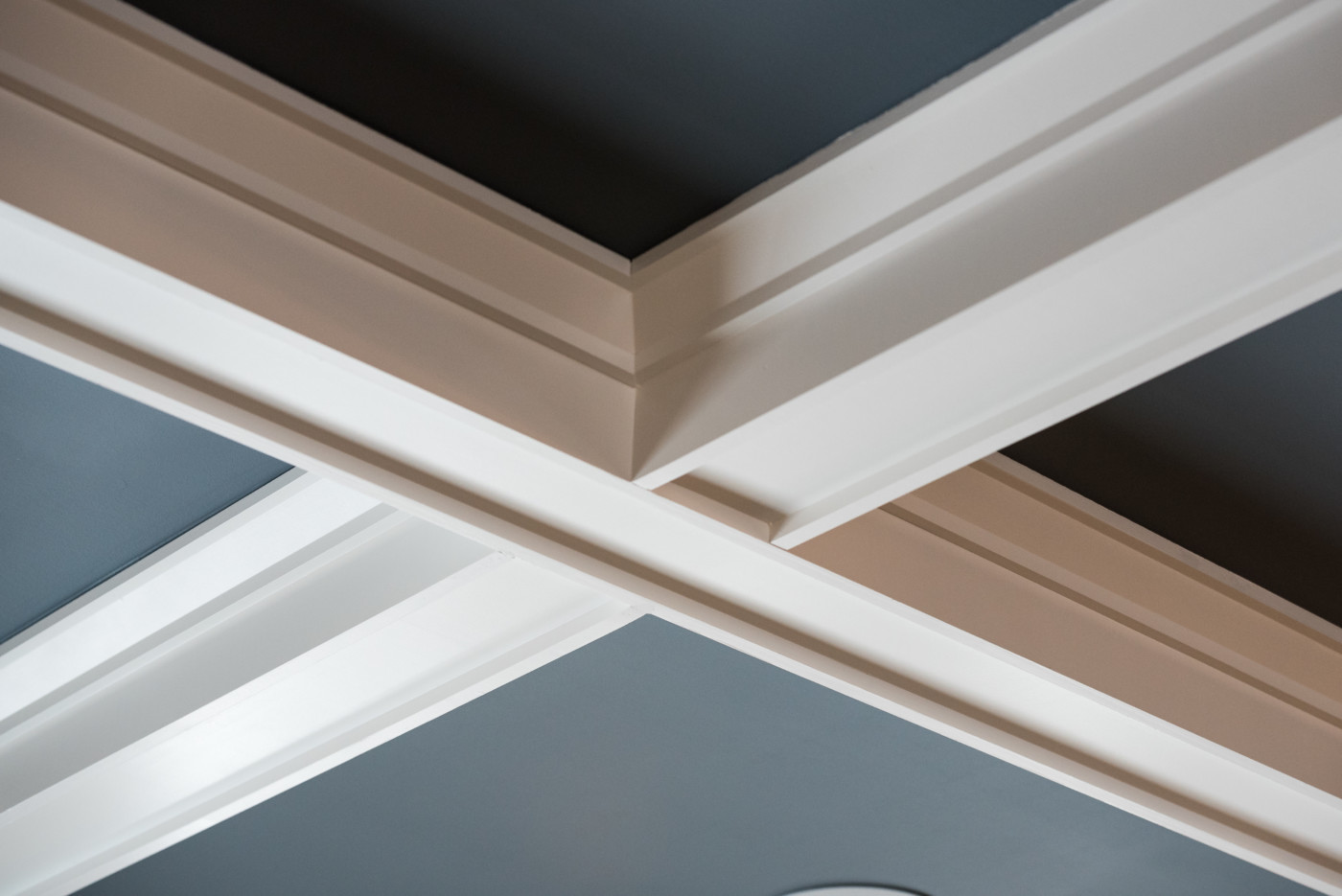 Usually within each box of a coffered ceiling, there is a decorative crown moulding and along with the height of the beams which gives the effect of recessed ceiling panels. Kuiken Brothers had the privilege of supplying the mouldings for this coffered ceiling from their Modern Craftsman Collection. Pictured above is a simple shaker style coffered ceiling which includes the crown moulding, KB384.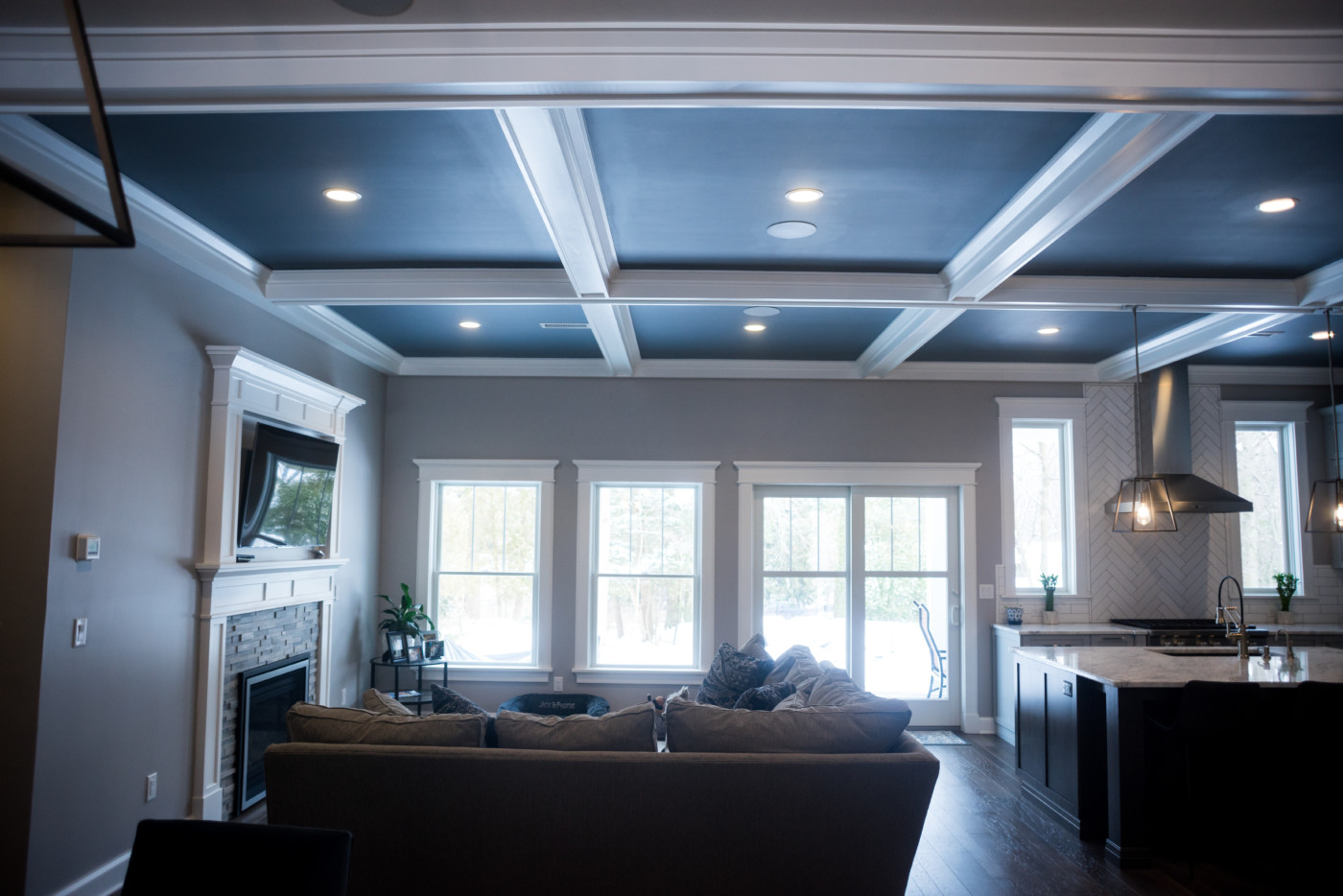 Overall, the clients decided to use Kuiken Brothers Modern Craftsman Moulding Collection throughout the entire house, including the crown moulding, head casing, base and mantel to pull it all together. Though many focus on the style, size, shape and layout of the cabinetry itself – all very important details, of course – it's important not to overlook the entire space and how you can creatively make it look and feel.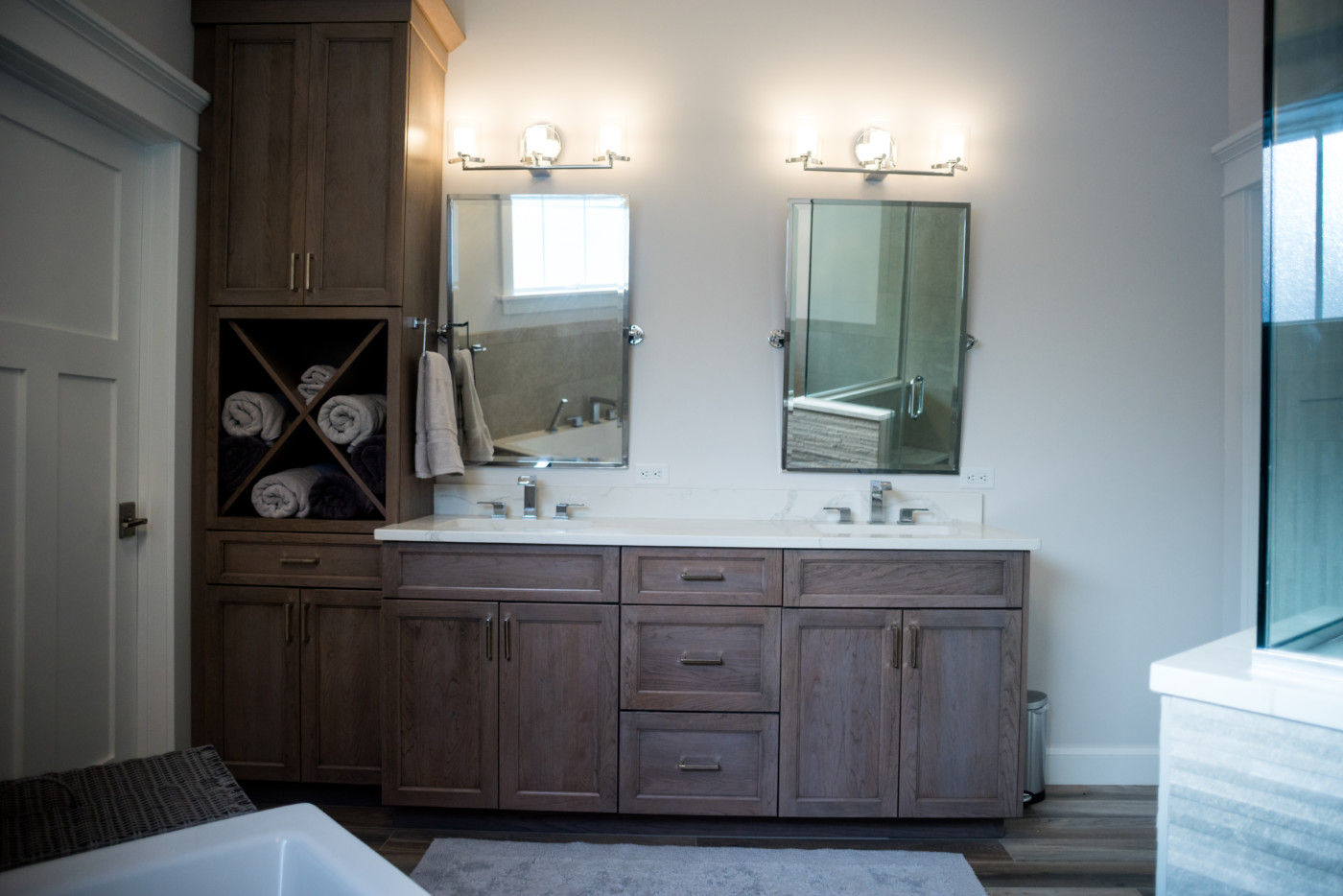 Not only did the homeowners use Kuiken Brothers for their admirable kitchen and trim, they also helped design their master bathroom vanity. This custom double sink vanity provides them with a great amount of counter and storage space. 
In the gallery below, check out how this beautiful home came to life!