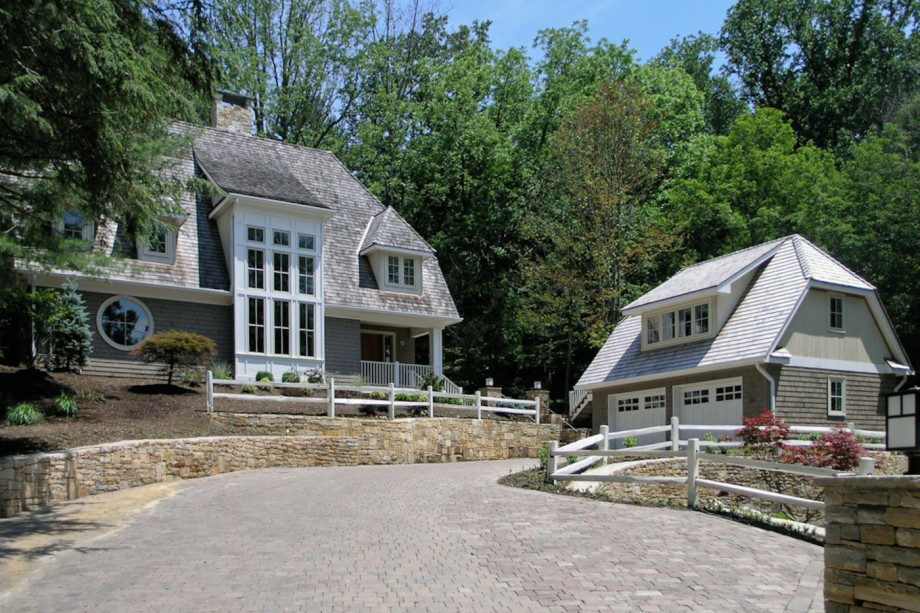 Caitlin Burck jumped at the chance to work on a 3,000 square foot, new construction home with 13 rooms. A project designer with a psychology major and a background in design, Burck spearheads many projects in New York City, as well as Rockland, Westchester, Bergen and Orange Counties.
"I'm usually one of the first people involved in a project and the last one out because I do everything from space planning and interior architecture, to decorating." She does full-scale project design for new construction and major reconstruction. She works intimately with all of the associated trades.
This particular project was in New City, New York, which is a moderately affluent suburb of New York City. Historically, the neighborhood was inhabited by artists and cultured eccentrics. The homes were simple and unpretentious, although there were a lot of additions on old farm houses, circa 1800-1900. There were a number of mid-century single level houses and some contemporary homes, with rustic features.
This particular craftsman-inspired prairie style home originally melded into the understated landscape of its immediate neighborhood. Now an eyesore, the 1,100 square foot dwelling had a cedar shake roof and was falling down. Burck wanted to retain parts of its original charm. "Knowing that it would be listed as new construction, my objective was to make the space as appealing to as many people as possible. I tried to be neutral in my selection of tile, cabinetry and paint colors. I really wanted the space to feel open, clean and airy."
Burck is a huge fan of moulding and millwork. "As a designer, I like to pick an element and then added trim and moulding. Spontaneously, I create really beautiful groupings. There is a big difference between a room with moulding and a room without. Just by adding crown moulding, you can make a space feel 100% different. It is rich and decadent. It truly is transformative."
"I had a specific idea in mind for this space, and worked closely with my Kuiken Brothers sales representative. He was instrumental in making this project successful. I met him at the Kuiken Brothers' Fair Lawn location and together, we sorted through the mouldings. It was great to touch and feel them within the context of the application. There was a really great selection. We also used the KB Classical Moulding Catalog. Having a full-service sales rep made my job so much easier. "
"The catalog is segmented into architectural styles (Early American, Georgian, Federal, Greek Revival, Colonial Revival, and Traditional Revival). I didn't have to do much research or worry about the continuity of the elements. I also appreciated that all of the materials are in stock. Ease-of-access was critical to my project."
Kuiken Brothers' KB Classical Moulding Collection includes sixty-six, in-stock, historically-inspired moulding profiles, and represents classic American moulding profiles designed nearly 200 years ago. The collection includes a range of crown, casing, base, chair-rail and panel mouldings. Burke's final selection included moulding profiles from the Greek Revival and Colonial Revival collections for all 13 rooms (KB361 Crown, KB116 Casing and KB227 Base). A neutral paint color made the base mouldings, door and window casings, and cove/crown mouldings "pop."
"Interior designers need elements that are interesting and readily available. Kuiken Brothers delivers that and more. It delivers quality materials and excellent customer service. I have since used their moulding for several new projects, including a 1909 firehouse that needed to be as historically accurate as possible. Kuiken Brothers' moulding and millwork pay tribute to history. And that's important to my clients and to me."
Kuiken Brothers offers free moulding samples so potential buyers can match them to existing mouldings or see how they will actually look before installation. CAD files are offered on-line for architects and designers to incorporate detail to their blueprints. To request a free Classical Moulding Idea catalog, visit www.kuikenbrothers.com/classical or call (201) 796-2082.
Download the latest version of Kuiken Brothers Moulding & Millwork Catalogs (Full Line & KB Classical). Once downloaded you'll never have to search for our catalog again. Check out the video below to see how to download on most mobile devices, including iPad, iPhone and Droids smartphones.