Kuiken Brothers is excited to introduce Fabuwood's all-new door style, Luna now available at Kuiken Brothers Cabinetry showroom locations throughout NJ & NY.
With smooth finishes, the Luna line makes quite the impression creating a polished look. By creating their own version of the new cutting-edge slim-shaker door style, this door style modernizes the traditional shaker cabinet for a modern and sleek new look.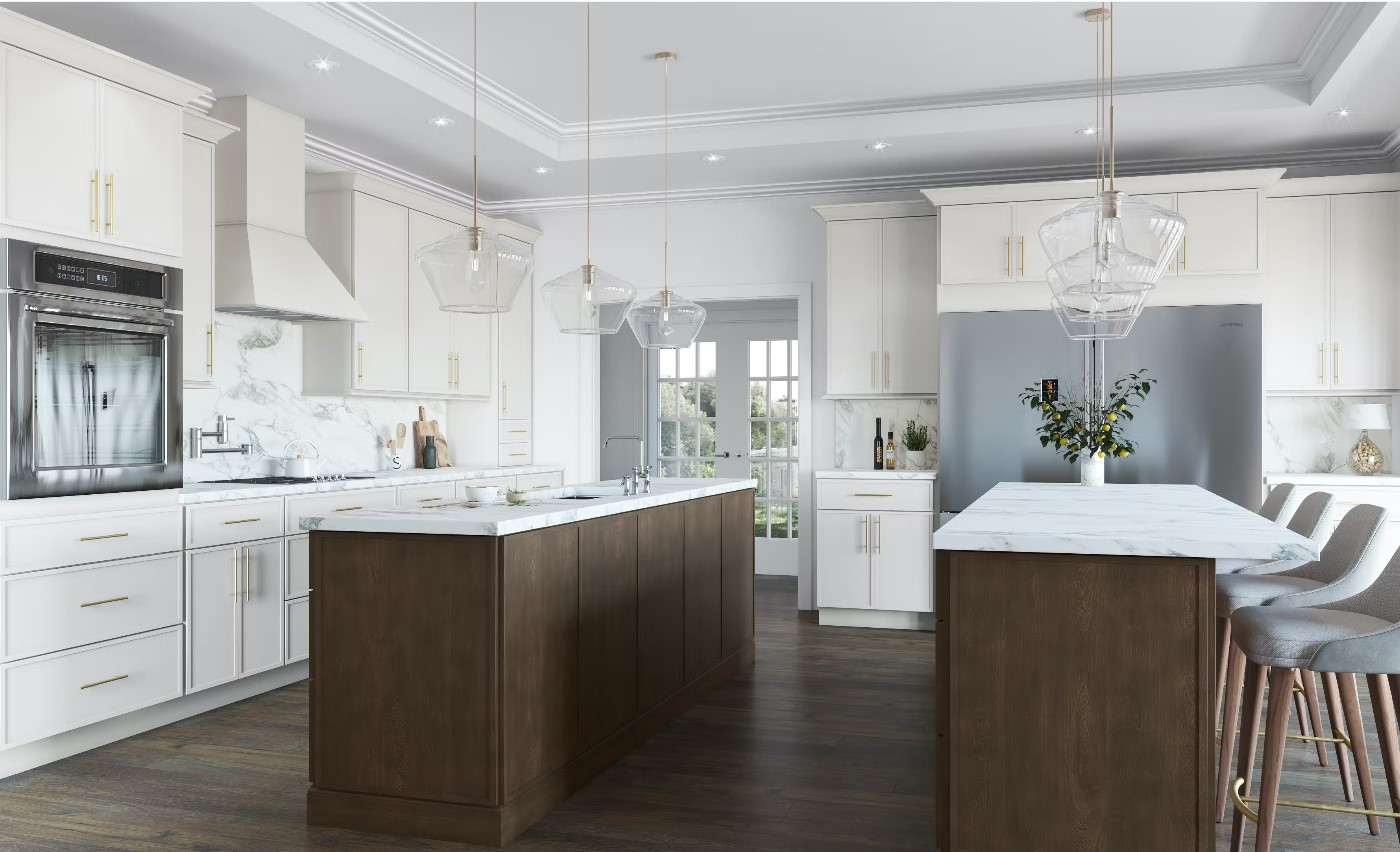 The Luna line features three main highlights that set it apart from other cabinet door styles:
The first is the modern slim-shaker style that follows the evolution of the shaker cabinets to bring a traditional style into the future
The second is Blum's innovative clip-on hinges for quick and easy installation and removal of the cabinet doors
The third is the two finishes Luna is available in provide the opportunity for a beautiful and cohesive two-tone kitchen
Luna is available in two of Fabuwood's beautiful finishes: Kona and Dove. Kona is a stained finish that accentuates the natural wooden grain of each door in a rich shade of walnut brown. Dove is a beautiful painted finish that adds brightness and warmth to every space with a balanced off-white.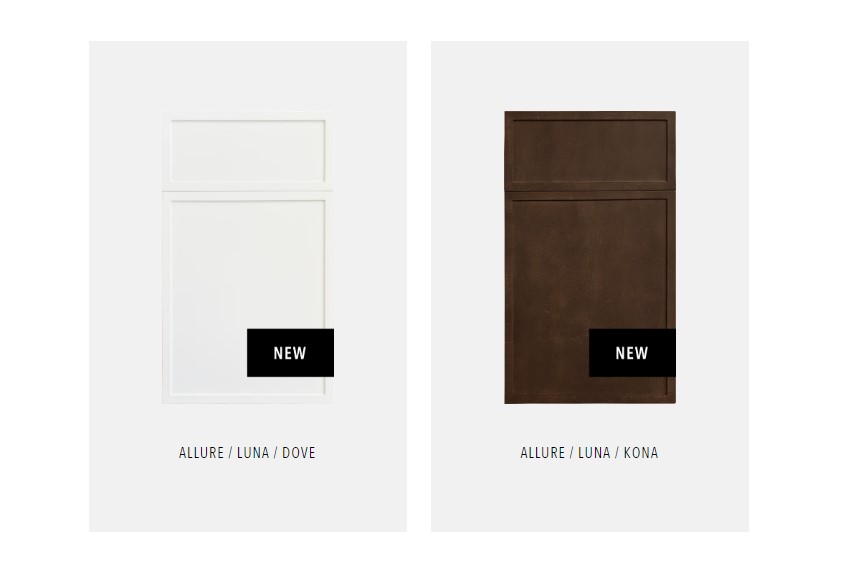 There are many ways to adjust/alter the shaker cabinet to match your personal style. The most recent example of this is the slim shaker. The slim shaker brings the traditional design of the shaker cabinet into the future. This sleek design essentially trims the frame of the shaker cabinets, leaving a wider recessed panel in the center for a contemporary twist. The minimalist appeal of this "cutting-edge" design was crafted to complement contemporary and transitional kitchens alike.
Fabuwood's new line features Blum's latest innovation: The Blum Compact Clip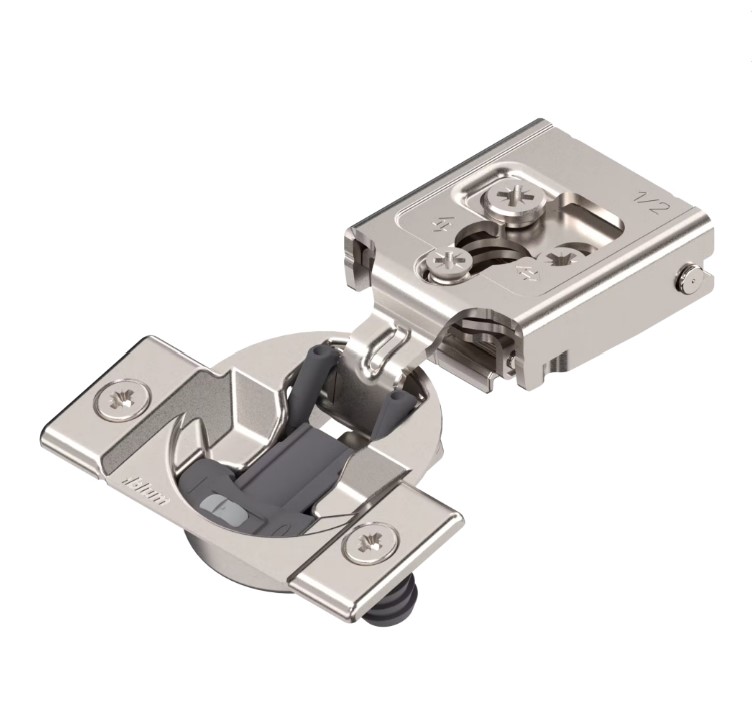 This hinge is an enhanced version of Blum's Compact Blumotion hinges which Fabuwood utilizes throughout other lines. The clip technology incorporated in this update was previously reserved for larger clip top hinges generally seen in frameless lines or on angled, specialty, or corner cabinets. Clip technology includes a quick-release lever that allows an installer or end-user to remove and attach the doors quickly and easily from the face frame mounting clip without having to unscrew the hinging.
Benefits of Clip-on Hinges
Clip-on hinges simplify the process of attaching and removing cabinet doors, allowing you to save time in both installation and removal for cleaning or other purposes
No tools are needed which makes cabinet installation easier and reduces the risk of damage being done to the cabinet frame
The lever is concealed in the back of the frame mounting plate to present that same clean look and compact profile while still providing new technology
*Please note that Blum Compact Clips and compact hinges are not used in all the cabinets Fabuwood offers
Ready to get started? Visit a Kuiken Brothers' Showroom!
Built with inspirational, lifestyle installations, Kuiken Brothers Millwork & Cabinetry Showrooms are the ideal location to meet with clients in advance of a project where a number of major decisions can be made. Allowing your clients to see, touch and operate a wide range of stock, semi-custom and full custom cabinets before they are installed creates a great space to help understand the clients goals, whether it is a price conscious project, or one that simply is required to achieve their goal.
If you would like to learn more for an upcoming project, we invite you to visit Kuiken Brothers Millwork & Cabinetry Showrooms!  Or visit our Contact Us page and complete the on-line form. Tell us a little bit about your project in the Questions/Comments field and we will have a Kuiken Brothers representative follow up with you right away. We look forward to working with you on your next project!