Kuiken Brothers is now stocking Henry FortiFlash 365  at our locations in New Jersey and New York. The FortiFlash 365 Waterproof Flashing Membrane can provide yearlong performance in harsh environments, including extreme heat and cold.
Check out the close up video below:
Kuiken Brothers stocks the Fortiflash 365 in 4″, 6″, 9″ and 12″ widths. Each roll is 75′ long.
It is suitable for use with most exterior claddings and features a metallized surface. The metallized surface provides an aggressive barrier to moisture intrusion and an advanced block co-polymer adhesive technology that will stick in extreme cold temperatures in which ordinary adhesives fail.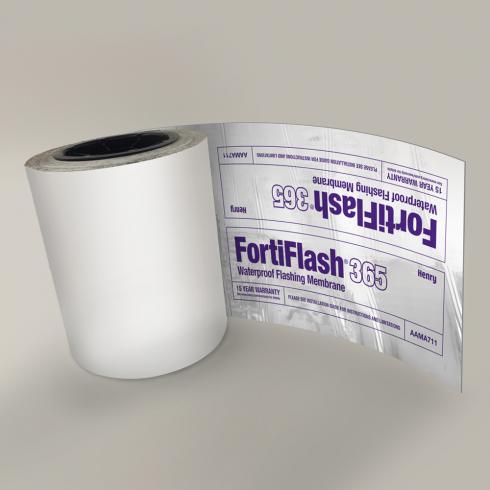 Excellent performance at high temperatures makes it the ideal flashing any time of the year. It can withstand UV radiation for a full year, which is an unparalleled choice for projects facing extended UV exposure. FortiFlash 365 is designed to withstand the rigors of the jobsite and the elements, and is backed by an industry-leading 15-year warranty.
Additional Features and Benefits Include:
Maximum water and leak protection
Self-adhesive installation
Excellent low temperature adhesion
Self-seals around fasteners
AAMA 711 compliant
Part of a Complete Moisture Control System
For best results, use with Moistop Sealant
If you are interested in using FortiFlash 365 from Henry in an upcoming project and would like more information, please feel free to give us a call at (201) 652-1000 or fill out the Contact Us Form and one of our sales representatives will follow up with you right away. We look forward to working with you on your next project.