If your clients are looking to soundproof a media room, a theatre, or simply drown out a noisy neighbor in a crowded condo, Kuiken Brothers offers a number of options through our Elmwood Supply location in Garfield, NJ.
Green Glue can be used to soundproof walls, floors and ceilings. Use Green Glue in-between two sheets of drywall or any other porous, rigid building material. Green Glue works effectively against any impact or airborne noise control problem.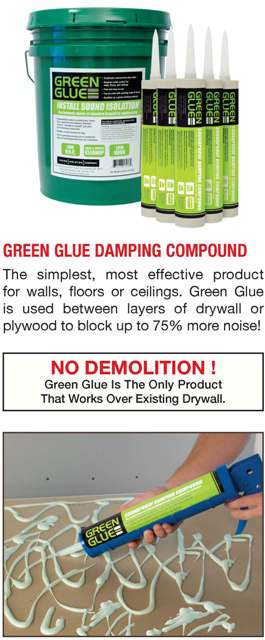 Green Glue will form a flexible, viscoelastic layer when used between two sheets of hard material. Available in 29 oz. tubes, you can install 200 square feet of Green Glue in less than 5 minutes using a standard quart size caulking gun.
Green Glue can be used over any existing wall, floor or ceiling by simply adding another layer of material. No rolling, painting or troweling is necessary. Just open the tube and apply in a random pattern. With a fast and easy installation, anybody can soundproof a room with Green Glue.
For more information on pricing and availability of Green Glue in the New Jersey & New York area, please fill out our Contact Us form and someone will get back to you as soon as possible.