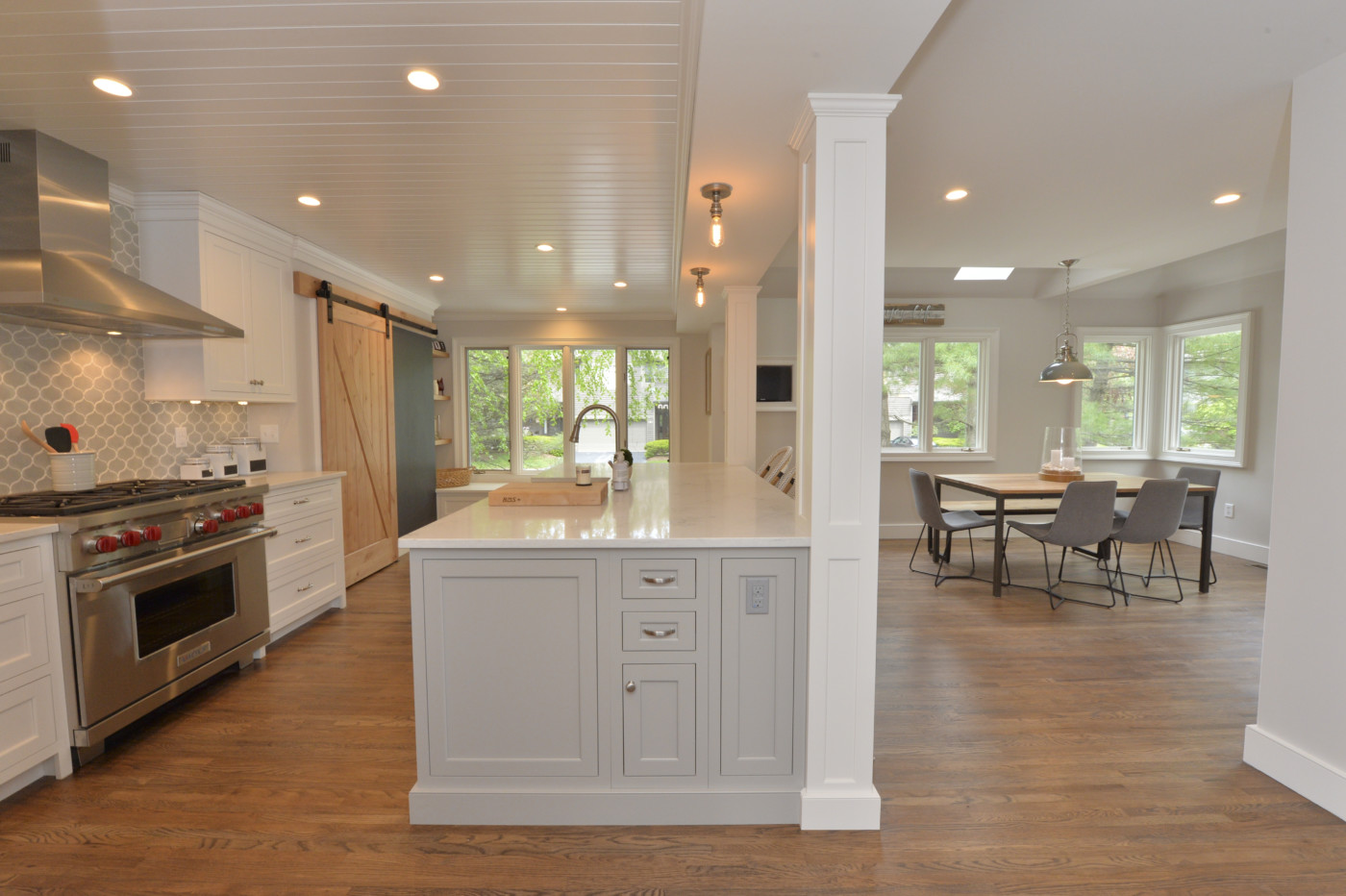 Project Location: Glen Rock, NJ
Cabinetry Manufacturer: Mouser
Kuiken Brothers Designer: Anastasia Pinnick
Builder: Level Home Improvement

Kuiken Brothers had the privilege of supplying this Transitional style remodeled kitchen in Glen Rock, NJ. The process began at our Emerson, NJ Kitchen & Bath Showroom where the young couple met with one of our four designers, Anastasia Pinnick. The search was narrowed to Mouser and a combination of cabinets, panels and columns were chosen from their Centra (semi-custom) and Premier (custom) lines. Countertops feature Dupont Zodiaq Quartz in London Sky and a custom Walnut Butcher block top for the bar/ coffee station area. Additional items from Kuiken Brothers Millwork Department included base, crown and casing mouldings from the KB Classical Moulding Collection and a Simpson Door.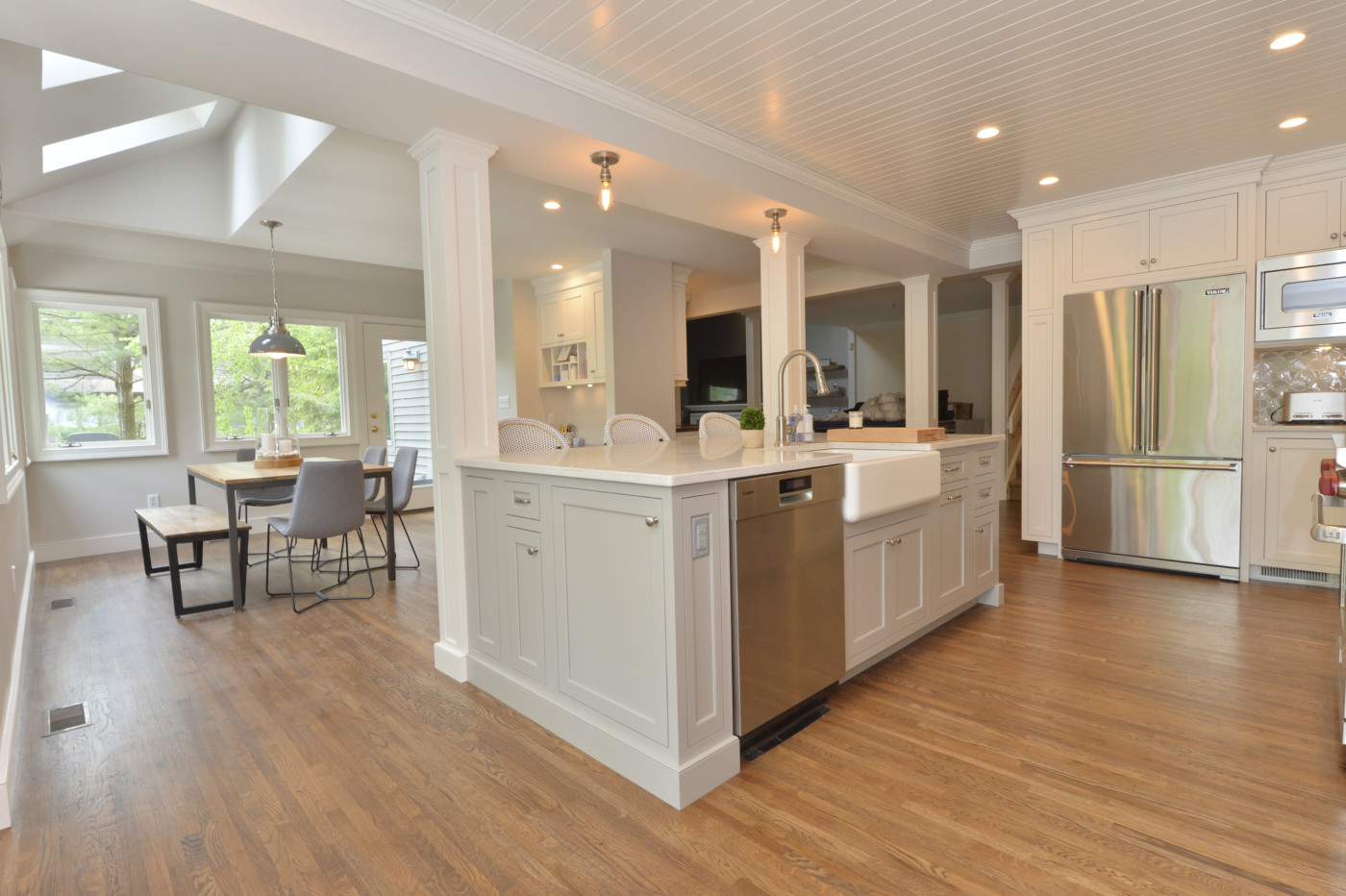 The kitchen island features the dishwasher, farm sink and is finished in "Clay" color paint.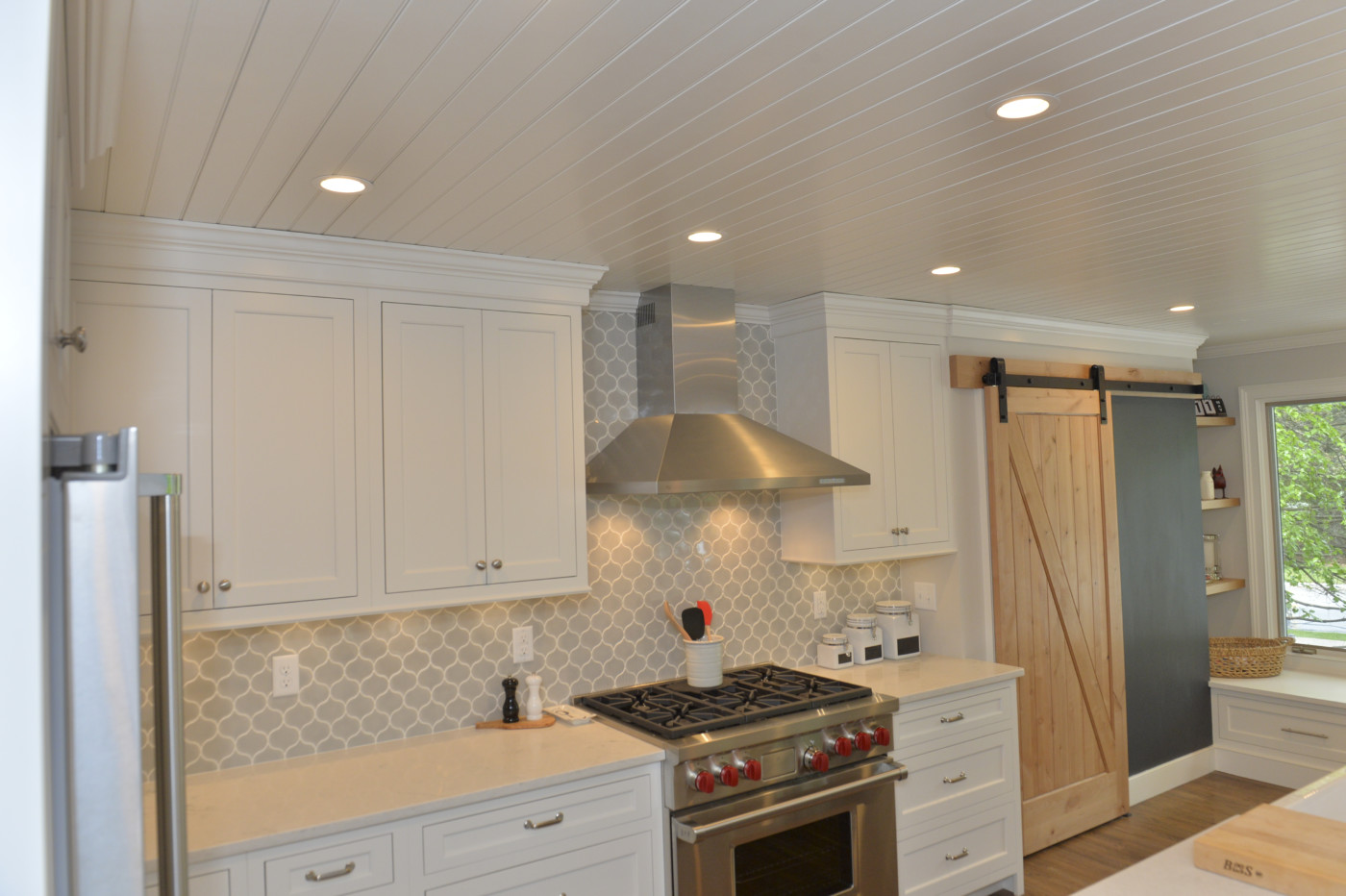 The cabinets were finished in Divinity White Paint, which are complimented by the stainless steel Viking stove range and the barn door from Simpson Door. Note the black, chalkboard painted wall, perfectly placed to add grocery and to-do lists.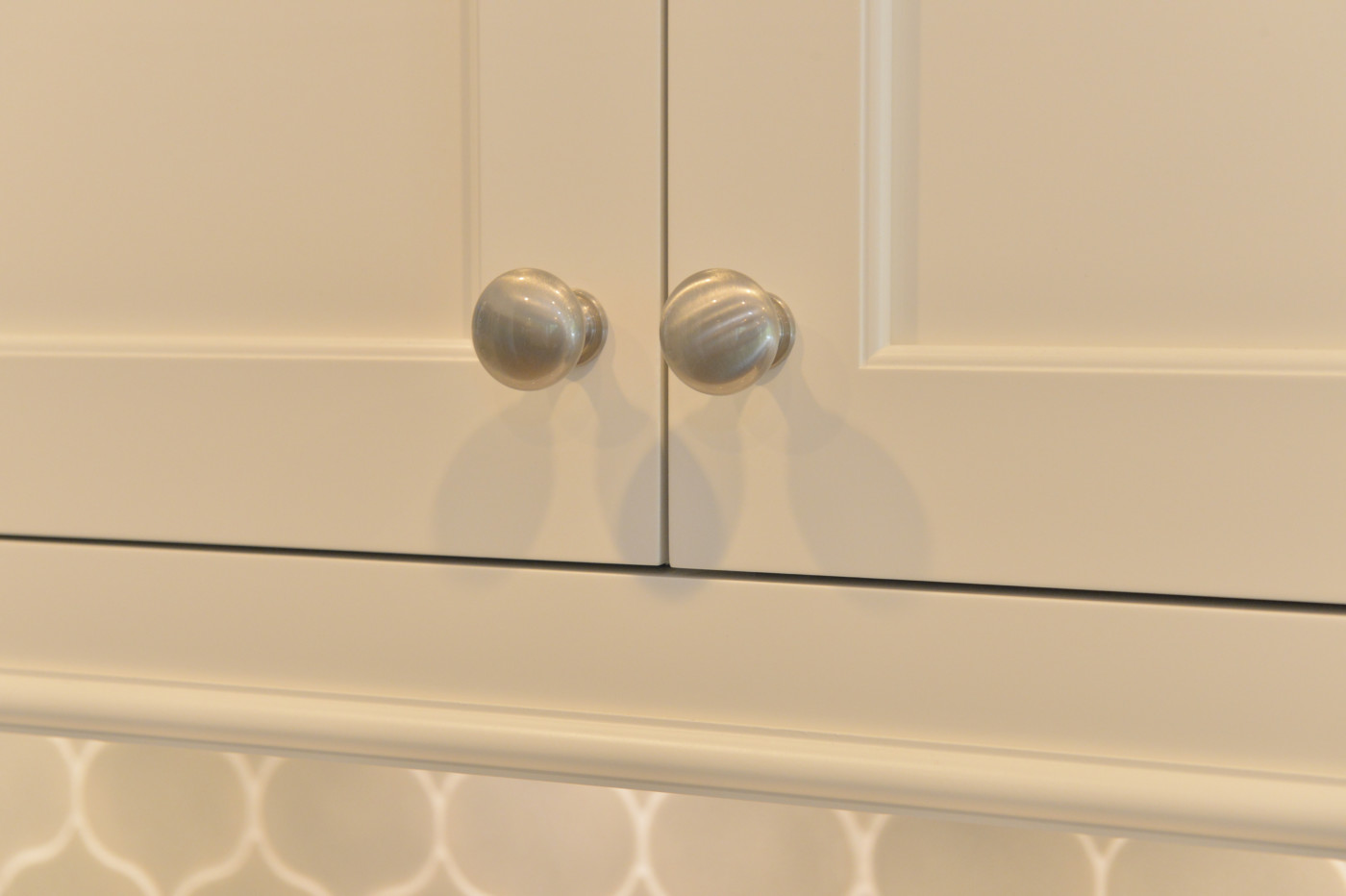 Note the inset cabinets, which are available at no additional upcharge from Mouser.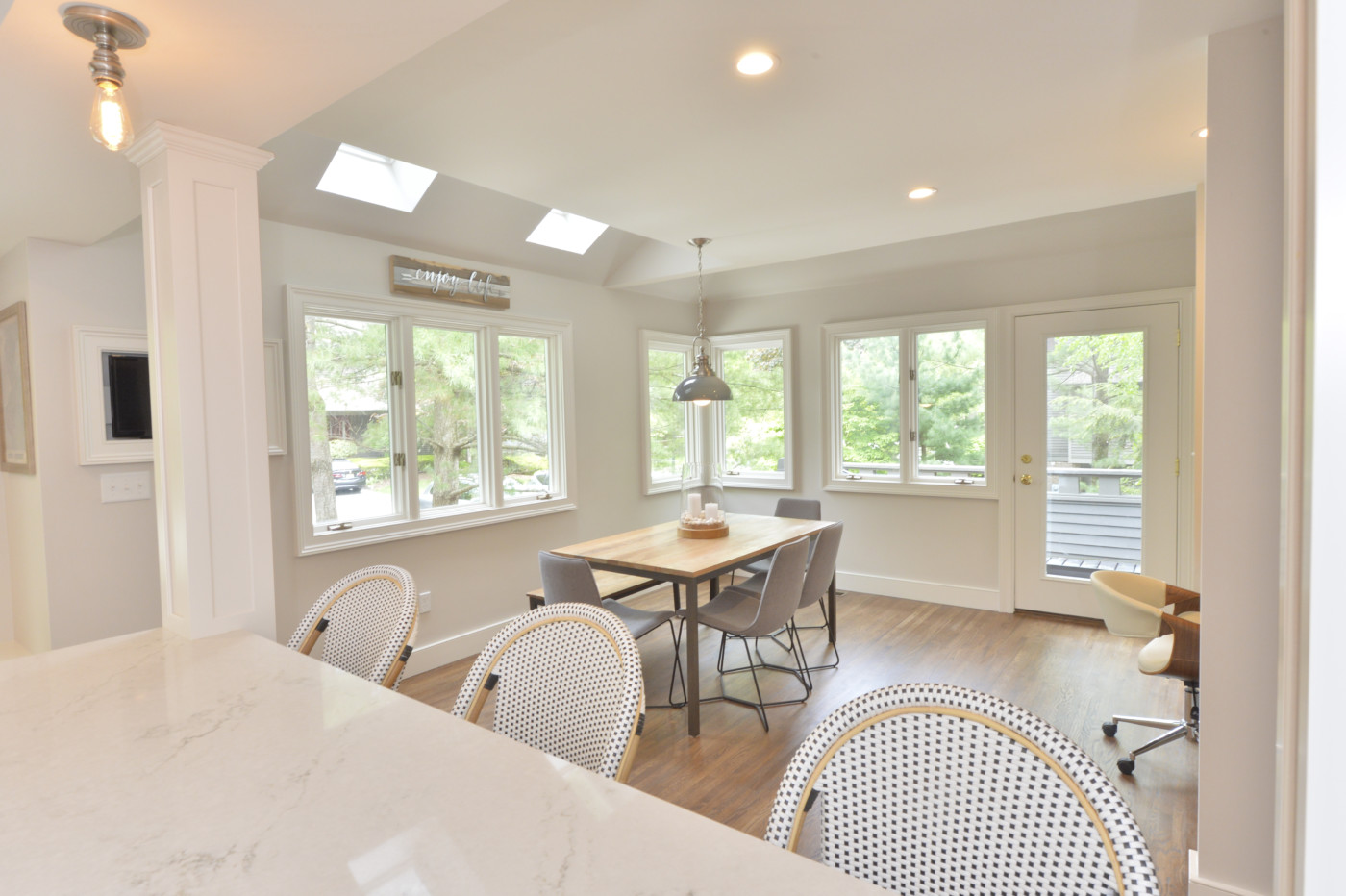 Part of the remodel design included opening up an existing wall to create an open floor plan between the kitchen, eating area and living space. To cover up the Versa-Lam Columns from Boise Cascade, custom column wraps were ordered from Mouser's Premier Division, ensuring the colors matched the kitchen cabinets exactly, which created a great contrast to the Clay Paint island cabinets.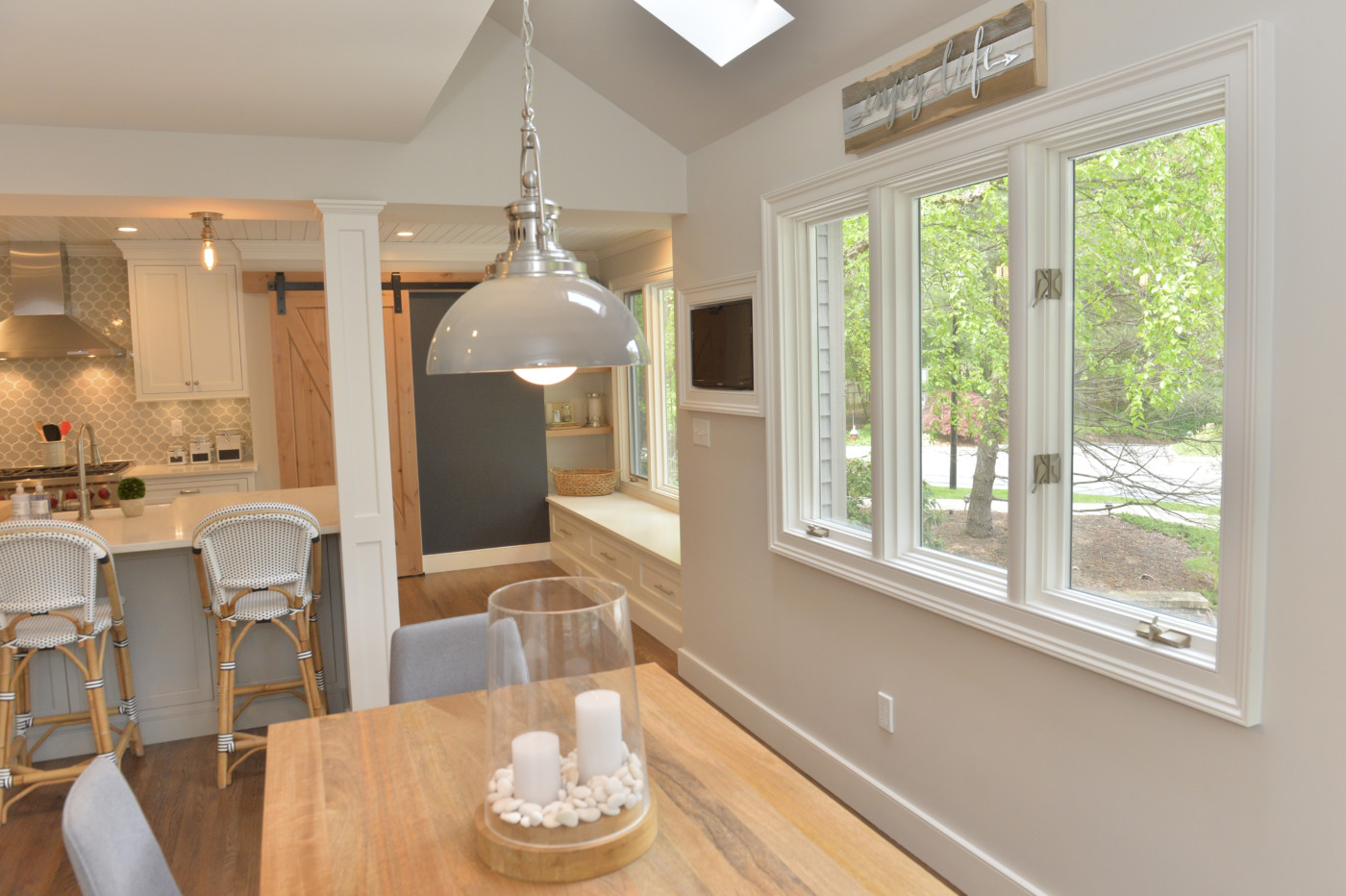 The kitchen table is easily accessible to the kitchen, and sits right next to a series of casement windows, which were updated with KB Classical Moulding poplar profile KB401 casing.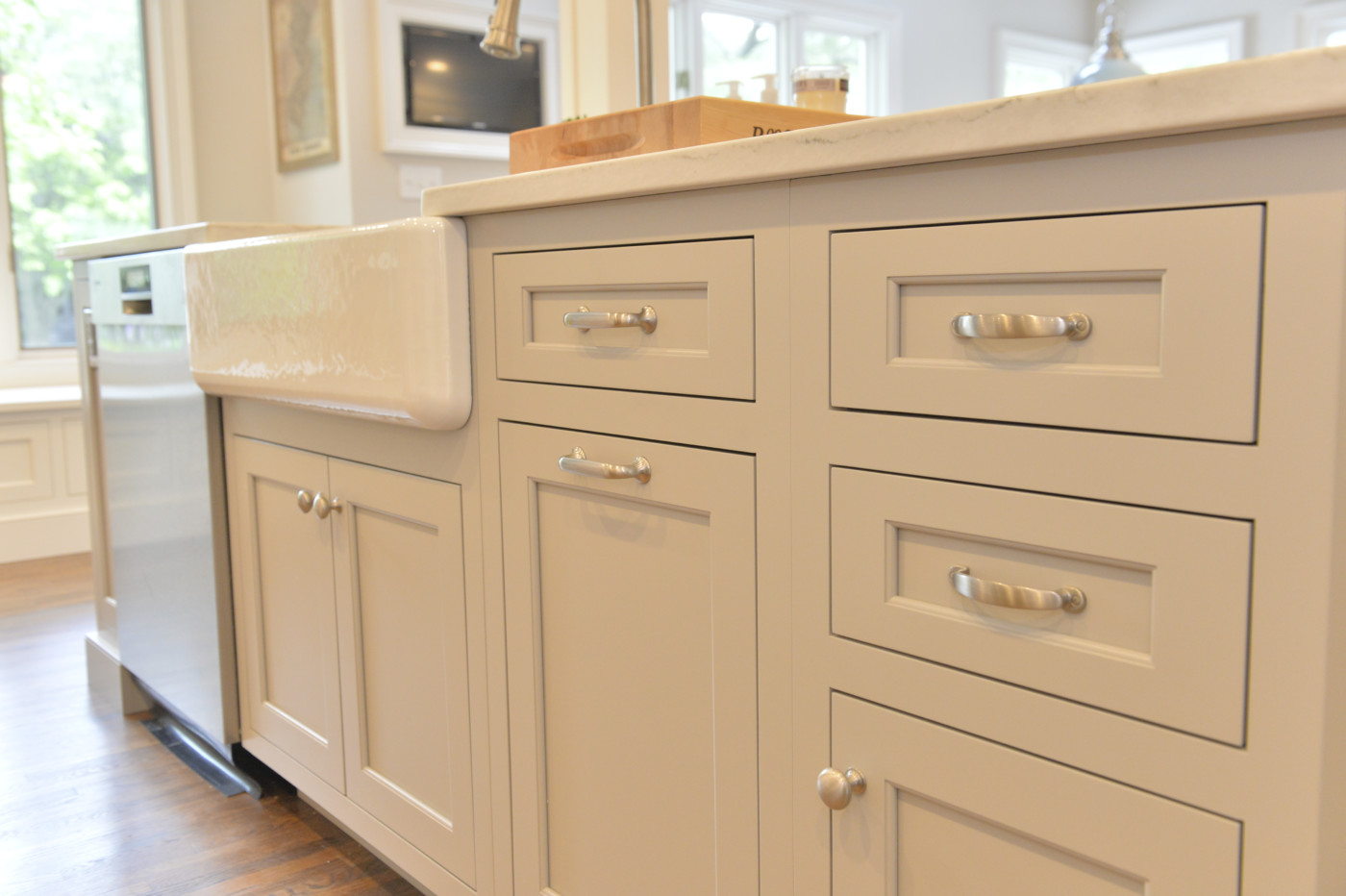 The farmhouse sink set in cleanly to the Mouser Centra inset cabinets finished in Clay Paint.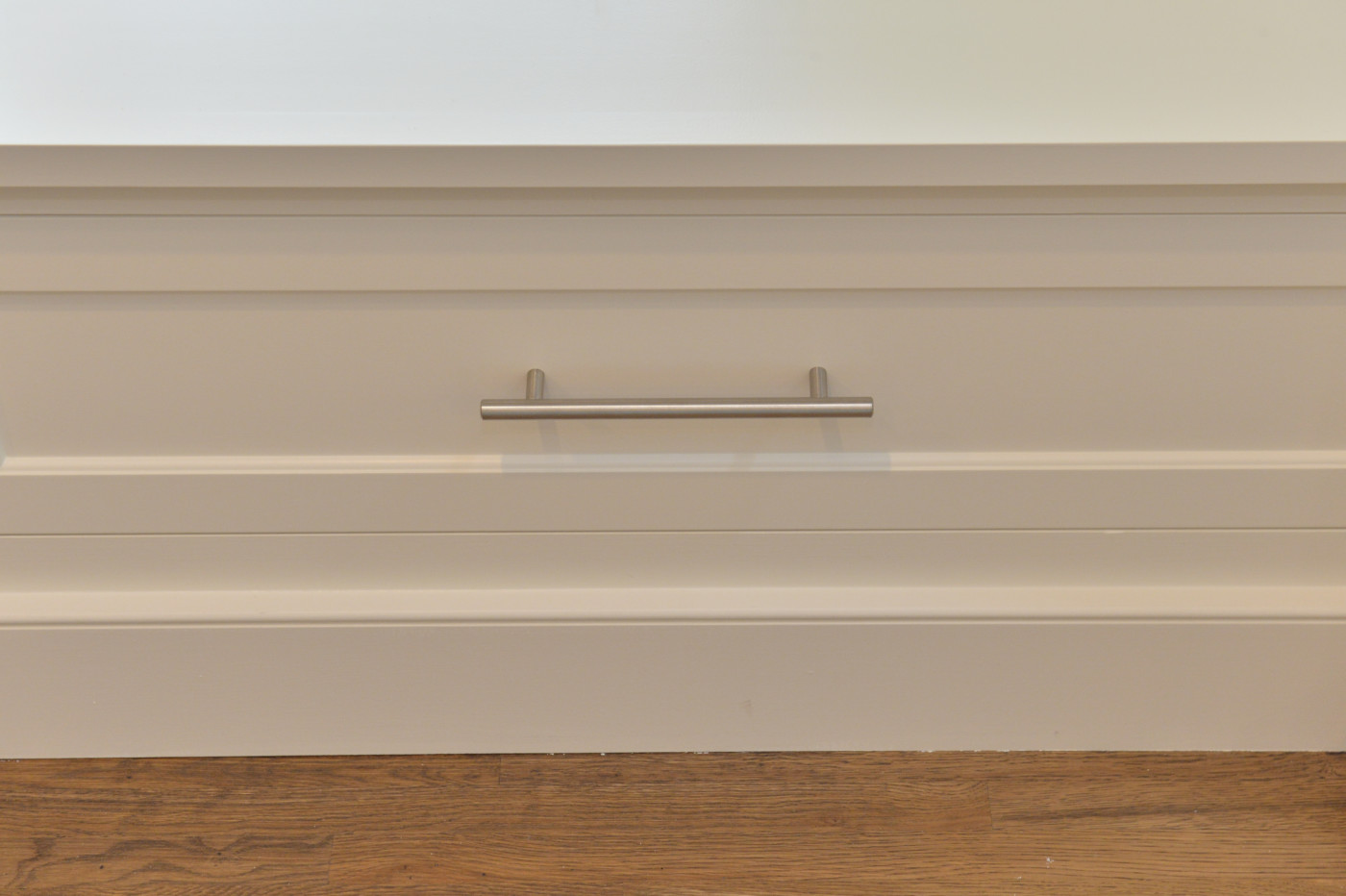 Custom built-ins were fabricated by the finish carpenter, and feature KB108 base.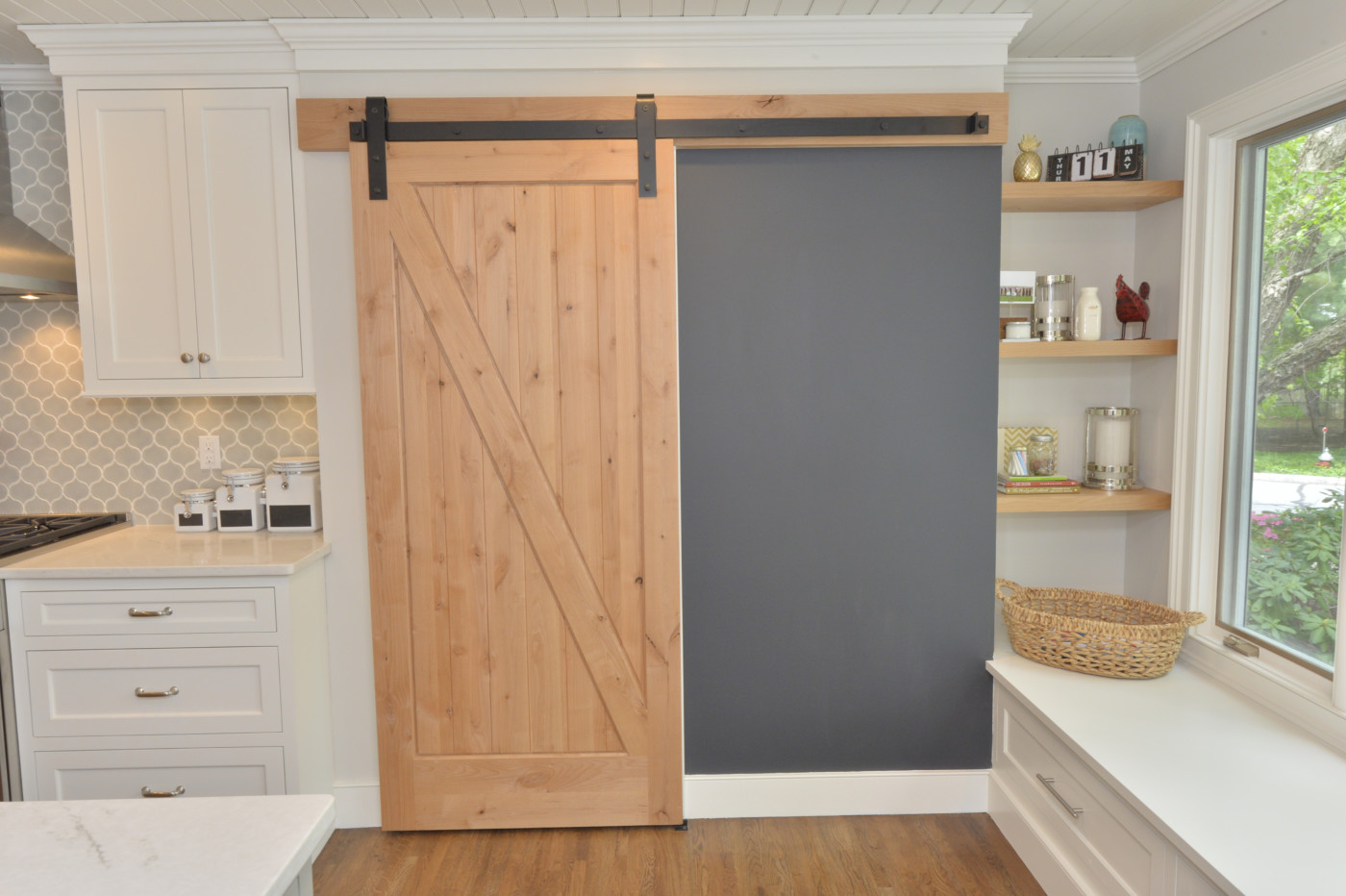 A major feature of the kitchen is the Knotty Alder Simpson Door hung on black barn door hardware covering the pantry. Chalkboard paint was added for quick access to grocery and to-do lists.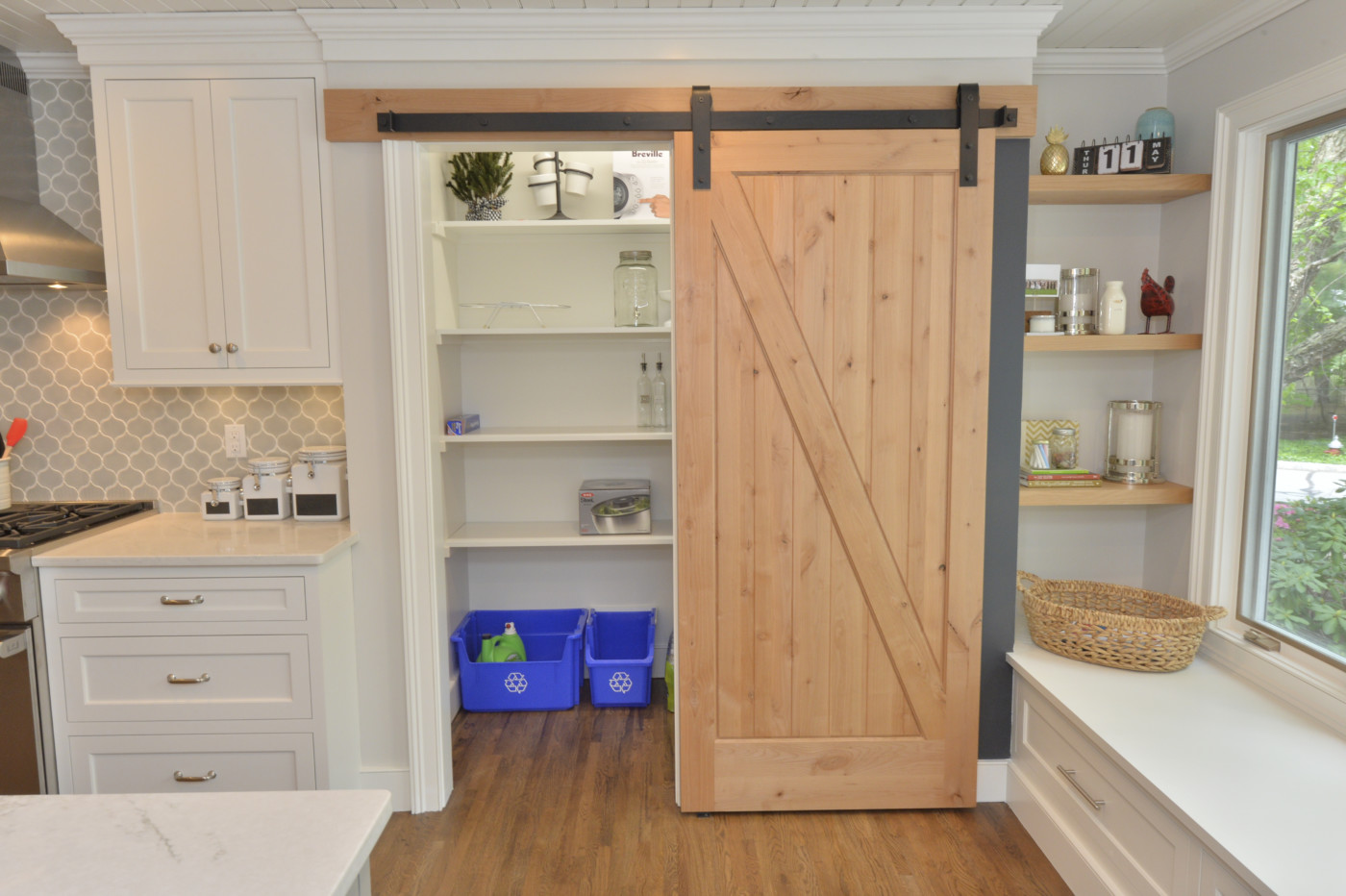 The barn door slides open for easy access to the pantry for food, recycling and more.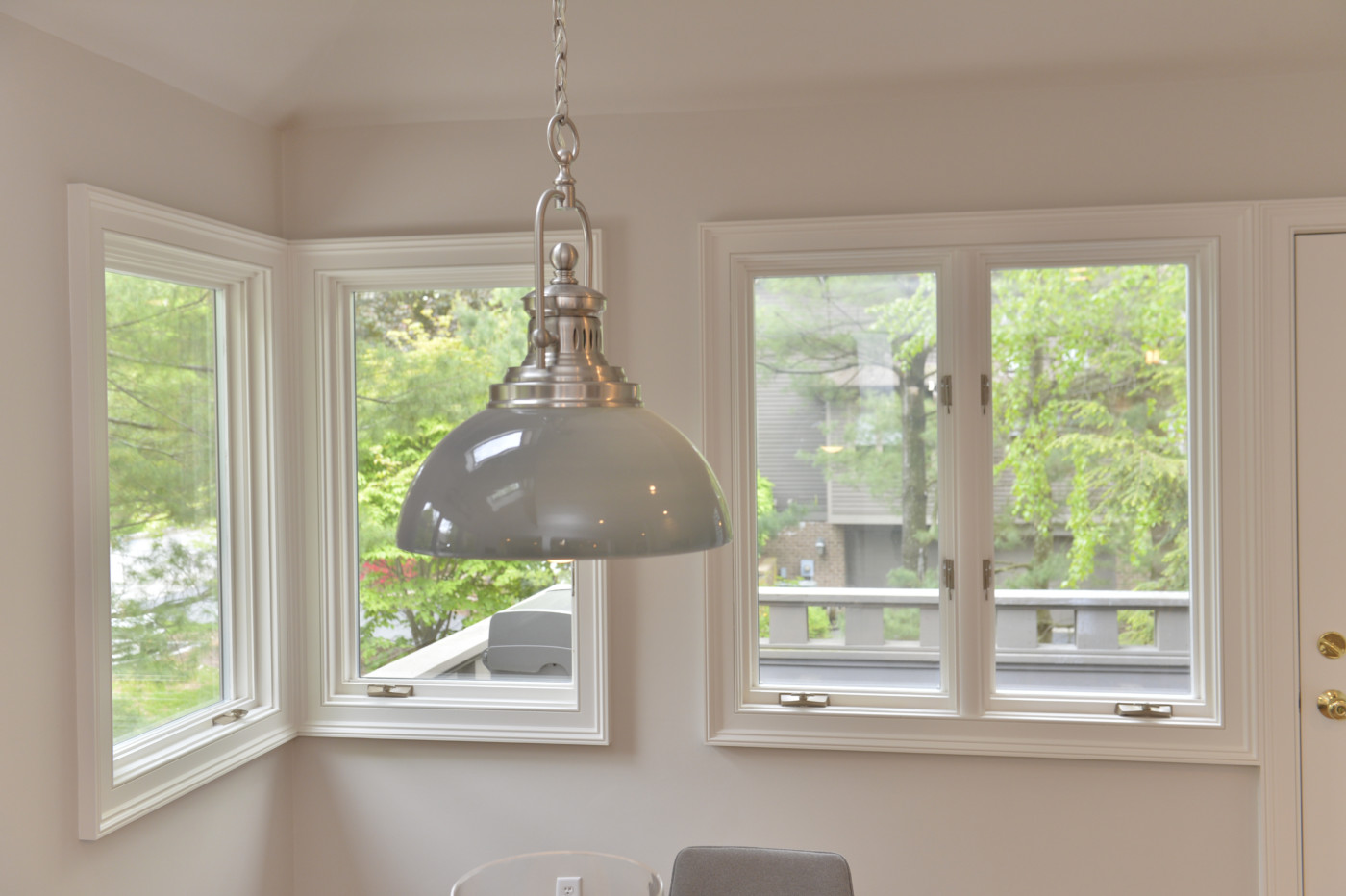 The kitchen table is surrounded by a series of casement windows, which were picture framed with Kuiken Brothers KB401 casing.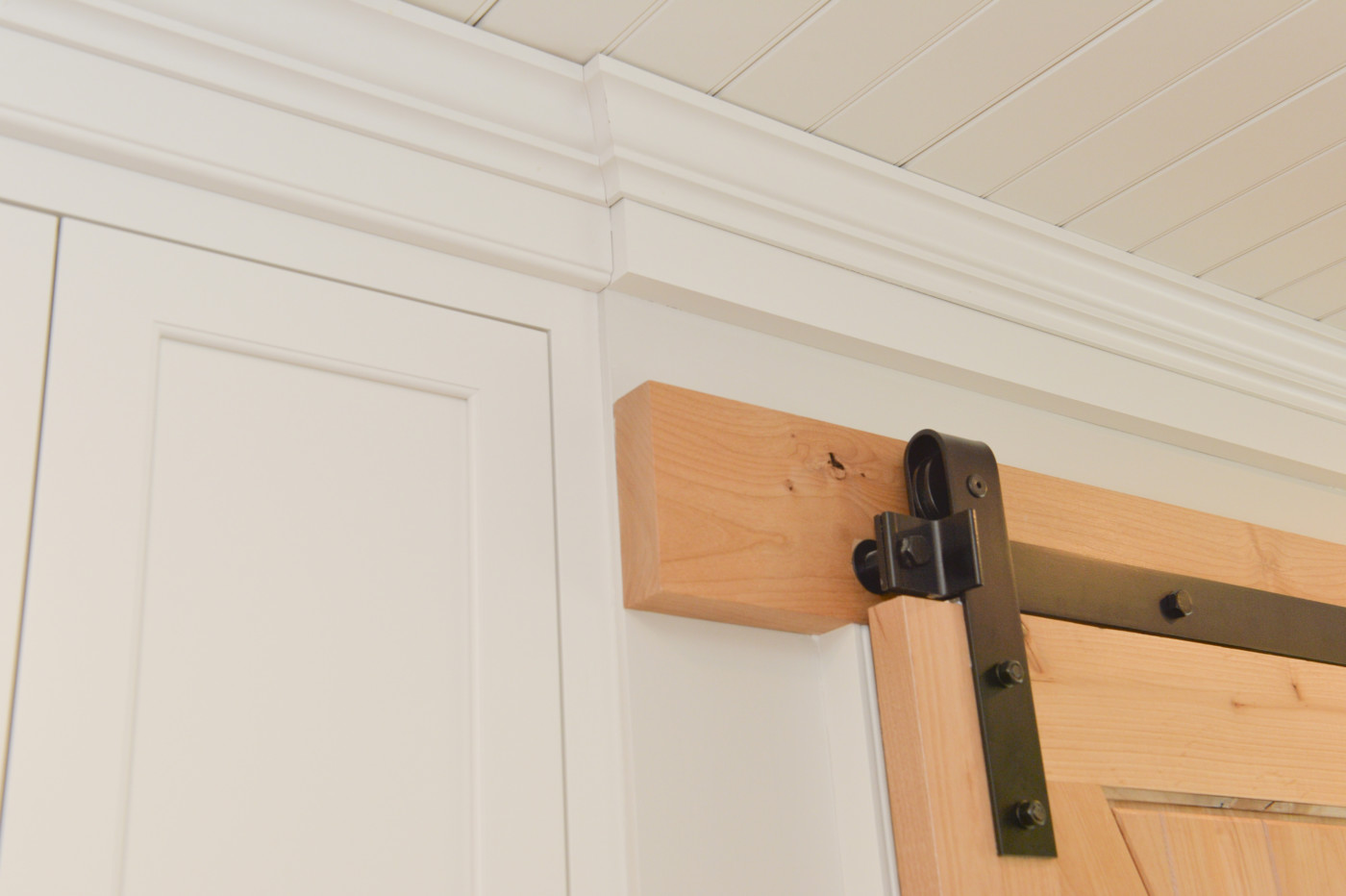 A beadboard ceiling was installed using the KB904 Tongue & Groove profile, creating a timeless detail with depth and character. The sharp lines of the ceiling and inset cabinets give this kitchen a completely custom look. A custom knotty alder header was installed to match the Simpson Door.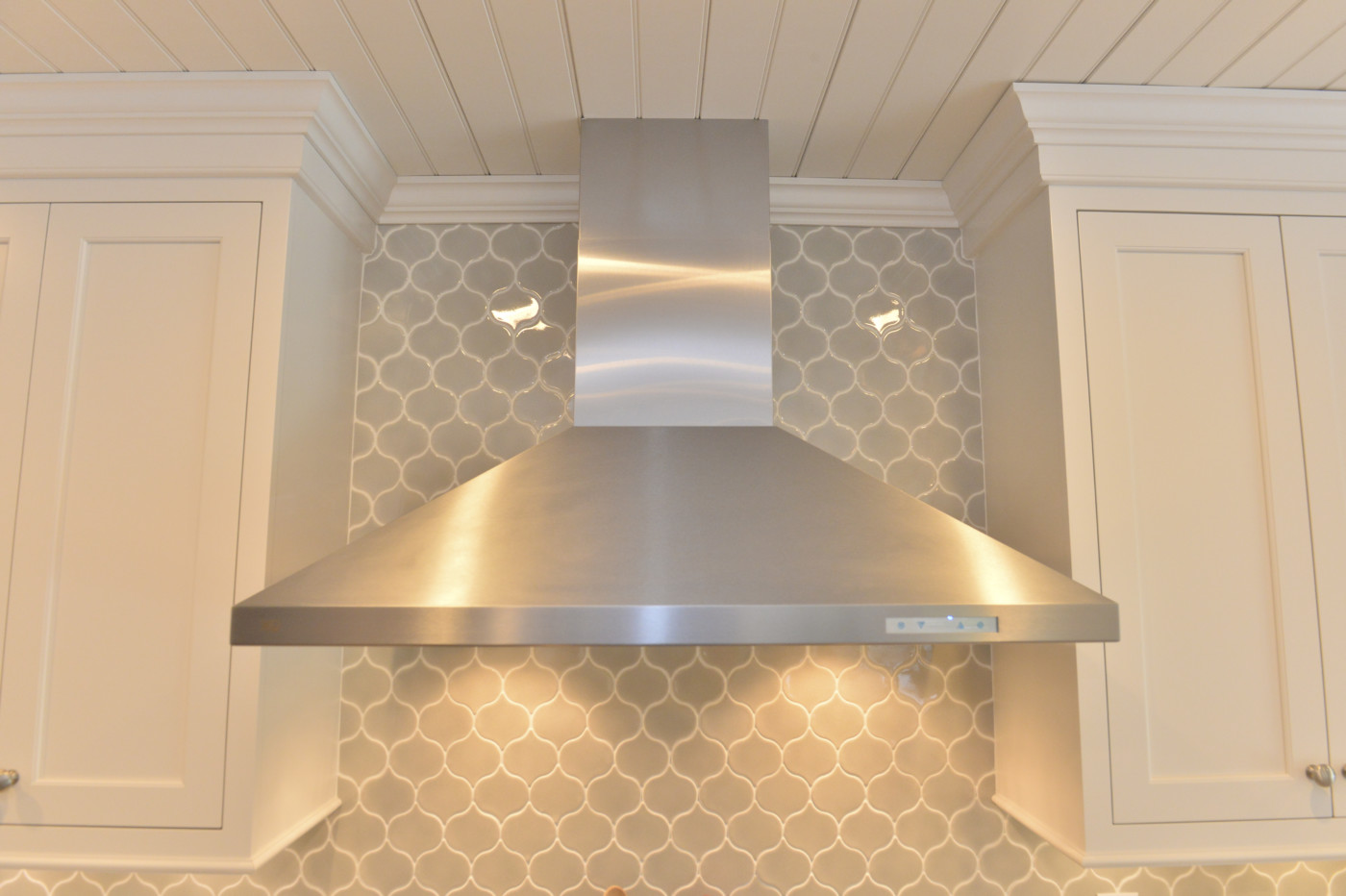 Custom glass tile, chosen by the homeowner. Stainless steel hood provides a modern, yet timeless look.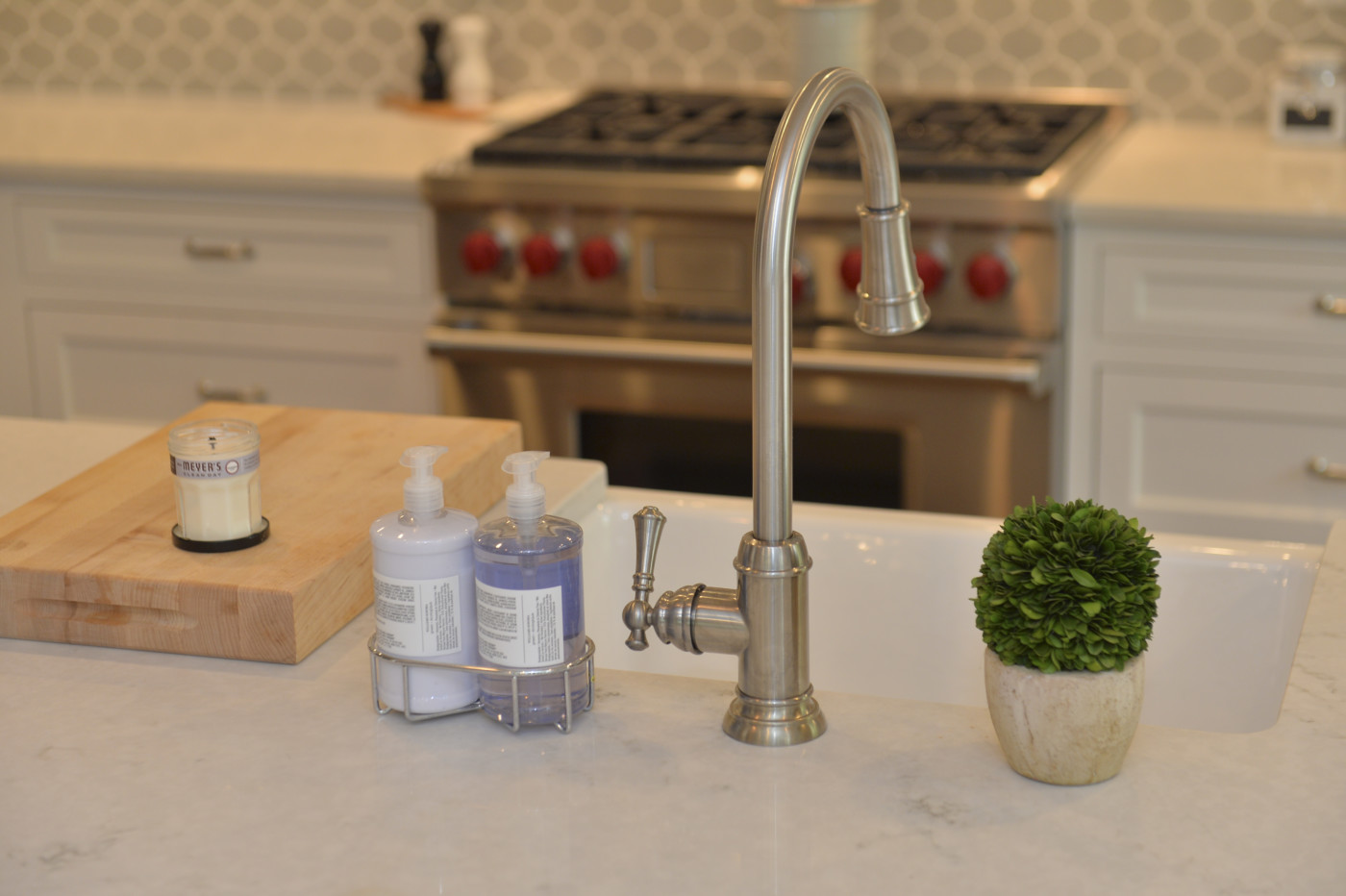 Stainless steel fixtures adorn the kitchen throughout.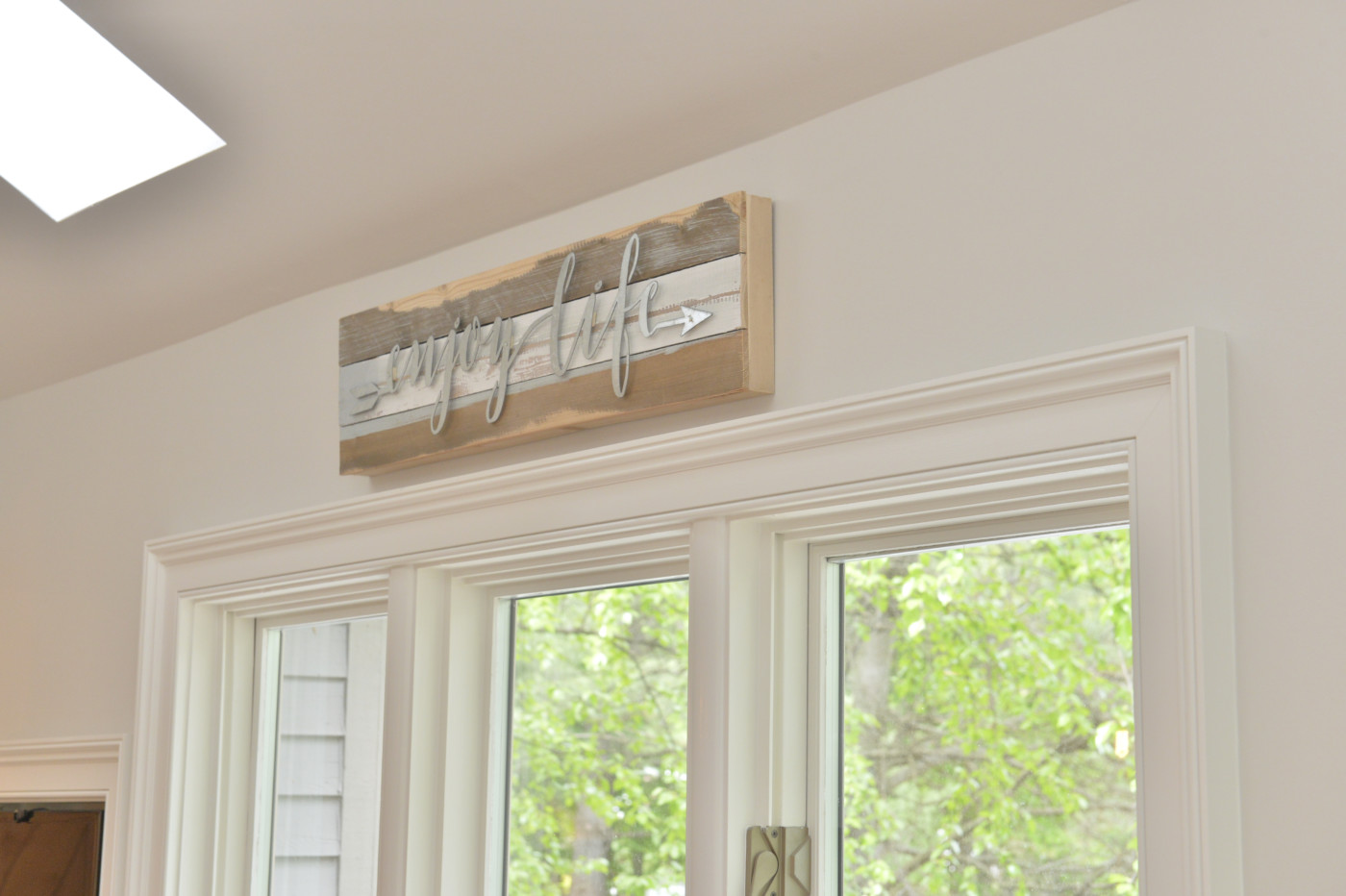 A simple reminder, "Enjoy Life" welcomes these homeowners and guests as they enter the kitchen.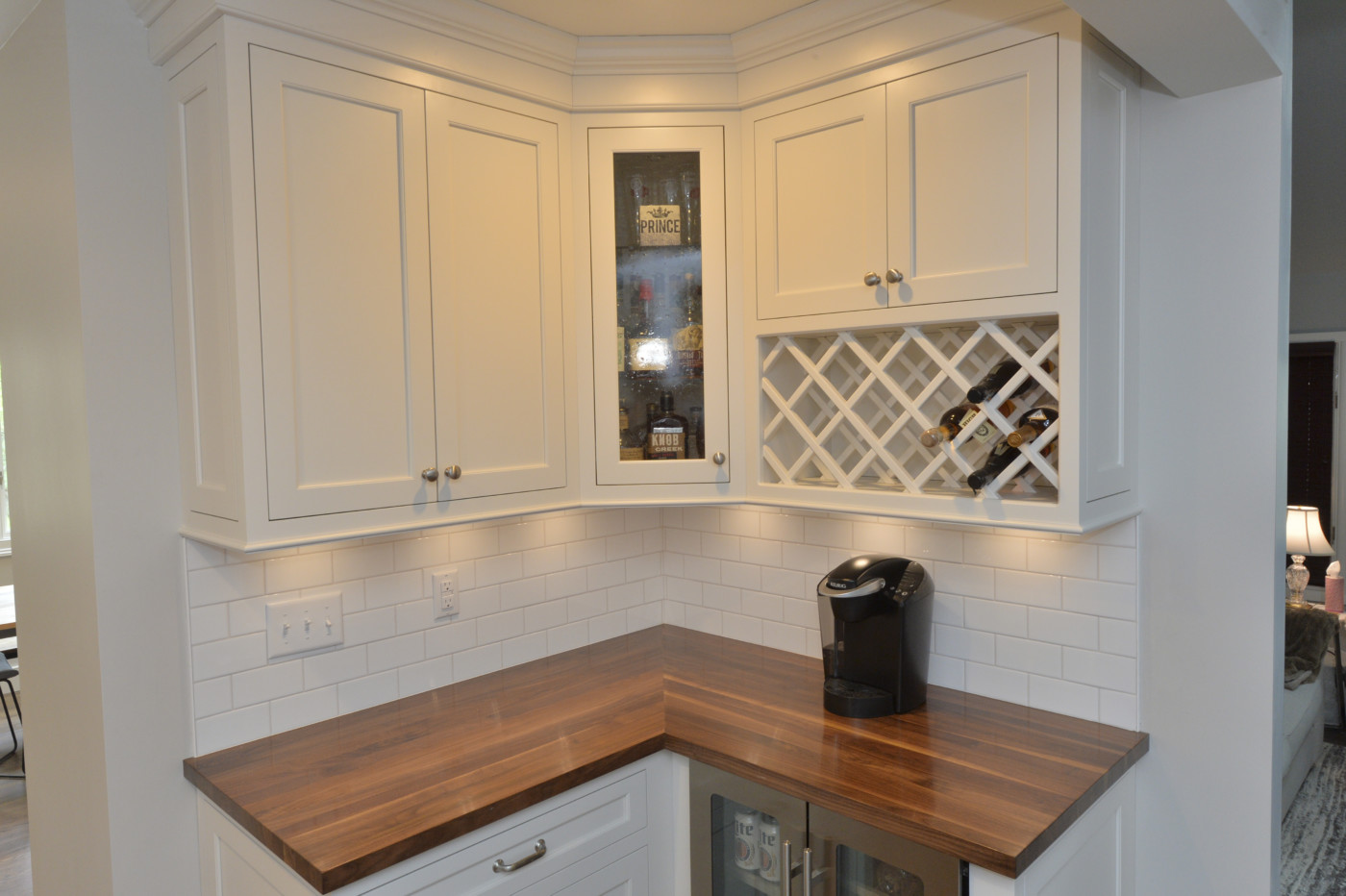 A custom bar nook was created to house a coffee maker, beer and wine fridge, and corner cabinet featuring antique glass was chosen to store the owner's extensive whiskey and bourbon collection. The walnut butcher block top was also supplied by Kuiken Brothers.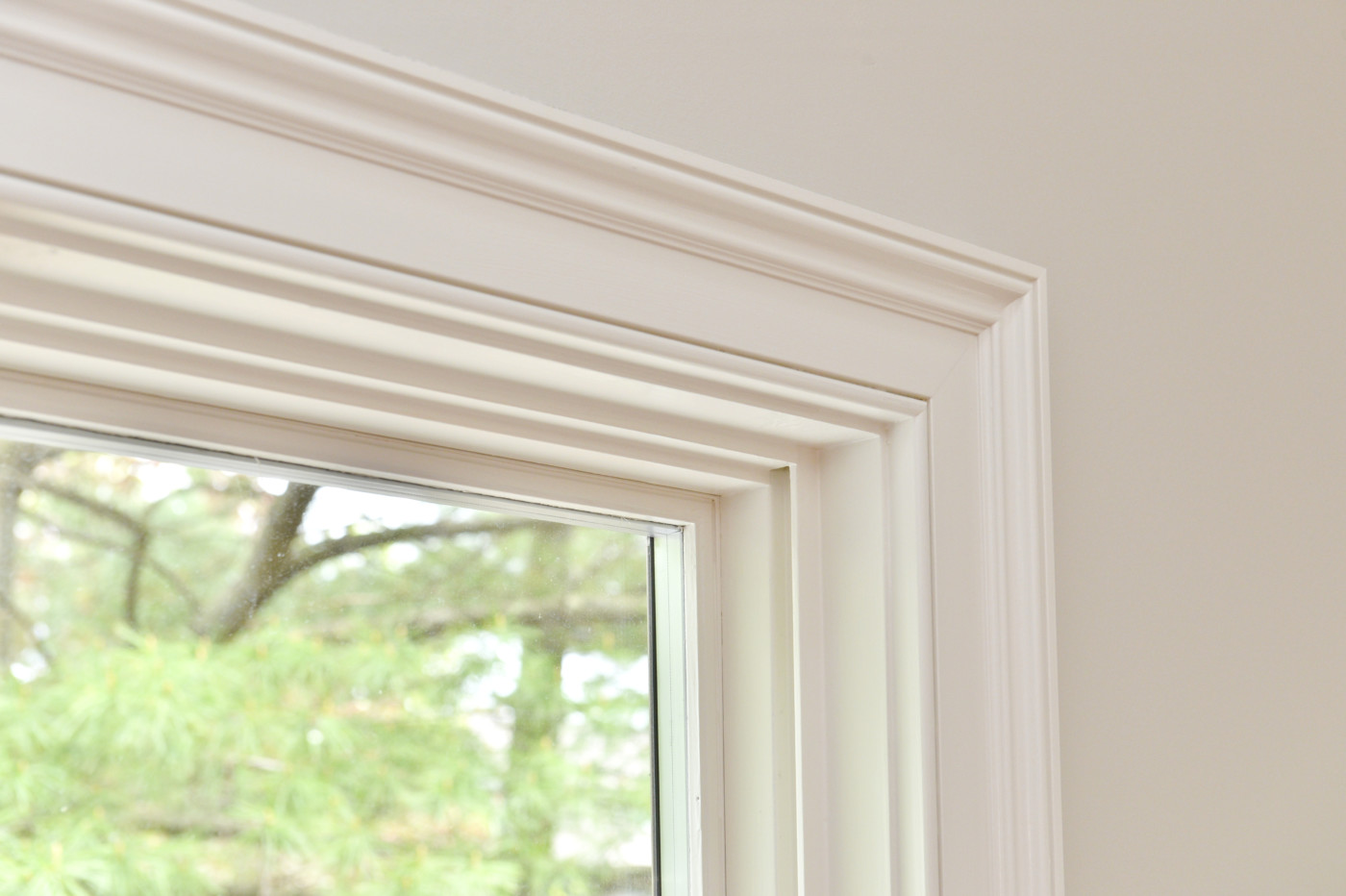 KB401 casing, one of the many poplar profiles from Kuiken Brothers' exclusive KB Classical Moulding Collection, is the perfect match for the semi-custom inset cabinets as the sharp lines milled in poplar provide distinct shadow lines not typically found in your off-the-shelf moulding selection.
For more information on Mouser Cabinetry available at Kuiken Brothers, make sure to check out this video which discusses Inset vs Overlay Cabinet Doors, and how Inset Doors are currently available at no additional charge from Kuiken Brothers Kitchen & Bath.

About Kuiken Brothers Kitchen & Bath
If you would like to learn more about Centra by Mouser Inset Cabinetry for an upcoming project, we invite you to visit Kuiken Brothers Millwork & Cabinetry Showrooms, which were built to be an extension of our builder, remodeler, architect and designer customers' business. Check out the "Our Showroom, Your Showroom" video below.
Built with inspirational, lifestyle installations, Kuiken Brothers Millwork & Cabinetry Showrooms are the ideal location to meet with clients in advance of a project where a number of major decisions can be made. Allowing your clients to see, touch and operate Mouser Cabinetry products before they are installed helps put their mind at ease and simplifies the selection process.
No time to visit the showroom? Ready to get started? Well then hop on over to our Contact Us page and complete the on-line form. Tell us a little bit about your project in the Comments/ Questions field and we will have a Kuiken Brothers representative follow up with you right away. We look forward to working with you on your next project!