Kuiken Brothers recently joined Tyler Grace from TRG Home Concepts at one of his projects outside of Philadelphia, PA. The mantel and custom built-in installation featured a number of profiles from our KB Classical Moulding Collection, including a four piece, Georgian-style boxed cornice.
Check out this video to learn a little more about the process, including how the concept of the cornice and high-gloss paint were introduced to Tyler's clients.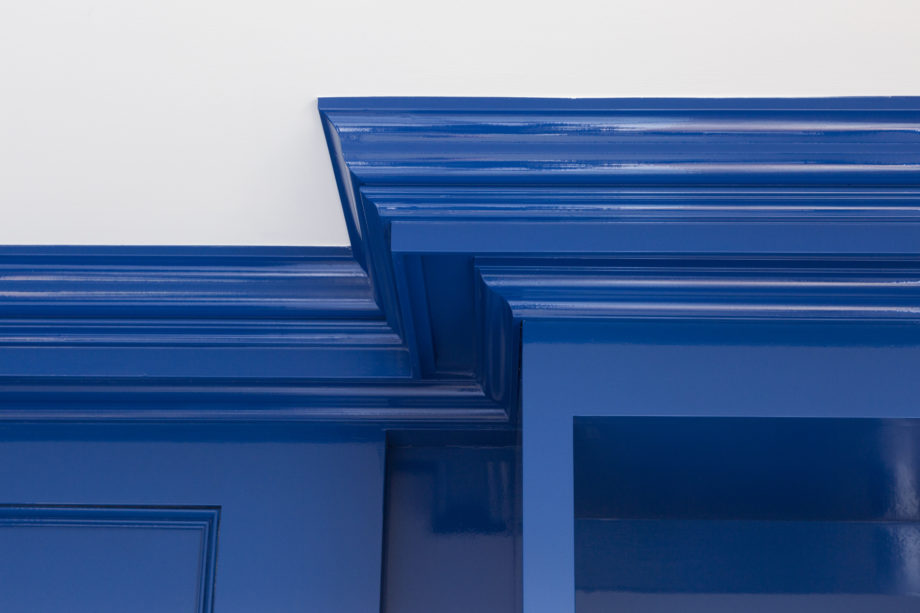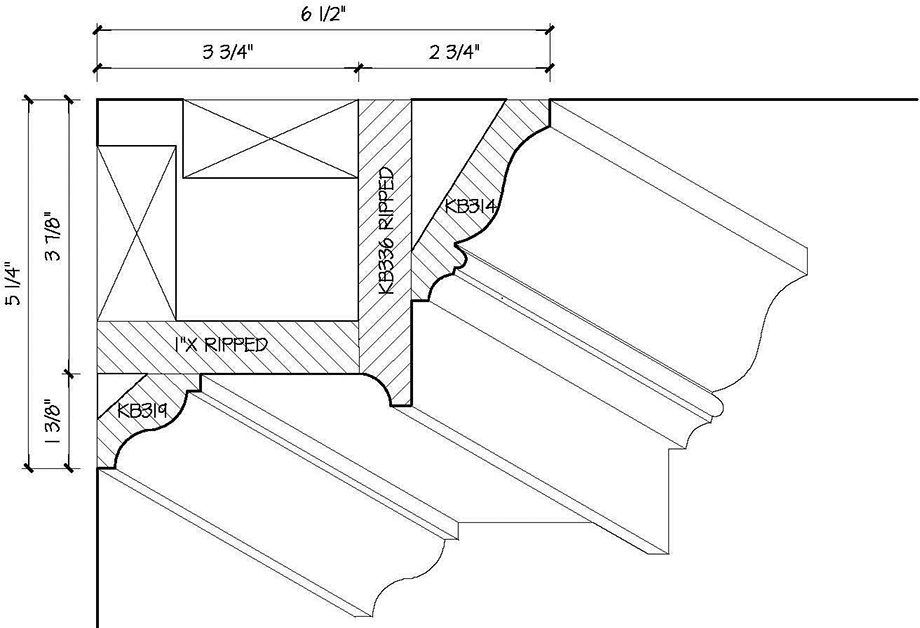 The Georgian style cornice used the combination featured in the Moulding Design Guide with some minor modifications to the box since the room featured 8′ ceilings.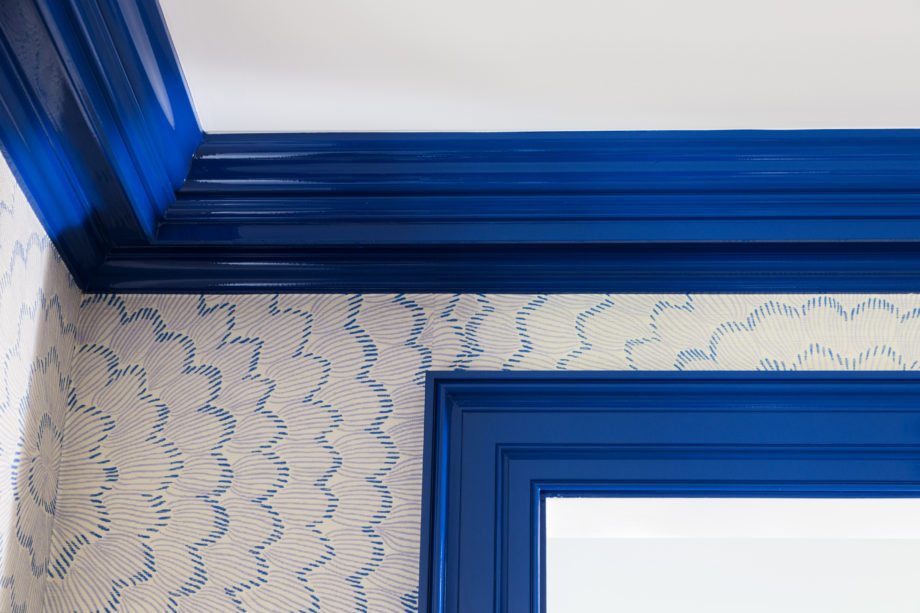 The KB102 (1-1/2″ x 4-1/2″) casing provides a similar built-up look to the cornice, although it installs as a single profile. Milling these profiles from poplar allows us to create deeper cuts and more precise angles to create the illusion of a built-up profile with the installation ease of a single profile.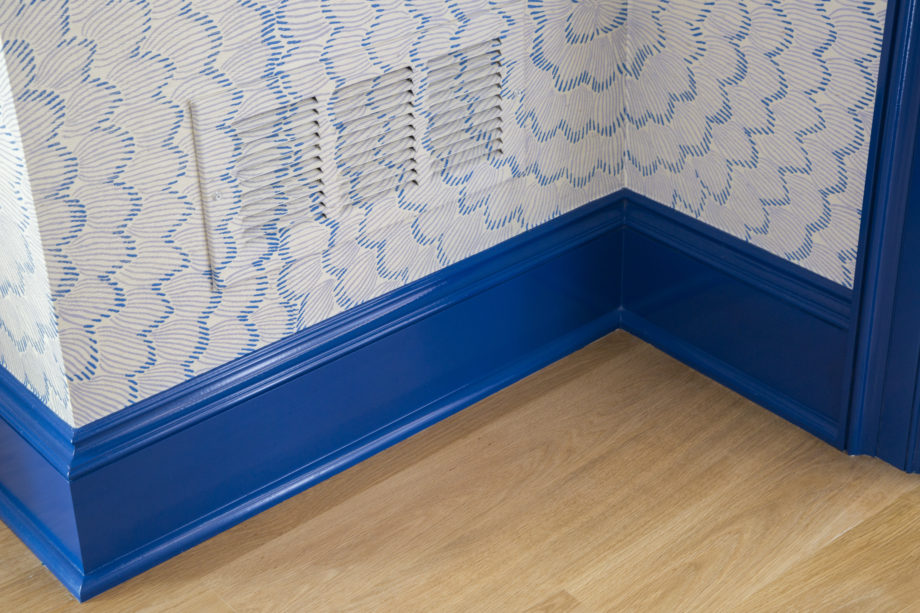 A 6-1/2″ base, the KB222 was chosen to finish off the look, although the wall paper on the return register is an absolute show stopper (once you have been made aware of it's presence!) The meticulous installation of wallpaper over the register turns what could have been an ugly component of this project to one that simply fades away.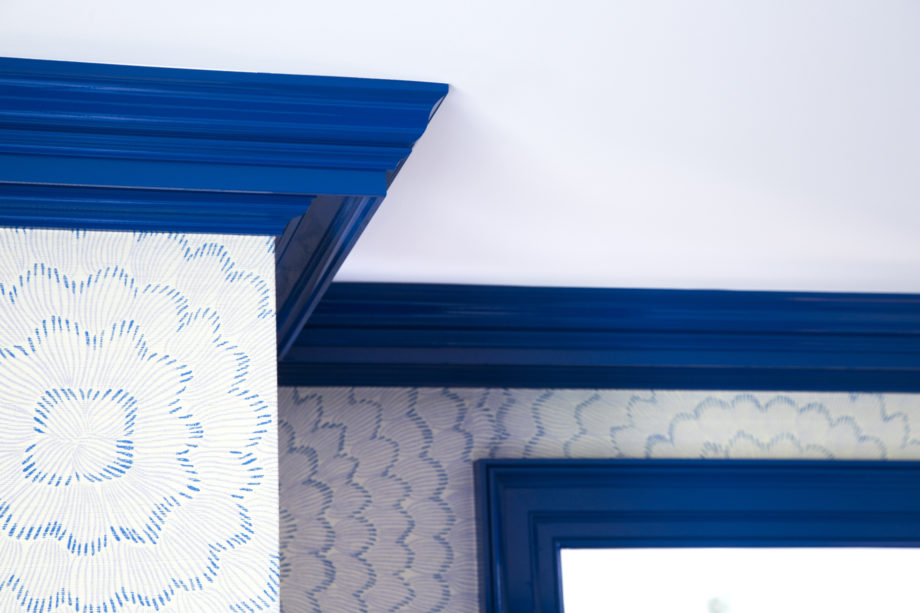 "Most of our work these days is black and white, greyscale, very clean. I'd say its considered transitional, but we work hard to keep a traditional feel," noted Tyler. "For this project, we wanted to make something that was completely different than what we normally do. That's where we turned to Kuiken Brothers to integrate this cornice assembly and we built everything off of that."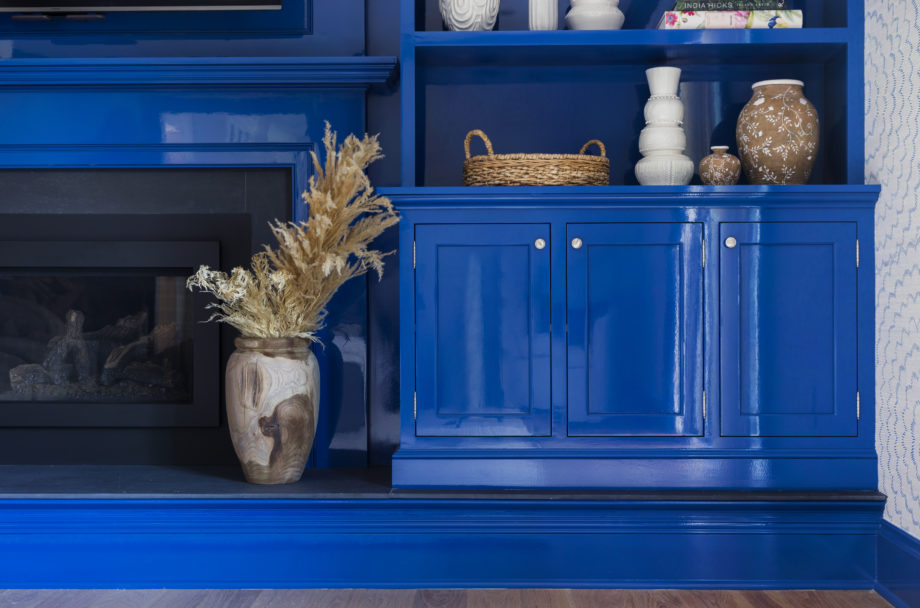 After establishing dimensions and a general layout for the cabinets, Tyler integrated the smaller detailed panel mouldings that worked with the cornice.  With the cornice being from the Kuiken Brothers' Classical Georgian Moulding Collection, they proceeded to use the mouldings from that moulding package to tie the entire job together.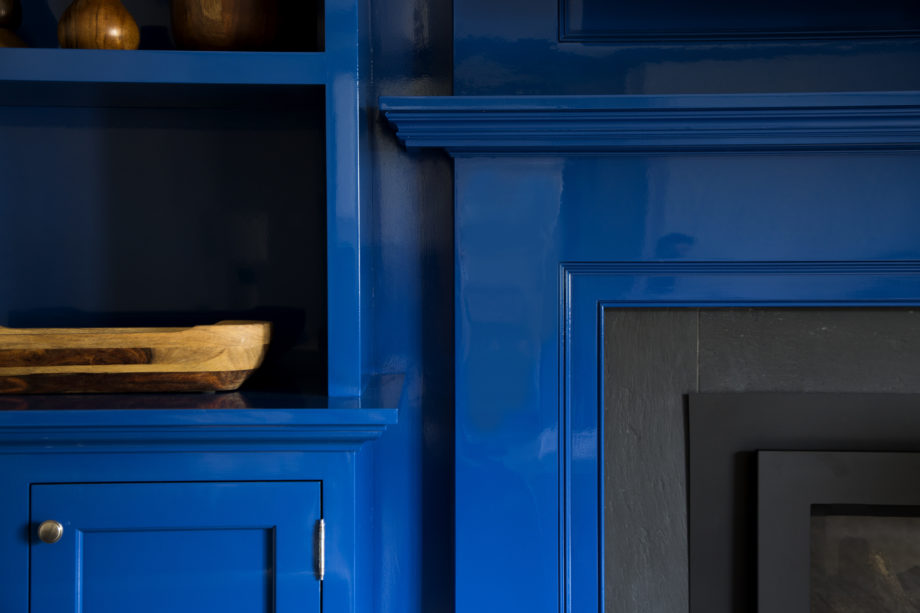 The design features a high gloss paint which is known for being light reflecting, giving off a mirror-like effect with beautiful sheen.  The glamorous effect is as difficult to apply as it is beautiful.  In fact, it is the hardest to apply out of all the paint finishes.  This effect can show almost every deficiency in a job, so it is important that everything is prepped thoroughly in order to make that final product pop and appear flawless.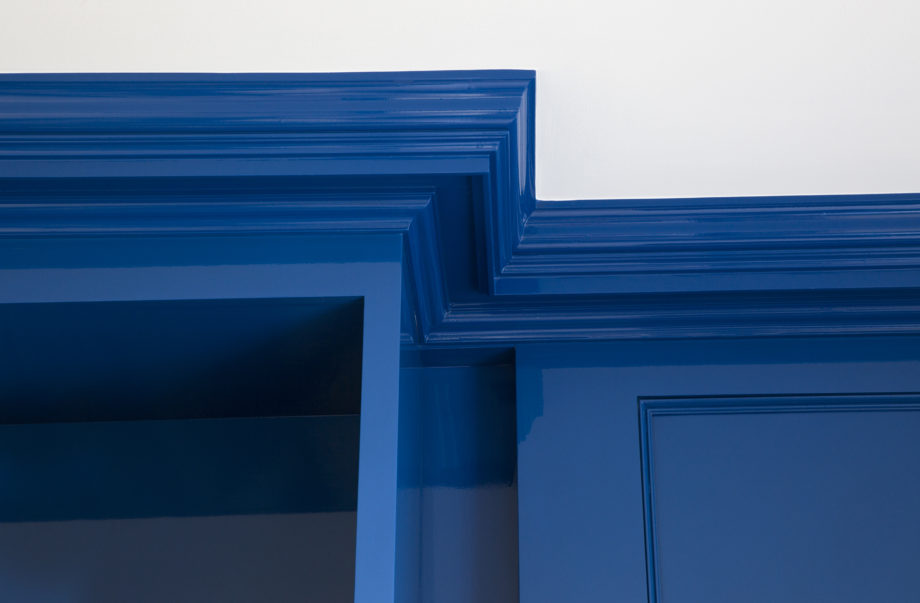 The customer saw the details and elements that were going to go into this space, but they didn't know what the final product was going to look like.  They said that they wanted a "show stopper" and it wasn't until the very end of the job when the finish, wallpaper, and cabinetry came together that they could finally see it as a whole.  A one of a kind unique design.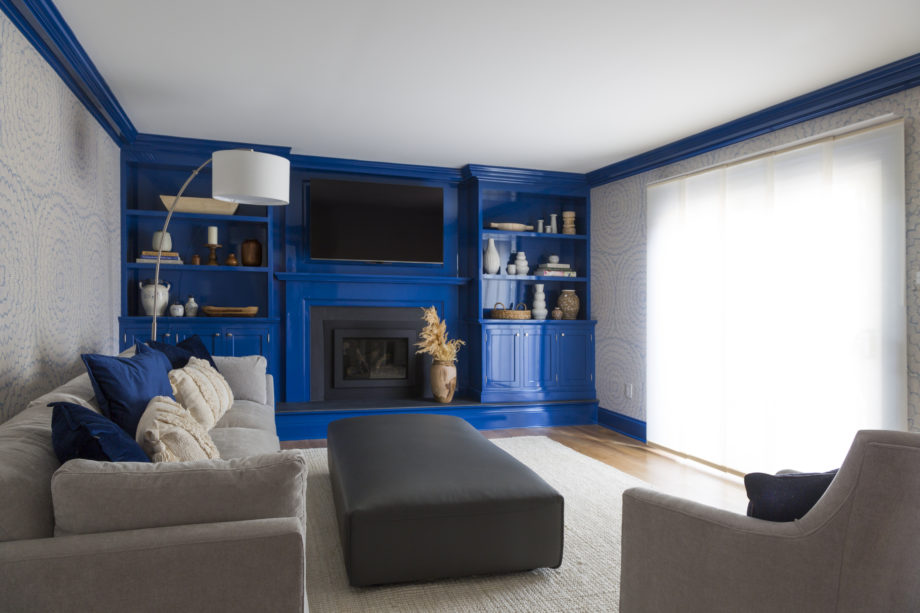 "At the end of the day, this is a once and a lifetime type project," Grace explained.  "We didn't bring in a millwork designer, an interior designer or an architect. We scaled everything based off of Kuiken Brothers' Mouldings and Kuiken Brothers' proportions to make it all work and have a classical feel."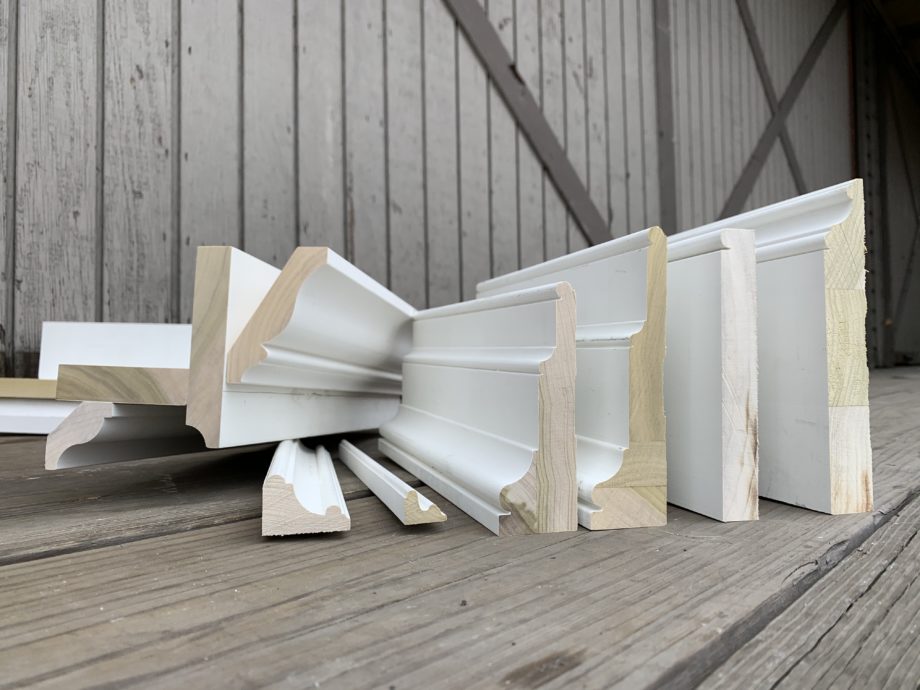 These are the in-stock poplar moulding profiles used by Tyler for this project. Pictured from left to right, Georgian boxed cornice, KB243 panel, KB873 panel, KB102 casing KB103 casing, KB108 panel, KB222 base.
About Kuiken Brothers Moulding Collection:
Kuiken Brothers Moulding & Millwork Catalogs (Full Line Catalog, Classical Moulding and Modern Craftsman) are available for download on KuikenBrothers.com and are compatible with most mobile devices, including iPad, iPhone and Droids smartphones.
Watch this video to learn more:
Click here to Download Kuiken Brothers Moulding Catalogs
We are also happy to mail you a complimentary catalog. Simply fill out the Request A Moulding Catalog form, choose whether you wish to receive our Full Line Catalog (showcasing our complete stock collection) the Classical Moulding Catalog (featuring six historically accurate collections) the Modern Craftsman Catalog (Craftsman style with a Classical edge) or all three and we will mail you a copy right away. If you'd like to discuss an upcoming project, please call (201) 652-1912 and a sales representative will follow up with you right away.