Get the kitchen cabinet features your customers want in a "stock" cabinet line.
As a builder today, you have to try to satisfy your customer's "champagne tastes and beer budgets".
Customers want all of the features in cabinets that typically come with true custom cabinetry. However, you often have to provide quote after quote to continually get the budget lower and lower. And the fun part is, the customer still wants everything included in the original quote, just at a lower price.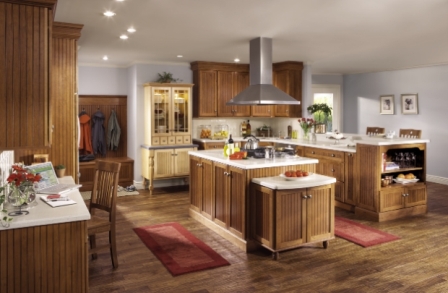 For situations like this, Kuiken Brothers carries Merillat Cabinetry.  The Merillat Classic line has all of the advantages of a stock cabinet including a 2 week lead time, many door styles and finishes and a very competitive price. However, Merillat Classic allows you to offer your customers such custom features as "soft-close" drawers, solid wood dovetail drawers, full extension drawer glides and plywood sides without driving the price too high or affecting the lead time. The bottom line is, your customers get the cabinets with the features they want, and you get them on time so your project runs smoothly.
Next time you have clients who want it all, but don't want to pay for it all, consider the Merillat Classic line from Kuiken Brothers.
Kuiken Brothers Kitchen & Bath Department has 4 showrooms with displays and hundreds of door species samples. If you have a general floor plan, we will provide you with complete 20-20 CAD design drawings. From there, you can finish the installation.
If you are interested in more information on kitchens for your next project, please send me an e-mail dhughes@kuikenbrothers.com or give me a call 201.705.5352.  I look forward to hearing from you.
Dan Hughes
Kuiken Brothers Millwork Manager