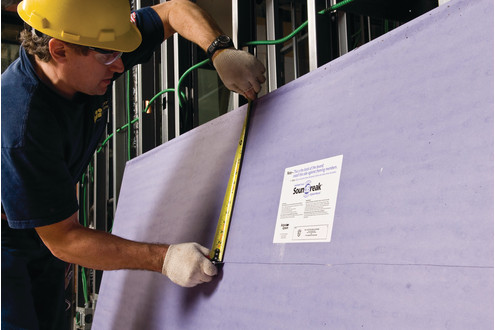 Gold Bond BRAND 5/8″ SoundBreak XP Gypsum Board with Sporgard has an acoustically enhanced, high density fire resistant Type X gypsum core encased in a heavy, abrasion and mold/mildew/moisture resistant, 100% recycled, National Gypsum PURPLE paper on both sides. Used in the construction of high rated STC wall assemblies, this 5/8″ thick gypsum board consists of a layer of viscoelastic damping polymer sandwiched between two pieces of high density mold resistant gypsum board, providing constrained layer damping.
Long edges of the panels are tapered. Tapered edges allow joints to be reinforced with ProForm BRAND Joint Tape and concealed with ProForm BRAND Ready Mix or ProForm BRAND Quick Set Setting Compounds. For optimum mold and mildew performance, National Gypsum recommends ProForm BRAND XP Ready Mix.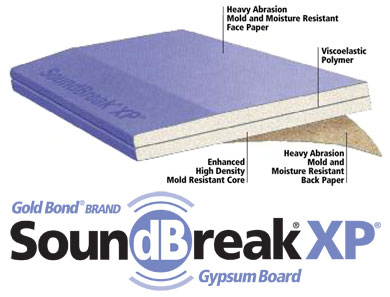 Advantages
Resists the growth of mold per ASTM G 21 with a score of 0, the best possible score.
Resists the growth of mold per ASTM D 3273 with a score of 10, the best possible score.
Use of 5/8″ SoundBreak XP Gypsum Board results in wall partitions with high rated STC values that are thinner than traditionally built high rated STC wall partitions, providing increased usable floor space.
5/8″ SoundBreak XP Gypsum Board features a fire resistant Type X core and it is UL classified and approved for inclusion in specific UL fire-rated designs.
Superior sound damping, cost-efficient material that is easily finished and decorated in the same manner as standard gypsum board.
Heavy abrasion resistant paper and denser core provide greater resistance to surface abuse and indentation when tested in accordance with ASTM C 1629.
All SoundBreak XP Gypsum Board designs were tested by an independent third-party acoustical laboratory using the full-scale ASTM E90 test procedure.
SoundBreak XP Gypsum Board is installed like traditional gypsum board, offering a more reliable and less complicated solution than alternative methods requiring clips and/or channels.
SoundBreak XP Gypsum Board can be cut by scoring deeply from both sides of the board before snapping, or with the use of a hand or electric saw.
SoundBreak XP Gypsum Board is GREENGUARD Children & Schools Certified for indoor air quality.
Approved for use on walls and ceilings.
Visit the Soundbreak website to listen to an actual sound demonstration, which provides four different audio samples for comparison. Click here to visit the website
If you would like more information National Gypsum's Soundbreak Gypsum Board for an upcoming project, contact the Commercial Building Material experts at Kuiken Brothers. We now have two great locations in Garfield and Succasunna for all of your commercial projects. You can give us a call, or simply fill out the Contact Us Form and we will follow up with you right away.