Kuiken Brothers is now stocking CertainTeed's SilentFX, a cost-effective gypsum board that improves acoustical performance and offers a high level of mold and fire resistance.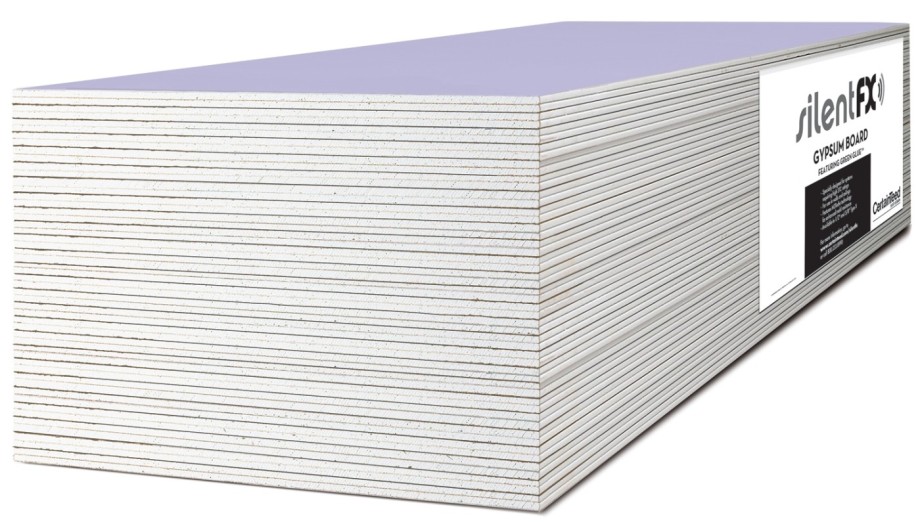 Achieving a high sound transmission class (STC) rating of 50 and higher, SilentFX allows building professionals to achieve acoustical control with less material than traditional gypsum boards, saving on installation time and materials. The product consists of Green Glue, a viscoelastic polymer, that is sandwiched between two Type X fire resistant gypsum boards. Specially engineered to provide enhanced protection against moisture and mold with M2Tech® technology, SilentFX is GREENGUARD Children and Schools(SM) Certified.
Kuiken Brothers stocks 5/8″ in 4'x8′ and 4'x10′ at our Garfield, NJ location.
"The green building design movement has contributed to an increased demand for acoustical management, especially in multi-family, school, hotel and healthcare settings," says John Donaldson, president of CertainTeed Gypsum. "It is much easier to relax, learn, sleep and heal without the headache of unwanted noise. We specifically designed SilentFX to provide building professionals with access to a high-performing gypsum board that can meet the toughest acoustical standards."
SilentFX gypsum boards are designed for use on interior walls and ceilings and can be used for new construction or renovations over wood or steel framing. The product is easy to install and finish in a conventional fashion.
"Our comprehensive product offering gives building professionals flexibility in meeting the needs for a diverse range of applications," explains Donaldson. "Using CertainTeed ceiling, thermal insulation and gypsum products, building professionals can design spaces that meet the most rigorous acoustical requirements."
If you would like more information on CertainTeed's SilentFX QuickCut, please feel free to give our Commercial Building Material specialists a call at our Garfield, NJ (973) 772-0044 or Succasunna, NJ (973) 584-2444 locations, or fill out our Contact Us Form and a sales representative will follow up with you right away. We look forward to working with you on your next project!