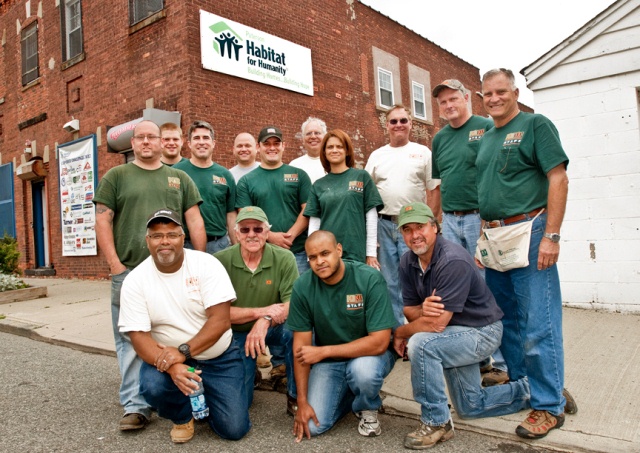 FAIR LAWN, New Jersey — June 26, 2012 — Kuiken Brothers Company Inc., a leading supplier of residential and commercial building materials, will complete its three-day volunteer commitment to Paterson Habitat for Humanity's 2012 Corporate Challenge this week. By Friday, 45 Kuiken Brothers employees will have, collectively, volunteered 360 man-hours on a new home construction project, in Paterson.
"Kuiken Brothers is a valued corporate partner as well as a valued vendor," said Gina Damiano, Paterson Habitat for Humanity Resource Development Manager. "The company has worked closely with Paterson Habitat since our first building project in 1984. Kuiken Brothers has provided us with quality lumber and building materials. This year Kuiken employees are volunteering their time, energy and skills to support our mission of building affordable homes for low-income families. We are thrilled to be a part of Kuiken Brothers' 100th anniversary activities."
"The Paterson Habitat for Humanity Corporate Challenge is a way for Kuiken Brothers' employees to further participate in our local communities," said Douglas R. Kuiken, president of Kuiken Brothers Company. "Kuiken Brothers and its employees decided to become actively involved in providing their time and talent to Paterson Habitat as part of our 100th anniversary celebration plans. It feels great to contribute not only financially and with goods and services but also with good old-fashion hard work. It's personally fulfilling as well as a team-building experience for all of us."
This year's Corporate Challenge involved more than three dozen companies from the tri-state area. Teams of employees worked half-day shifts during the four-week fundraiser. At lunch volunteers met incoming families and Habitat staff members so they could put faces behind their efforts. 100% of funds raised by this event goes toward building Paterson Habitat houses.
To see photos from these events, please click on the links below:
Habitat for Humanity Day 1 Photos
Habitat for Humanity Day 2 Photos
Habitat for Humanity Day 3 Photos
Community Outreach
A corporate mission of Kuiken Brothers is to positively impact communities in New Jersey and the greater tri-state area. The company supplied building materials for the first Paterson Habitat for Humanity House 28 years ago. In 2007 Kuiken Brothers' commitment to Paterson Habitat was recognized with the organization's Community Champion Award. Kuiken Brothers also sponsors local youth athletic teams and other volunteer organizations.
About Kuiken Brothers
Established in 1912, Kuiken Brothers Company has grown to become a leading supplier of residential and commercial building materials, including lumber, windows, doors, mouldings, drywall, metal studs, decking and railing, paint and kitchen and bath cabinetry with a focus on serving the needs of professional contractors and homeowners in the region. With a staff of more than 240 employees, the company now has a total of nine locations, eight in New Jersey—in Fair Lawn, Emerson, Midland Park, Ogdensburg, Wantage, Garfield, Succasunna and Roseland, and one in Warwick, New York. For more information, visit www.kuikenbrothers.com, call 201.652.1000, or e-mail info@kuikenbrothers.com