Kuiken Brothers now offers a new family of high-performance ceiling solutions designed specifically for today's healthcare facilities: CertainTeed Ceilings Rx Symphony ceiling panels.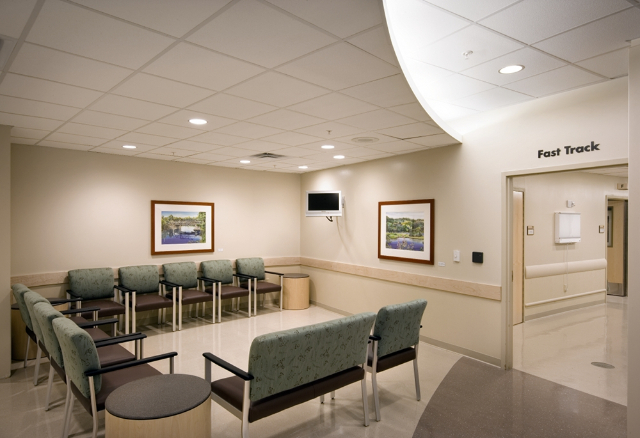 The new product line is comprised of:
All Rx Symphony panels are optimized to meet performance guidelines set by The Facilities Guidelines Institute's "Guidelines for Design and Construction of Health Care Facilities" (2010 Edition). Similar to the popular existing Symphony product line, Rx Symphony panels provide superior acoustical performance and visual appeal with added durability to withstand the demands of high-traffic healthcare settings.
Rx Symphony panels provide superior washability, stain resistance and scratch resistance, necessary for hospital emergency rooms, nurse stations and patient rooms. The panels also feature CertainTeed's enhanced Overtone® finish, which provides a brighter, more monolithic appearance. Tested according to clean room class 4 (ISO 14644-1), the panels emit virtually no particles and are VOC compliant to the California Department of Public Health Standard Method Version 1.1, 2010 — all of which contribute to healthy indoor air.
"Specifying a solution that meets the durability and acoustical needs of hospitals and other healthcare settings, while also ensuring high indoor air quality and creating inviting interior spaces can be a difficult task," said Dawn Chittick, director of marketing for CertainTeed Ceilings. "Rx Symphony addresses all of these needs. It is low-emitting, extremely easy to clean and can stand up to the routine bumps and scratches that are inevitable in these busy facilities."
If you would like more information on CertainTeed's Rx Symphony Mineral Fiber Ceilings for an upcoming project, please feel free to give us a call at our Garfield or Succasunna locations, or fill out the Contact Us Form and one of our Commercial Building Material specialists will follow up with you right away. We look forward to working with you on your next commercial project.