After reviewing all aspects of the products' environmental performance from manufacturing to end-of-life impact, UL Environment has certified a pair of new Environmental Product Declarations (EPDs) for CertainTeed's Symphony m mineral fiber and VOC Compliant Symphony f fiberglass ceiling panels.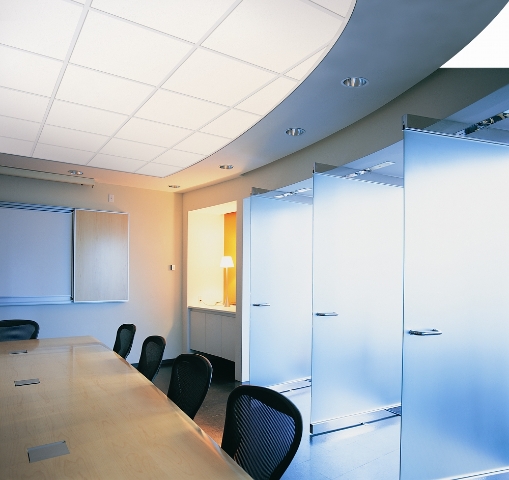 CertainTeed was the first ceilings manufacturer to issue Environmental Product Declarations through UL Environment and The Green Standard. The new Symphony EPDs join the company's industry-leading library of more than 21 ceilings product families. To create the EPDs, life cycle assessment data for the Symphony panels was evaluated on critical environmental issues, such as production process impact, usage of raw materials and recycled content, packaging, health aspects and end-of-life impact—providing independent verification of the data in accordance with ISO 14025.
"In today's schools, office buildings and healthcare facilities, architects and designers are specifying building products that not only fit the desired aesthetic requirements, but also contribute to green certifications and evidence-based outcomes," said Dawn Chittick, director of marketing for CertainTeed Ceilings. "These EPDs offer a look into the entire life cycle of our Symphony products, so building professionals can be confident of their outstanding performance."
The baseboard of Symphony m panels is manufactured at CertainTeed's L'Anse, Mich. facility, which emphasizes industrial ecology and product stewardship. The facility receives renewable electricity from the nearby Warden Electric Biomass power plant, which generates its electricity from waste wood. Excess steam from that plant is also channeled to the ceiling manufacturing facility, reducing its overall natural gas use. As a result, the plant is powered largely through renewable resources and generates almost zero waste.
With a total recycled content of 63 percent, Symphony m consists of a mineral core with a reinforced mat face, providing an NRC of 0.70 and a CAC of 35. The company's Overtone® finish gives the panels a bright, monolithic finish that provides a high light reflectance of 0.90, which helps enhance daylighting and provides an excellent platform for integration with high-performance, indirect lighting systems. Symphony m panels are also extremely cleanable, exceed Facilities Guidelines Institute (FGI) guidelines for most healthcare applications and are certified for clean room design to ISO Class 4.
VOC Compliant Symphony f panels are comprised of a fiberglass core with 29 to 34 percent post-consumer recycled content that is fabricated at CertainTeed's facility in Plymouth, Wis. The panels have been third-party tested for emissions and meet the acceptable VOC emission levels for the classroom and private office model environments in the California Department of Public Health Standard Method V1.1. Its Overtone finish gives the panels a luxurious and smooth textured surface with high light reflectance. VOC Compliant Symphony f also offers the outstanding sound absorption necessary for speech privacy in open plan environments.
If you would like more information on CertainTeed Ceilings for an upcoming project, please feel free to give us a call at our Garfield or Succasunna locations, or fill out the Contact Us Form and one of our Commercial Building Material specialists will follow up with you right away. We look forward to working with you on your next commercial project.