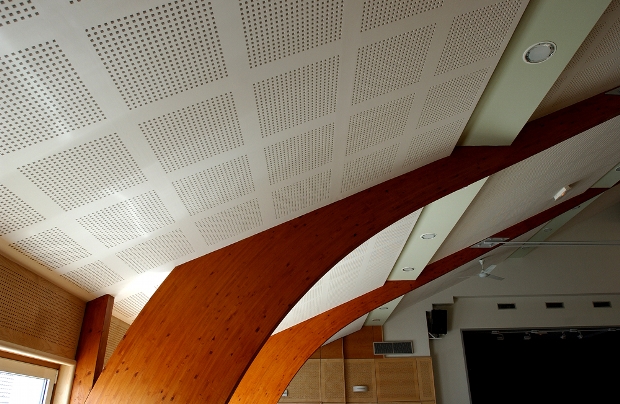 Responding to growing interest from the architect and design community for seamless wall-to-ceiling surface designs, CertainTeed Corporation has introduced a new family of Gyptone BIG Large Format Perforated Acoustic Panels. The perforated gypsum panels allow for monolithic ceiling and wall designs without visible breaks or joints and provide superior acoustics for open lobbies, classrooms and office spaces.
The Gyptone BIG family includes four products, each with a distinct pattern of perforations and acoustic backing tissue, providing excellent acoustical performance. Quattro 41 features a square perforation pattern, while Line 6 features line perforations. Sixto 63 and Sixto 65 each feature hexagonal perforation patterns.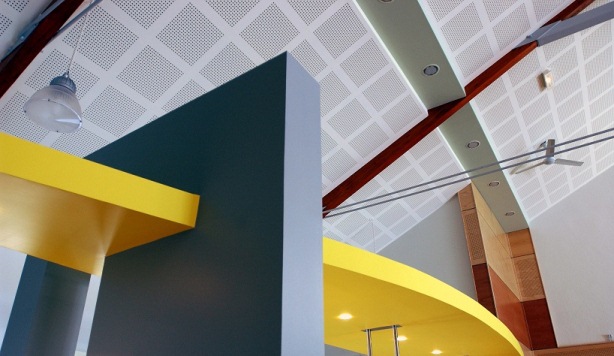 Gyptone BIG panels offer NRCs from 0.60 to 0.75, depending on the perforation pattern, and a CAC of 35. All panels are made with 80 percent post-consumer and 5 percent pre-consumer recycled content and can be fully recycled into the manufacturing of new gypsum products. 
Gyptone BIG boards are suitable for direct or suspended screw mounting and can be easily painted with a short-nap roller. CertainTeed offers a compatible grid system and complementary Gyptone ceiling tiles for each BIG pattern, providing a clean, monolithic transition between vertical and horizontal room surfaces. Integrated hatch panels are also available for all Gyptone products allowing easy access to the plenum.
Kuiken Brothers Commercial Building Materials is pleased to partner with Certainteed. As experts in the science of sound, CertainTeed Ceilings serves as a single source for high-quality ceilings that create acoustically friendly, aesthetically captivating environments. Encompassing the Performa, Ecophon and Gyptone brands along with Decoustics — a leader in high-precision, custom-engineered solutions — the company offers the perfect balance of innovation, budget and beauty with products that range from basic high-performance panels to premium, customizable systems. Through its emphasis on Environmental Acoustics™, CertainTeed Ceilings provides solutions that promote healthier interiors, while having a smaller impact on the environment, which includes ceiling products with one of the highest concentrations of recycled content in the industry as well as a recycling program for used ceiling panels. The company is the first ceilings manufacturer to issue Environmental Product Declarations through UL Environment and The Green Standard.
If you would like more information on Certainteed's New Gyptone Large Format Acoustic Panels for your next commercial project, please feel free to give us a call or fill out the Contact Us Form and one of our commercial building material specialists will follow up with you right away. We look forward to working with you on your next commercial project.