Kuiken Brothers is now stocking Huber Engineered Wood's Zip System Stretch Tape at our locations in New Jersey and New York. The Stretch Tape is a perfect compliment to a great package of materials offered through Huber Engineered Woods, including their Zip System Roof & Wall. The Stretch Tape is an acceptable sill pan material for our window & door partners Marvin and Andersen. Many of the installers will use the stretch tape when there are radius window applications and the Zip System Straight Flash for the straight flanges.
Check out the video:
Quickly flash tricky areas without piecing tape segments together. ZIP System stretch tape easily stretches to fit sills, curves and corners with a single piece. Made of a high-performance composite acrylic, ZIP System stretch tape conforms to challenging applications and locks out moisture even over mismatched surfaces. And ZIP System stretch tape can be pulled up and reapplied for hassle-free installation, providing a tight seal in no time.
Additional Features & Benefits
Weather Barrier – The perfect compliment to ZIP System sheathing panels for a continuous weather barrier to keep water out.
Variety of Surfaces – Bonds to wood, concrete, masonry, architectural metals, glass, PVC, FRP, EPDM for easy flashing in transitional areas.
Repositionable – Can be pulled up and reapplied for hassle-free installation.
Cold Temperature Application – Can be applied in cold temperature applications as low as 0° F.
Superior Acrylic Adhesion – Works better than butyl/asphalt to provide a strong, tight bond for an effective seal, even around fasteners.
180 Day Exposure Guarantee – Guaranteed to stand up to exposure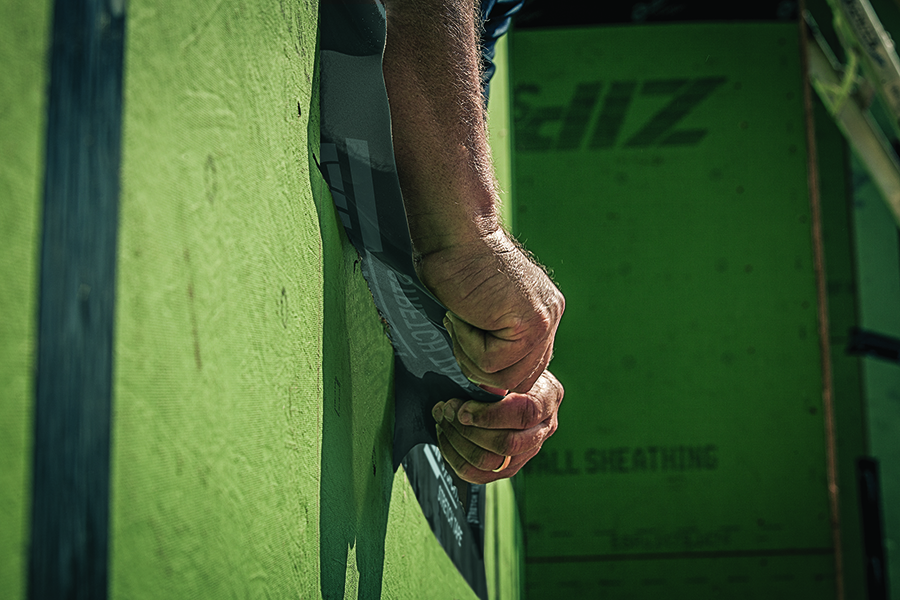 If you are interested in using Zip System Stretch Tape or any Huber Engineered Wood Products (AdvanTech flooring or Zip System Roof & Walls) in an upcoming project, please feel free to give us a call at (201) 652-1000 or fill out the Contact Us Form and one of our sales representatives will follow up with you right away. Be sure to add "Huber Engineered Wood Products" in the comments/questions box. We look forward to working with you on your next project.