AIA Seminar on Woodwork Quality Standards Doors
Presented by Upstate Door
November 5, 2009 5:30pm
Location:
Kuiken Brothers Company, Inc
14 Eisenhower Parkway
Roseland, NJ 07068
P 973.226.5700
Seating is limited to the first 25 architects. Click here to RSVP today!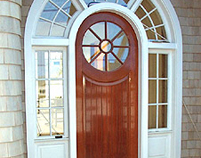 Woodwork Quality Standards Doors – Take home a clear understanding of the difference between current door standards from various sources, how to use them to solve project challenges, and how to specify clearly. This course covers both Architectural Flush and Stile & Rail type doors. Includes door construction types, lumber, veneer, and overlay choices.
This course provides 1 hour continuing education credit and is approved for Health Safety and Welfare (HSW) credit.
Plus, learn about the custom capabilities of Upstate Door, featuring entry and interior door options.
For more information, visit their website: http://www.upstatedoor.com/