Kuiken Brothers is now stocking the Guster Demo Bar by Guster Tools throughout locations in NJ & NY.
The Gutster Demo Bar is the result of a contractors, working with his hands every day. While demolition was often just a small segment of a job, it could often be the most time consuming and back breaking.  When you realize at the end of the day you have spent the entire time hunched over using the old claw bar and hammer- the Gutster Tools is a welcome relief. Work your day standing up, and allow your back to operate as it should. Included is even a nail puller to allow you to remove the old nails without bending over.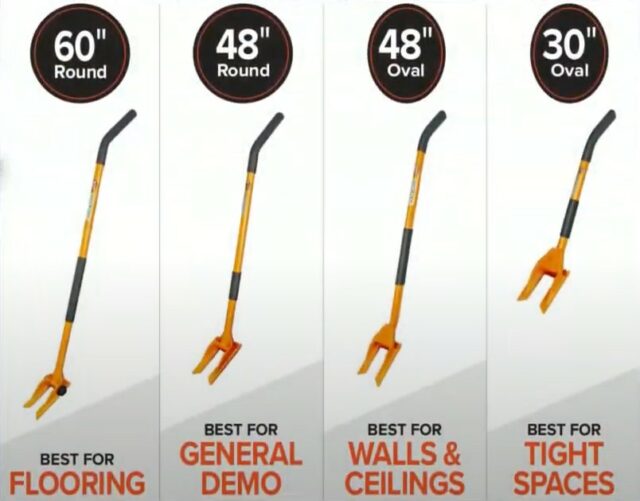 Gutster 60″ Round Handle Demolition Bar- Ultimate Flooring/Hardwood Removal Tool
BEST FOR FLOORING
Longest handle for best posture when removing flooring
Maximum leverage
Wheels for ease of moving tool on floor
Wheels also double as a dolly
Gutster 48" Round Handle Demolition Bar – Versatile Wrecking Tool
BEST FOR GENERAL DEMO
Perfect length and balance for all types of demo
Cast head is the same weight as the 60" head – providing maximum effect
Works on floors, ceilings – and everything in between
The ultimate all around demo tool
Gutster 48" Oval Handle Demolition Bar – Ceiling/Wall Demo Bar
BEST FOR WALLS & CEILINGS
Cast head, with a slightly lighter weight than the 60" and 48" round handle bars
Oval tube instead of round handle
Angle of head is slightly increased for overhead work
Lighter overall bar weight for long duration jobs
Gutster 30" Oval Handle Demolition Bar – Tight Space Demo Bar
BEST FOR TIGHT SPACES
Built like a tank
For small jobs like bathrooms where you can't fit a long handle tool
Short enough to fit the tight spot. Long enough give great leverage
Still has a substantial tool weight allowing you to get your job done fast
If you would like more information on the Guster Demo Bar, please contact your Kuiken Brothers Sales Representative or fill out the Contact Us Form and a sales representative will get back to you as soon as possible.