Finally! The board that contractors have been asking for since soundproof drywall was invented! No special tools required. No increase in installation time!
Elmwood Supply now offers yet another sound proofing/ sound isolation option. QuietRock® ES sound-reducing drywall with EZ-SNAP Technology™ is 4X easier to score and snap than other acoustical drywalls and the only noise reducing drywall on the market without paper in the middle.  QuietRock ES' patent pending approach incorporates new gypsum core technology which offers greater strength, enhanced fire resistance and easier score and snap than even standard gypsum board.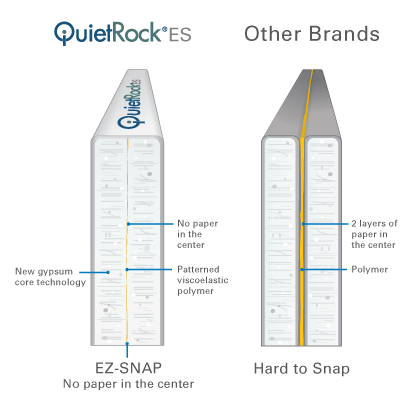 QuietRock ES Key Features:
Breakthrough technology delivers the lowest cost, Type X, noise-reducing drywall
Abuse resistant – suitable in heavily trafficked areas
Type X, 1-hour fire-rated – you never have to think twice about fire code
4X easier to use than other brands – delivers true score and snap with EZ-SNAP technology
No paper nor metal on the inside yet delivers STC ratings of up to 55
Load bearing
Can be installed in ceilings and load-bearing walls
Premium finishing surface
QuietRock ES Specifications:
5/8" thickness
Weight 2.6 lbs/sqft
STC ratings from 48-55 (ASTM E90)
*** Attention Kuiken Brothers account holders – Just a reminder that you can make purchases on your Kuiken Brothers account at Elmwood Supply for your commercial building material needs. All invoicing and billing still comes directly from Kuiken Brothers!
QuietRock ES is now in stock at our Elmwood Supply location in Garfield, NJ. For pricing and product availability, please fill out our Quote Request form and someone will follow up with you very shortly.