Kuiken Brothers Commercial Door & Hardware, based in Garfield, NJ, offers the most complete line of Architectural Doors and Accessories in the area. Our Project Managers will work with you on your project from start to finish, including plan take-offs, delivery logistics, project management through the completion of project. All will be handled at the highest level of customer service. For over 40 years we have supplied large commercial projects, including hospitals, office buildings, educational facilities, retail stores/malls, airports as well as single family homes, multi-family apartments and condos on the residential side. Kuiken Brothers Commercial Door & Hardware Department, a local experience with a company that Gets it Right.
Algoma Hardwoods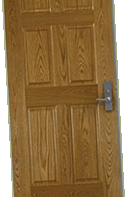 Schools, hospitals, medical clinics, assisted living centers, courthouses, and high-end lodgings and condominiums are great applications for Algoma's Architectural Doors. Create a "high end" look and feel, with the quality and durability to withstand heavy and frequent use.
Algoma's Architectural Doors offer a "Lifetime in the Opening" warranty. Manufactured using Hot Press, Five-Ply technology, Algoma's Architectural Doors offer a full range of veneer options, special applications, and can be pre-machined, pre-finished, pre-glazed and/or detailed at the factory, ensuring factory-quality, timely delivery and ease of coordination and installation.
Maiman Fine Architectural Doors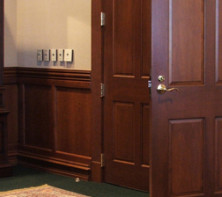 The Maiman Company is a manufacturer of fine quality architectural stile & rail and thermal fused wood doors and wood frames and has been an industry leader and innovator in architectural wood doors for over 35 years.
Maiman offers a variety of interior commercial wood doors to cover the whole range of your building projects. A single- source supplier, Maiman can make beautiful doors with a consistent look for your entire project from one door to thousands.
VT Industries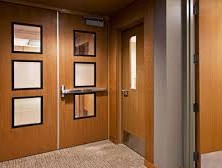 VT Architectural Wood Doors open a whole new world of design possibilities. From the traditional beauty of our Heritage Collection to the sophisticated elegance of our Artistry Collection, VT doors create the perfect aesthetic to distinguish your building projects. All are custom made, from a nearly unlimited choice of woods, to match the rest of your design.