The Cortex Hidden Fastening System for PVC Trim is the fastest, easiest way to hide fasteners in PVC Trim – and now it is 50% faster.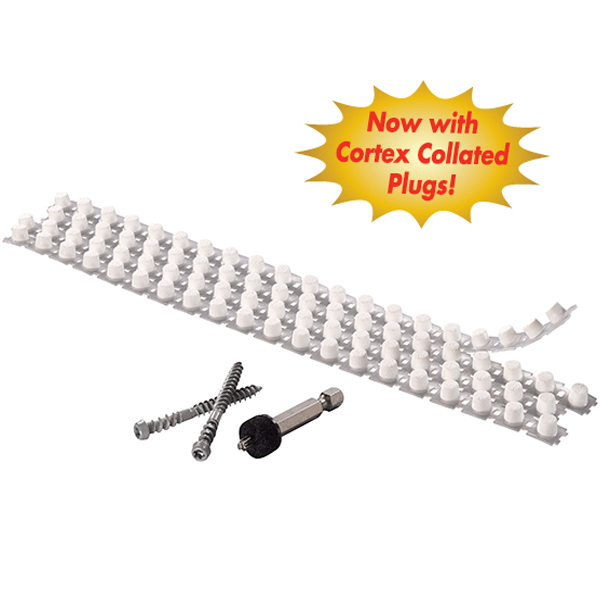 Cortex now comes with the following product enhancements:
Collated Cortex Plugs: FastenMaster Cortex plugs are now available on a collated strip. This minimizes handling and saves valuable time on the jobsite.
Shorter & Faster Trim Screw: A new 2" fastener option delivers high levels of holding power but now offers versatility for applications such as deck fascia and exterior baseboards. The dual lead thread design spins the fastener 50% faster for quicker installs.
TORX® ttap® Drive System: This system is almost impossible to strip-out and the fastener is easily removed. The stability button keeps the fastener straight through installation.
Stronger Setting Tool: Optimized for extreme pro contractor use. Stronger bit material and industrial grade felt will enable you to install 350 fasteners on one Cortex Setting Tool.
Cortex Trim comes available in two fastener lengths 2" and 2-3/4″. Each package comes complete with screws, plugs, and setting tools in a 50, 250 or 750 lin ft box.
If you are interested in learning more about the Kleer PVC Cortex Trim Hidden Fastening System from FastenMaster, make sure to join us at our LIVE Product Expo in Mahwah, NJ on Thursday November 3rd at the Sheraton Crossroad Hotel – 1 International Boulevard, Mahwah, NJ. We'll have FastenMaster experts on-hand to let you test these products and discuss all of the features and benefits. If you've never attended one of our Product Expo events before, here is a quick highlight video:
Kuiken Brothers LIVE Product Expo is a complimentary event which is open to building professionals (builders, remodelers, architects, designers and their staff). We strongly encourage apprentice & next generation tradesmen attend this event as we offer free continuing education seminars, feature new products, best installation practices and, of course, free food and beverages throughout the day. The only requirement is that you and your crew register in advance. Just click on the link below! We look forward to seeing you then!