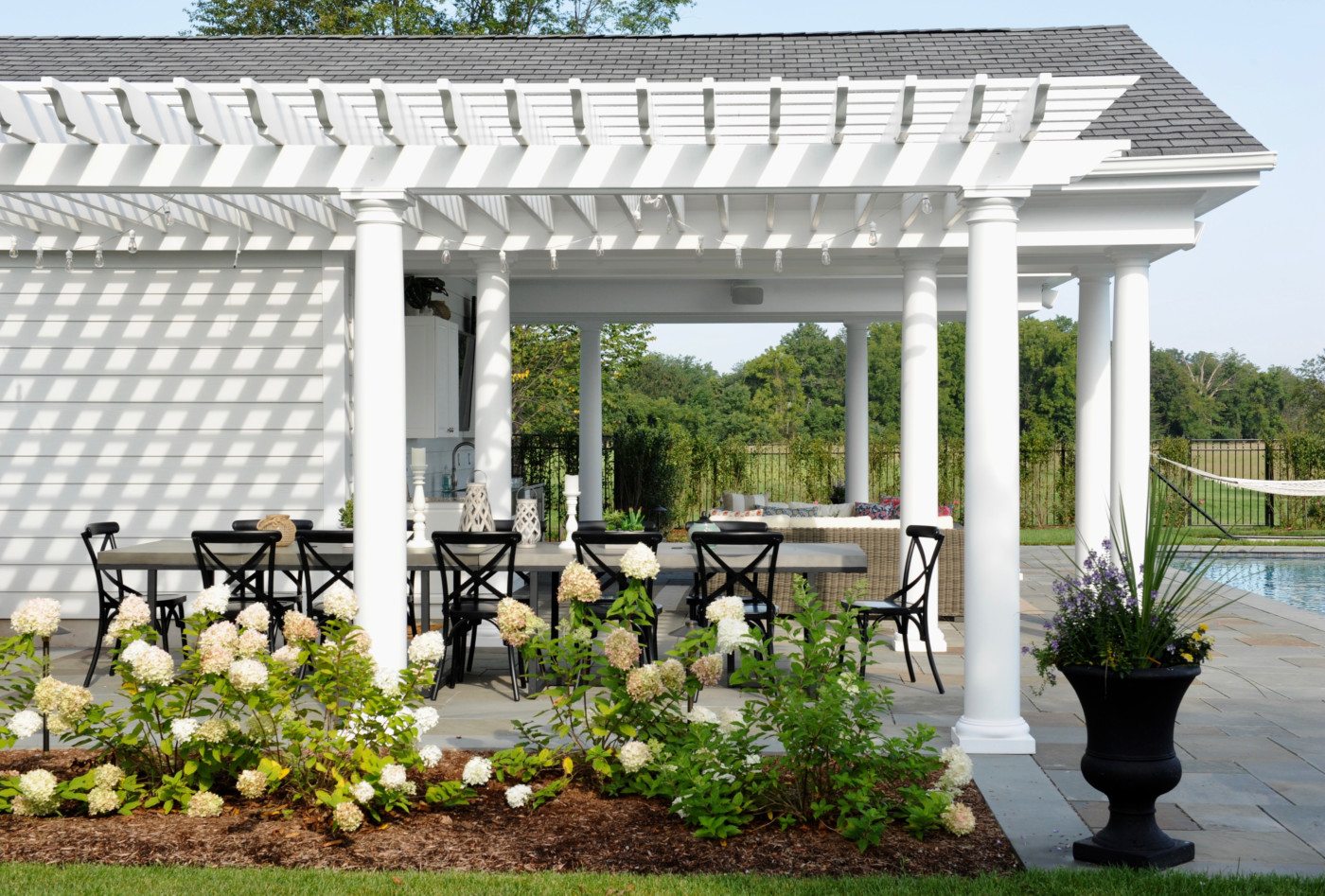 Kuiken Brothers is pleased to offer standard stock and full custom Fiberglass Pergola Kits from HB&G. Fiberglass beams can span longer distances than wood or vinyl. Unlike wood, their high strength to weight ratio keeps them from sagging under their own weight. Unlike vinyl, they are unaffected by variations in temperature and will not sag in hot climates.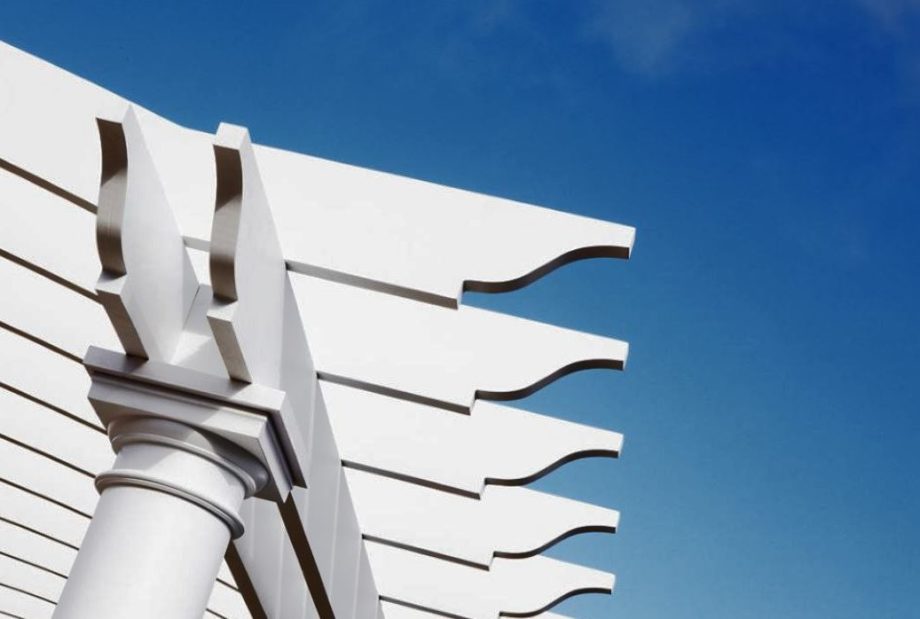 HB&G's Serenity Pergola Series are manufactured white with Napa Tails. The pergola kits come with a choice of round no-taper or square PermaLite columns without neck moulding in three freestanding and two attached overhead dimensions. The Serenity series comes prefinished with ChromaGuard engineered coating and include the wind load rated Arbor-Loc tie-down system. HB&G also offers semi-custom rafter tails or color options to customize your pergola. Serenity fiberglass pergolas are single support rafter with head and Napa tail style. Wind Load plates that give up to 160MPH uplift resistance are available.
Standard Stock Pergolas from HB&G (approximately 4 week lead time for shipment/ arrival from the HB&G factory. Give us a call for exact lead time):
Serenity Series: Stock No-Taper Round Column Pergola Kits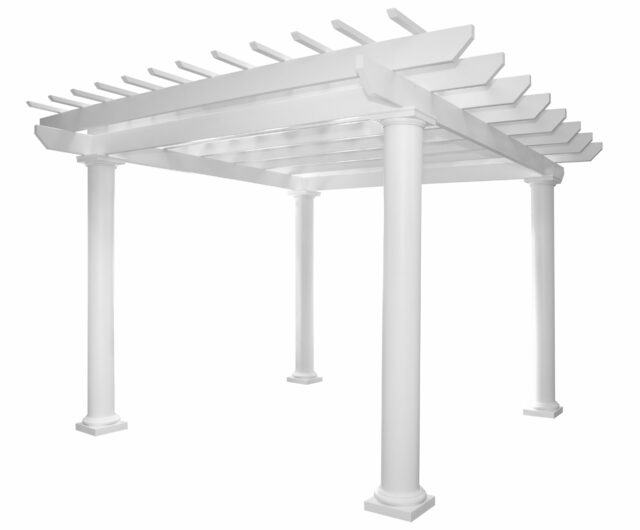 | | | |
| --- | --- | --- |
| Overhead Size | Column Center Size | Column Size |
| 12′ x 12′ | 8′ x 8′ | 8″ x 8′ |
| 14′ x 14′ | 10′ x 10′ | 10″ x 8′ |
| 16′ x 16′ | 12′ x 12′ | 10″ x 8′ |
 Stock Square Column Pergola Kits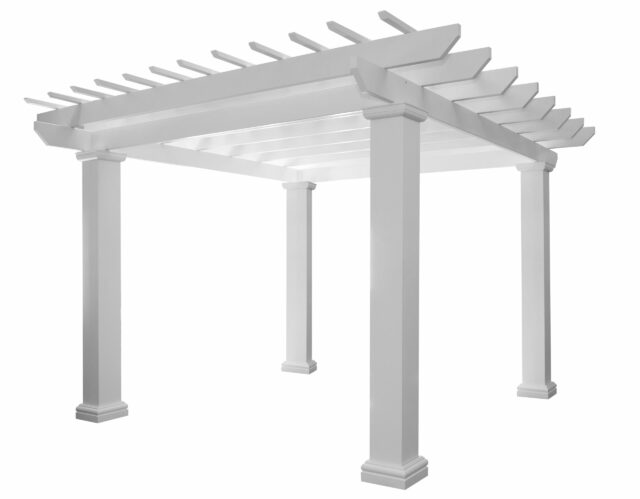 | | | |
| --- | --- | --- |
| Overhead Size | Column Center Size | Column Size |
| 12′ x 12′ | 8′ x 8′ | 8″ x 8′ |
| 14′ x 14′ | 10′ x 10′ | 10″ x 8′ |
| 16′ x 16′ | 12′ x 12′ | 10″ x 8′ |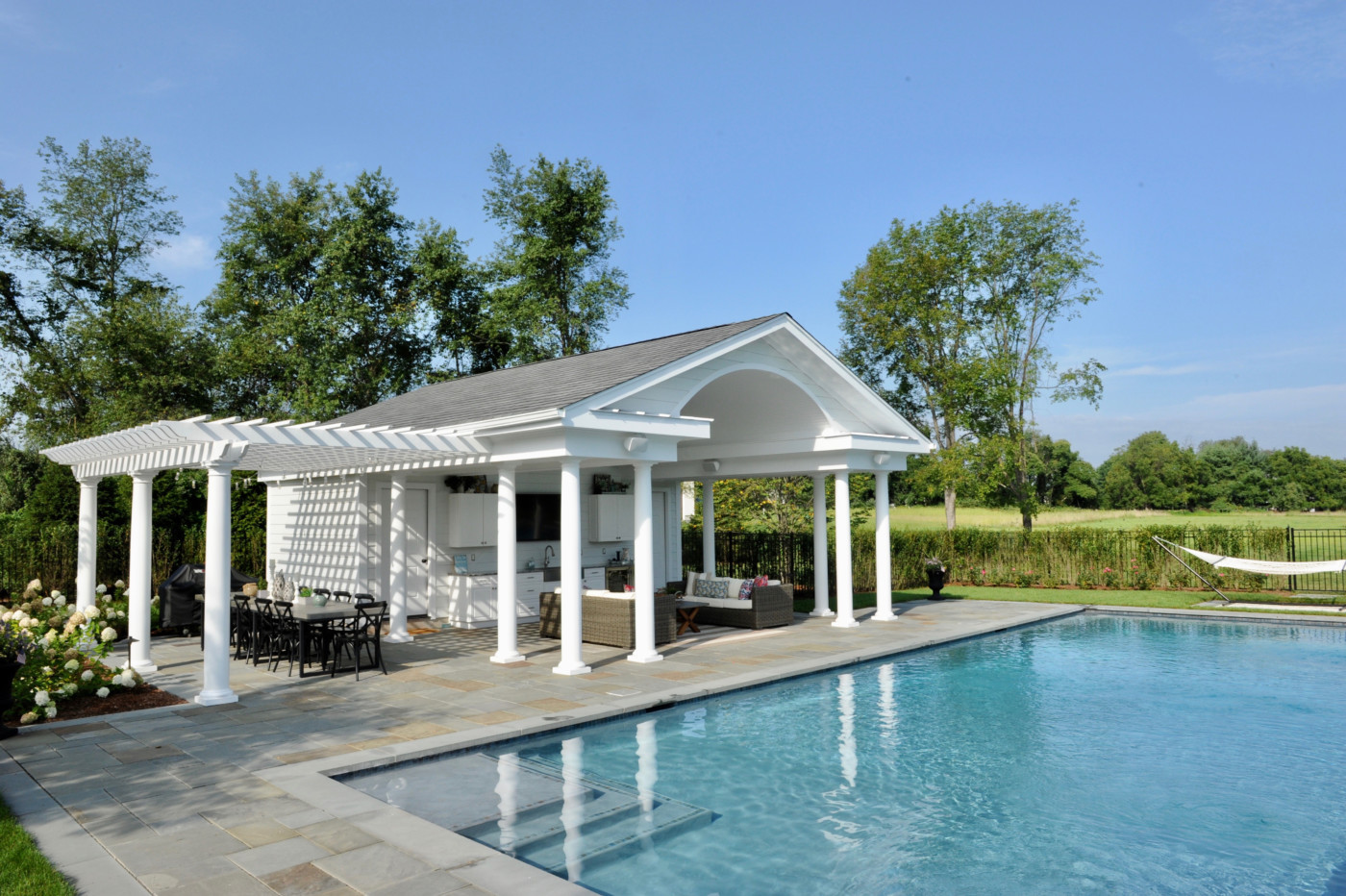 Looking for something a little more custom for your space? HB&G's fiberglass pergola semi-custom options can be used to match your outdoor living space to your current house style. From twelve color options to six other rafter tail designs, our options can help make your outdoor living space even more beautiful.
The twelve color options are a specially formulated ChromaGuard engineered coating that resists intense fading and gives the pergola a uniform look. ChromaGuard engineered coating is applied at the manufacturing facility. Touch-up paint is shipped with the pergola to fix any minor paint issues and to cover up any exposed hardware.
Click here to learn more about the HB&G fiberglass pergola semi-custom system
Additional Features & Benefits:
Ease of Installation
HB&G pergolas are fabricated to specific dimensions, making installation easy and fast. Parts are clearly marked and all hardware is included so that your pergola can be completed in hours. Kits can also be field customized to meet specific needs. Optional wind-load/ deck plates are available.
High Strength-To-Weight Ratio
Pound for pound, HB&G pergolas feature light weight fiberglass-reinforced components which are stronger than steel. This allows for quick and easy installation without the need for cranes or large crews.
Consistency In Appearance & Performance
Compared to traditional materials, fiberglass components offer a uniform appearance that lasts for years. They do not twist, warp, or bow after installation and they maintain their full strength over the life of the product.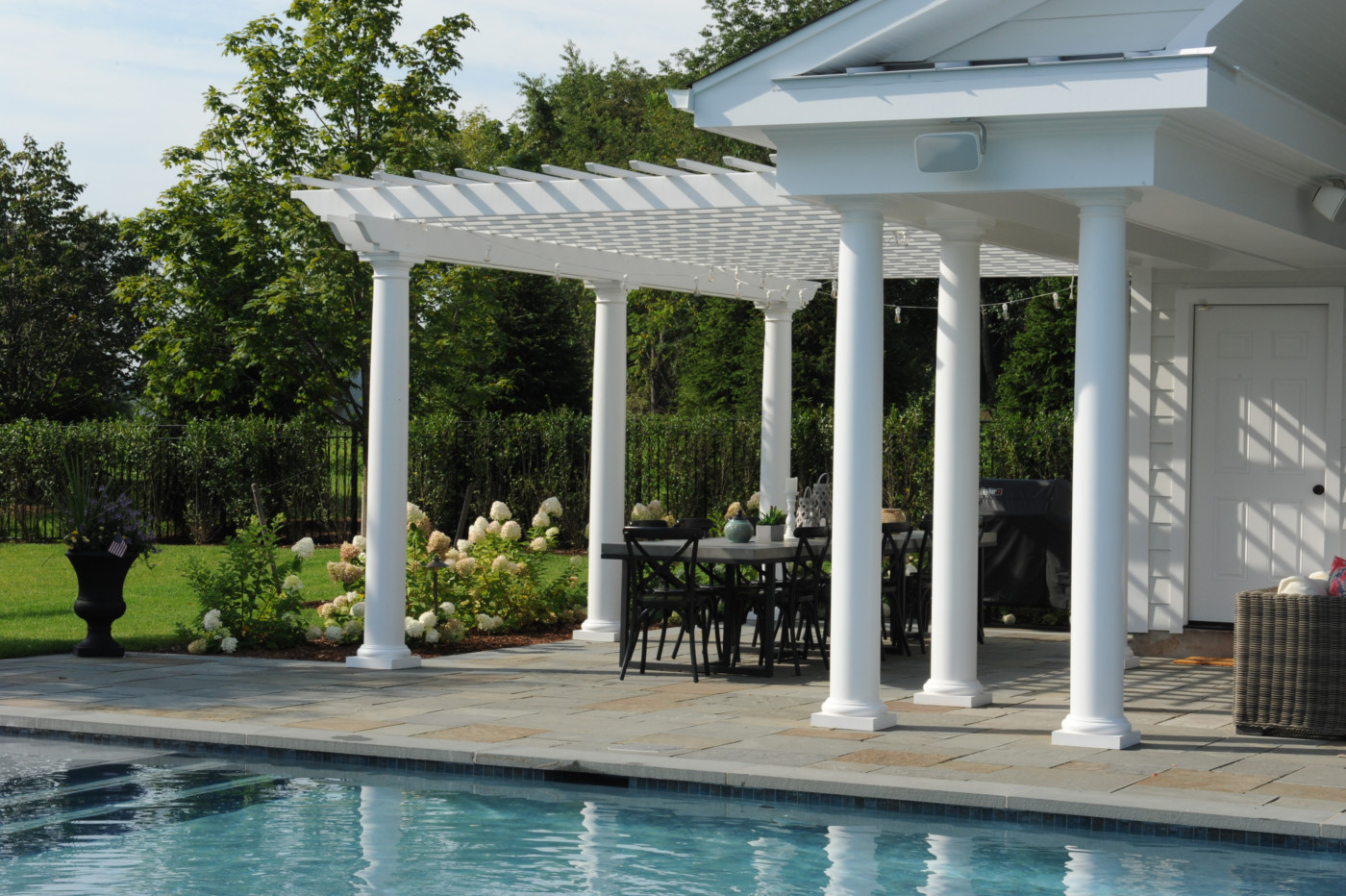 If you would like more information on Fiberglass Pergolas from HB&G, please stop by one of our Residential Building Material & Millwork Showroom locations, or fill out our on-line Contact Us Form and send us some details about your project and we will have one of our Deck, Railing & Outdoor specialists follow up with you right away.