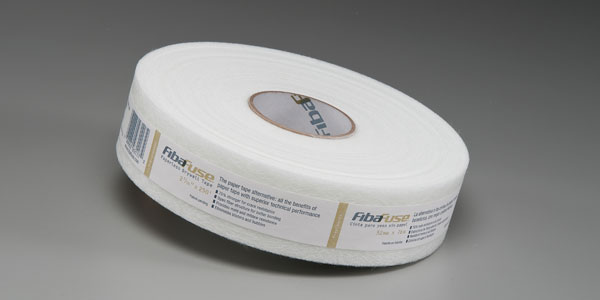 Kuiken Brothers is pleased to announce we are now stocking FibaFuse, a revolutionary paperless drywall tape.
Designed for professional renovators and remodelers, FibaFuse is a mold-resistant glass mat drywall tape that is ideal for high-humidity and moisture-prone applications. FibaFuse is easy to cut and designed to retain its folds, making it efficient to install by hand on joints and in corners. Super tapers, banjos and automatic tapers also work well in applying FibaFuse and compound to seams.
Check out this installation video with Myron "That Drywall Guy" Ferguson (one of our Product Expo all time favorites!)
FibaFuse is porous, allowing the joint compound to become part of the tape for a stronger bond and reducing the possibility of loose tape and air bubbles.
Mold-resistant– Increased mold protection for a safer environment.
Open fiber design – Fuses with compound to create stronger joints compared to paper tape.
Pre-creased – For easy installation in corners.
Crack-resistant–Superior to paper tape.
Smooth finish – Eliminates blisters and bubbles that are common with paper tape.
Professional-grade performance – A superior option to paper tape for demanding applications
if you would like more information on FibaFuse Paperless Drywall Tape for an upcoming project, please give us a call (201) 652-1000 or complete our on-line Contact Us Form and a Kuiken Brothers representative will gladly follow up with you right away. We look forward to working with you on your next project!
Save
Save