To assist in the specification of moulding and millwork packages, Kuiken Brothers has created two different sections within our website where you can download CAD drawings of our KB Classical Moulding Collection as .DWG, .DXF and .PDF files. We have also created a number of full room combination ideas for each of the six architectural styles to help provide you with some general ideas on how you can maintain proper scale and proportion when combining different crown, casing and base mouldings.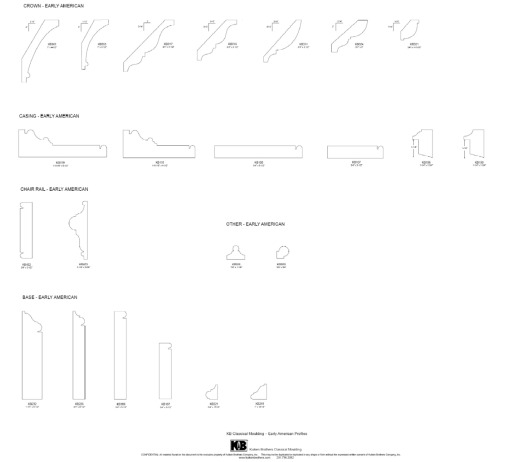 Let's take a look at the Federal Moulding Collection for this example.  Most Federal style mouldings were popular in period homes from the 1770's through the early 1800's.  The profiles tend to be very light and delicate and feature cavetto shapes and simple beads which helps the moulding to read as more refined in a room.
You can download the complete Federal collection as one CAD block, or as individual CAD files for custom projects.
(look for the green "download" button on each page to download the complete collection)

If you are looking to offer your clients a basic trim package for your Federal style home, than take a look at our Moulding Design Guide.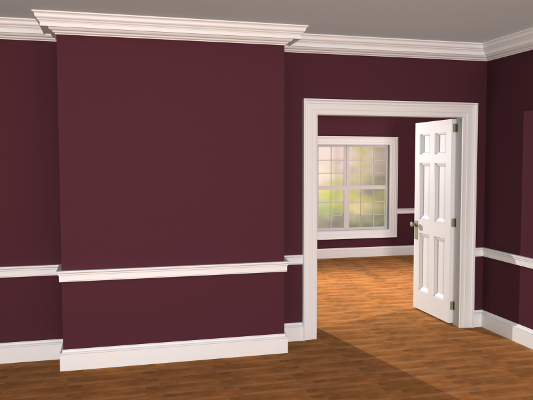 In this collection, we are using six different profiles from the Classical Moulding collection to create a Federal style inspired room. Note the simple bead in each of the casing, base and chair rail profiles.  This helps to create consistency within the room and helps the occupant to visually see what is happening. It helps them feel at ease because the room just makes sense.
Click here Federal Moulding – Full Room CAD Files to download the CAD block from our Moulding Design Guide.
Moulding and millwork can truly make the difference in the overall look and feel of a home. As an architect, designer and installer, you are in a unique position to ensure that the exterior aesthetics and architectural styles are brought to the interior design, so please feel free to take advantage of these services that are available to you at Kuiken Brothers.
If you have any questions about how to download the CAD files in the KB Classical Moulding collection or Moulding Design Guide, please feel free to contact me, Dan Hughes, directly at dhughes@kuikenbrothers.com or by phone at 201-705-5352.