We often find our customers (and ourselves!) scratching our heads when asked the question, "Which of your KB Mouldings would go well with this door?" There are certainly plenty of options to choose from. There are so many different combinations to choose from that it can be overwhelming when choosing these for the first time. And once the mouldings are chosen, don't forget about the door hardware!  The options seem endless! This month's "Dan's Millwork Picks" attempts to simplify the process by combining all three of these and hopefully giving you a starting point to simplify your decision making experience.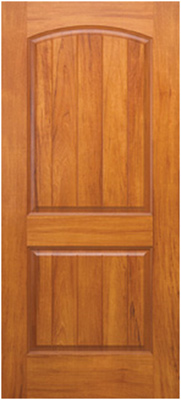 Door Description:
Type: Masonite Barrington® AvantGuardTM
Species: Spanish Cedar (Fiberglass)
AvantGuardTM is the gold standard in pre-finished fiberglass. It perfectly blends beauty and durability into one patented package by combining the aesthetics of wood with the durability of fiberglass. Masonite is so confident in its durability they are offering an unprecedented 5 year warranty on the finish, and a lifetime warranty on the door.
For more information, please visit Masonite's website by clicking here.
KB Moulding Combination:
Species: Mahogany (Kuiken Brothers Hardwood Collection)
Click on the images below to view the profiles in our Online Moulding Catalog
Casing:
KB140 Mahogany
21/32″ x 5-1/2″
Base:
KB210 Mahogany
9/16″ x 5-1/8″
Crown
KB345 Mahogany
11/16″ x 4-5/8″
Door Hardware:
Hardware: Emtek Hamden Flat Black Handleset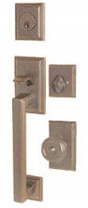 To view the complete collection of KB Mouldings, click here: https://www.kuikenbrothers.com/products/moulding-and-millwork/in-stock-mouldings