John Hourihan (Instagram @heresjohnnyh) checked out AdvanTech's new Subfloor Adhesive from Huber Engineered Woods at Kuiken Brothers LIVE Product Expo 2016. Check out the video:
When it comes to choosing subfloors that install fast and stay flat, builders turn to AdvanTech panels. With new AdvanTech subfloor adhesive, floors not only get a stiff, even base, but a strong, squeak-free panel-to-joist connection when properly installed as part of an AdvanTech subflooring assembly in residential applications.  With a heavy-duty, polyurethane bond, the gun-applied foam quickly condenses into a high-strength gel subfloor adhesive. Formulated for a powerful bond that exceeds industry performance standards, AdvanTech subfloor adhesive even bonds to wet and frozen wood. Use on any wood-to-wood assemblies, glued-floor systems, plywood or OSB. For a Squeak-Free Guarantee use with AdvanTech subfloor panels.
Watch the AdvanTech Subfloor Adhesive Installation Video:
Additional Features & Benefits of AdvanTech Subfloor Adhesive
One 24 ox. can yields 400 linear feet
Manufacturer Squeak-Free Guarantee
Polyurethane Bonding Strength
Adheres to Wet & Frozen Wood
Apply Between 20 – 105 degrees
Quick & Easy Application
20 Minute Open Time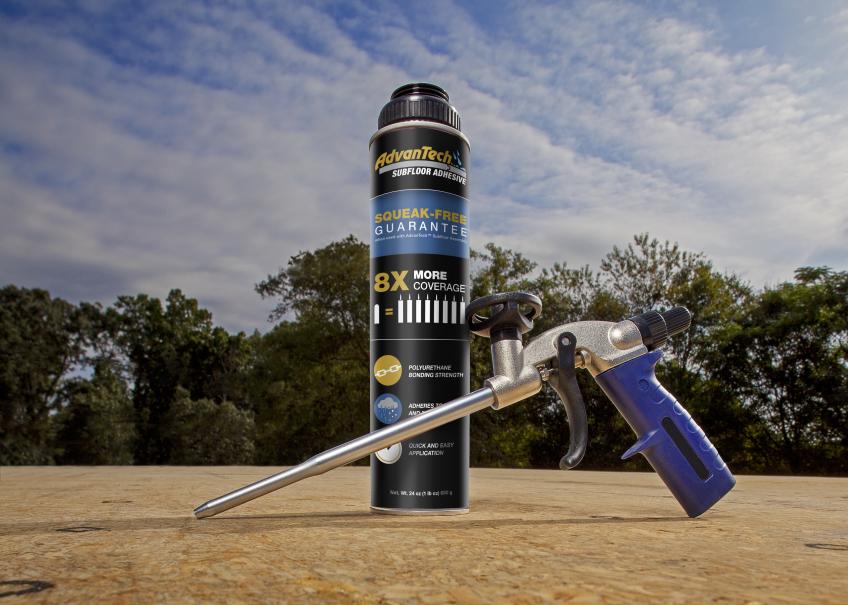 With this combined subfloor assembly, floors not only get a strong, stable base, but a squeak-free panel-to-joist connection. If you would like more information on AdvanTech Subfloor Adhesive and the many other products from Huber Engineered Woods, please give us a call (201) 652-1000 or complete our on-line Contact Us Form with details on your project and a Kuiken Brothers representative will follow up with you right away.