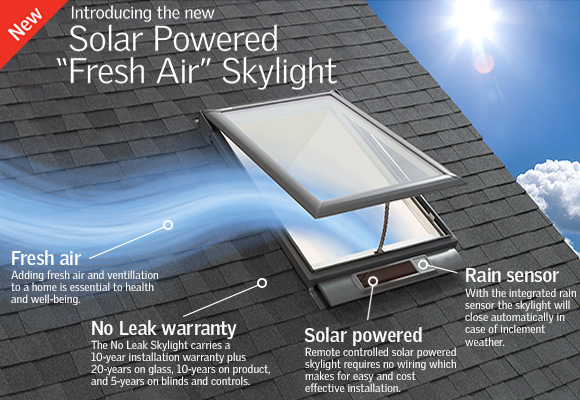 Kuiken Brothers is now stocking Velux's Solar Powered "Fresh Air" Skylight. The "Fresh Air" Skylight features a solar panel that captures any available daylight and uses it to recharge a highly efficient, fully concealed, battery powered operator and control system. The battery powered operator is the power source that opens and closes the skylight and the solar panel serves as the charging source of the system.
NO WIRING – Remote controlled solar powered skylight requires no wiring, which makes for easy and cost effective installation.
WORKS ON CLOUDY DAYS – The solar panel will work on cloudy days and with indirect light. It does not have to be exposed to direct sunlight to function.
RAIN SENSOR CLOSES AUTOMATICALLY – With the integrated rain sensor the solar powered skylight will close automatically, in case of inclement weather.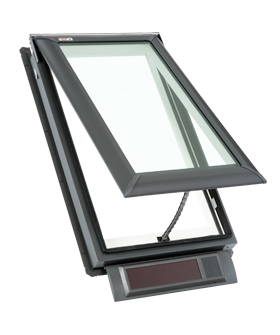 30% Federal Tax Credit – Average $850 Federal Tax Credit Eligibity
If you are considering adding daylight to your home, see how easy it is to add daylight and fresh air. Since the Solar Powered "Fresh Air" Skylight is eligible for a 30% federal tax credit homeowners will receive an average of $850* with federal tax credit eligibility which makes this product very affordable.
*Visit Velux's Federal Tax Credit On-Line Estimator For Details
If you would like more information on the Velux Solar Powered "Fresh Air" skylight, please contact your Kuiken Brothers Sales Representative or fill out the Contact Us Form and a sales representative will get back to you as soon as possible.