March 9, 2011 – Double Tree Hotel – Mahwah, NJ 07430
8:00am – 4:30pm
(Registration begins at 7:30am)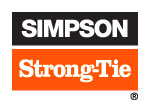 This is a FREE event with limited seating – Please Click Here to RSVP Today!
We invite you to take an inside look at the world's "No Equal" structural connector company, Simpson Strong-Tie.  Simpson Strong-Tie's workshops focus on issues facing all facets of the construction industry. You will view common misinstallation and correct installations. Most importantly in today's tough economic conditions, you will learn how to save time and money in materials and labor costs by using Simpson's value engineered products. Below are some of the topics that will be covered at this event.
"CONTINUOUS LOAD PATH" basics as they apply to wind
Vertical forces including uplift
Horizontal forces including racking and overturning
Which Simpson Strong-Tie® products provide the lowest installed cost
Proper installation of anchor bolts
Simpson Strong-Tie Anchor Systems® sill plate retrofits
Acrylic-Tie® adhesive
Titen HD® anchor
REPAIR & PROTECTION OF WOOD WALLS AND PLATES
The most economical solution when plumbing and HVAC is placed in
walls, plates or studs.
A brief review of some of the wall bracing requirements of the International
Residential Code, including various pre-fabricated solutions when nothing else will work.
Simpson Strong-Tie offers numerous solutions to satisfy the shear wall requirements of the codes, including holdowns, pre-fabricated shear walls (Strong-Wall Shearwall), Anchor Tie-down system threaded rod and Moment Frames. Find out which solution will provide the lowest installed cost for the application.
A review of correct and incorrect fasteners for wood framed construction will be discussed.
CORROSION PROTECTION OF METAL CONNECTORS
This section will show the various causes of corrosion that affect connectors, fasteners and anchors and how to choose the proper product based on the application.
Suggestions for selecting a hurricane tie
Understanding and selecting the lateral connections for roof and walls.
Wall uplift
Outdoor wood decks are a very popular addition. Find out what the code requirements are for properly constructing a deck.
CONTINUING EDUCATION CREDITS
7 Professional Development hours awarded.
Continued Educational Units (CEU) are offered to those who meet our workshop completion requirements. You must also attain a passing grade on the online test associated with the workshop.
Please contact your certifying licensing organization or agency directly to inquire if they accept CEUs from IACET providers.
AIBD-Continuing Education Credits awarded.
LIMITED SEATING – PLEASE CLICK HERE TO RSVP Today!