February 9, 2011 – Double Tree Hotel – Mahwah, NJ 07430
8:00am – 12:00pm
(Registration and light breakfast starting at 7:30am)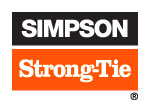 This is a FREE event with limited seating – Please Click Here to RSVP Today!
You are cordially invited to the Simpson Strong-Tie Braced Wall Workshop. This FREE workshop is designed for residential building designers, building officials, plan reviewers, and builders interested in learning about the wall bracing requirements of the 2009 International Residential Code.
WORKSHOP DESCRIPTION
The wall bracing provisions found in the building codes have continued to grow in size and complexity. This workshop will look back at some of the more significant code changes to better understand the purpose of the current requirements. We will review the prescriptive wall bracing provisions of the IRC along with alternate bracing methods that address contemporary home designs. You will also be introduced to a new online bracing calculator that will do much of the design work required in the IRC.
This workshop will incorporate design examples and assembly demonstrations of innovative new bracing solutions. Special attention will be given to garage fronts, stacked narrow bracing panels, and two-story great room walls. Simpson Strong-Tie will be presenting code compliant solutions that will enable more efficient designs while maintaining structural safety.
Upon completion of this workshop, attendees will have a clear understanding of the building code requirements and available options to meet them.
CONTINUING EDUCATION CREDITS
4 Professional Development hours awarded. A Certificate of Attendance will be emailed to all attendees.
Continued Educational Units (CEU) are offered to those who meet our workshop completion requirements. You must also attain a passing grade on the online test associated with the workshop.
Please contact your certifying licensing organization or agency directly to inquuire if they accept CEUs from IACET providers.
LIMITED SEATING – PLEASE CLICK HERE TO RSVP TODAY!