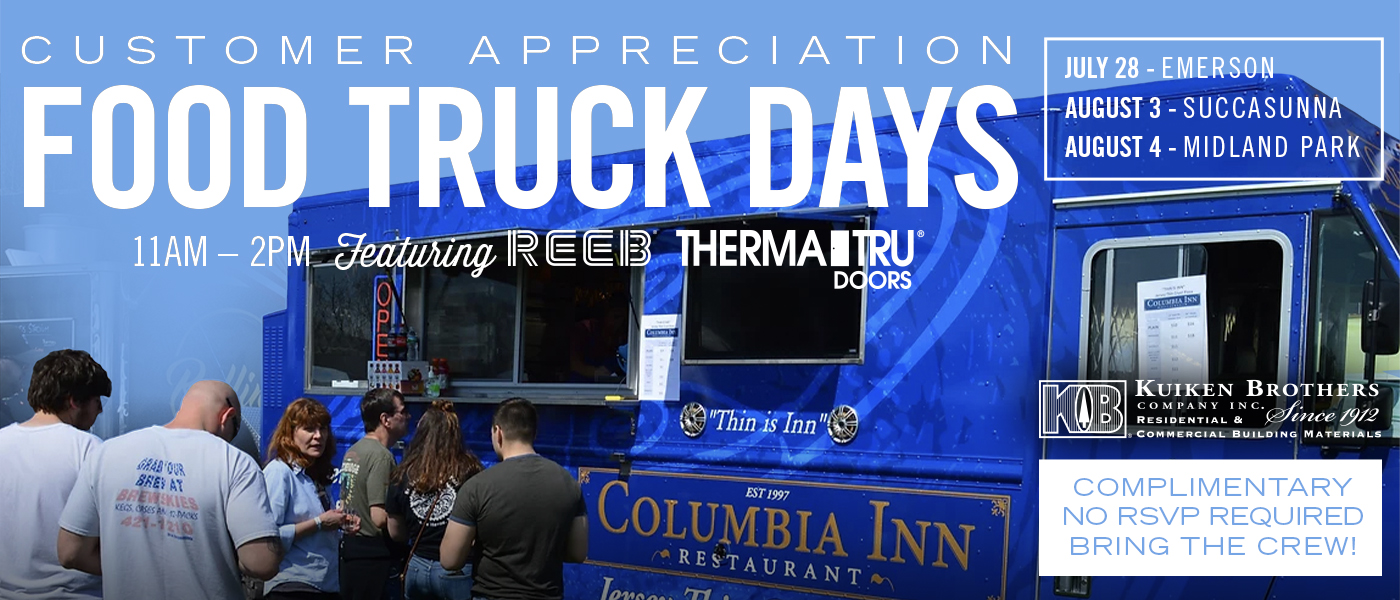 JOIN US! Kuiken Brothers would like to say THANK YOU and request that you join us as we will be hosting our partners at REEB and ThermaTru for upcoming LIVE Demo Days featuring the The Columbia Inn food truck at Kuiken Brothers Emerson, Succasunna and Midland Park Residential Building Material locations this Summer! We invite you to stop by and spend some time to learn what is new and what products may be available so you can expand your offering to your customers.
WHO SHOULD ATTEND? Builders, Remodelers, Architects, Designers, Building Inspectors and Homeowners
SCHEDULE OF LIVE DEMO DAYS:
| | | |
| --- | --- | --- |
| Thursday, July 28, 2022 | EMERSON | 11:00AM – 2:00PM |
| Wednesday, Aug 3, 2022 |  SUCCASUNNA | 11:00AM – 2:00PM |
| Thursday, Aug 4, 2022 | MIDLAND PARK | 11:00AM – 2:00PM |
New for 2022:
Therma-Tru's 2022 new products deliver functional style to reflect on-trend looks and meet unique needs today. From casual to traditional to modern, there are a range of designs to add personality while making architectural details pop.
Mahogany-Grained Flush-Glazed Doors & Sidelites
Shaker Style Entry Door Options
8'0″ Smooth Star® Flush Glazed Full Lite Door

Impressions

™

Integrated Storm & Entry Door System

Retractable Screen Doors
All new products fall into ThermaTru's three style trends for 2022; Casual Haven, Renewed History and Modern Revival.
Next, check out Reeb's authentic primed Stile and Rail doors that offer a level of detail and definition.
When anyone is looking for a classic, painted look, popular interior door, Stile and Rail construction provides crisp shadow lines with highly defined panel details resulting in a high end looking product. Recent developments within the millwork industry continue to strengthen the case for primed stile and rail doors, making them an excellent choice for anyone seeking increased strength, better durability, better aesthetics, and greater life expectancy at a similar price point to their molded door counterparts.
For more information about REEB or ThermaTru click here.  If you are unable to attend the LIVE Demo Days, please give us a call at (201) 652-1000 or fill out the Contact Us Form and one of our sales representatives will follow up with you right away. Be sure to add "REEB Millwork" or "ThermaTru" in the comments/questions box. We look forward to working with you on your next project.
Why attend one of Kuiken Brothers LIVE Demo Days?
Each year, Kuiken Brothers hosts hundreds of LIVE Installation and Product Update events where we feature new products and efficient installation techniques directly from manufacturer representatives. Whether you are an experienced builder craftsman or just an apprentice learning the trade, we invite you to stop by. We understand that our industry learns by seeing, touching and feeling the products, not just by reading about them online and in magazines. These events are free to all of our customers, so come join us today! Visit www.kuikenbrothers.com/demodays for the complete schedule.