FOR IMMEDIATE RELEASE
Friday, October 31, 2008
Kuiken Brothers Company, Inc
Learning Opportunities Abound at Kuiken Brothers Product Expo 2008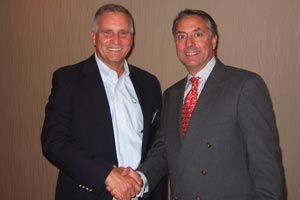 October 31, 2008, Mahwah, NJ —Some twelve hundred tri-state area building professionals, architects and interior designers gathered on Wednesday, October 29th for the Kuiken Brothers Product Expo at the Sheraton Crossroads in Mahwah, New Jersey. Organized by Kuiken Brothers Company, Inc., a lumber, millwork and building materials dealer with nine locations throughout northern New Jersey and southern New York, the event offered attendees first-hand access to representatives of top building supply brands, networking opportunities and educational seminars.
Among the many nationally recognized brands exhibiting at the Expo were its two major sponsors, Andersen Windows & Doors and BlueLinx. Products of Georgia Pacific Engineered Lumber, Masonite, Schlage, Marvin Windows & Doors, Crystal Cabinetry and AZEK Deck and Railing and many others were also on display. Attendees were able to interact directly with representatives from each firm and learn about installation techniques, upcoming products, design trends and other important issues.
A day-long Green Building Seminar presented by John D. Wagner, author of several books and hundreds of magazine and newspaper articles on green building, helped clarify the key definitions, standards and technologies in this new and rapidly evolving segment of the building industry. In another area of the exhibition hall, dozens of architects gathered for a day of seminars that earned them up to 4 AIA/CES credits. The architectural seminars topics included columns, moldings, the mechanics of window design and engineered lumber.
"Our Product Expo is always an exciting event because it presents so many opportunities for builders to learn new products and techniques and connect with experts in their field" said Doug Kuiken, president of Kuiken Brothers Company. "We're delighted to bring this learning opportunity to the builders who have contributed to Kuiken Brothers success."
Doug also notes that some may have found it difficult to digest in a single day the enormous amount of knowledge presented at the Expo. "Everyone is welcome to stop by one of the Kuiken Brothers showrooms. There you will find almost every product displayed at the Expo, and we'll be glad to help answer your questions."
Established in 1912, Kuiken Brothers Company has grown to become a leading supplier of quality lumber, millwork, building material and related services, with a focus on serving the needs of professional contractors in the region. With a staff of over 250 employees, the company now has a total of nine locations, eight in New Jersey in Fair Lawn, Emerson, Midland Park, Ogdensburg, Wantage, Garfield, Succasunna and Roseland – and one in Warwick, New York.
Photo: (Left to Right) Doug Kuiken, president, Kuiken Brothers Company and John D. Wagner, green expert and award winning author.
———————————–
Contact:
Ryan Mulkeen, Director of Marketing
Kuiken Brothers Company, Inc.
145 Lake Ave
Midland Park, NJ 07432
Phone: (201)705-5375
Email: rmulkeen@kuikenbrothers.com
——————————————–